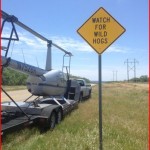 Wild hog hunting is all the rage.
Outfitters are specializing in taking clients on hunts with night vision equipped rifles. There are hog eradication businesses with horses and packs of dogs. Heck, there are even reality television shows about hunting hogs.
For quantity of hogs taken, the pinnacle is aerial shooting.
Kyle Lange, of Lange Helicopters, has been shooting out of a helicopter since 1984. He started as a child helping with the family business. Continue reading "Guns and Rotors"