In previous articles about big game hunting in the United States, which were posted on the Texas Outdoors Network website, I discussed my successful hunts for Bull Elk, Rocky Mountain Bighorn Ram and Ewe and Rocky Mountain Goat.  All of these hunts took place in Colorado.
In this article I will discuss my successful hunt for a Fallow Deer (Damhirsch) In Germany. Since the Fallow Deer hunt took place on November 14, 1978, while I was stationed with the US Army in Germany, I decided to write an article for our American daily newspaper, THE STARS AND STRIPES. The following is a reprint of the article as published in the April 27, 1979, edition of THE STARS AND STRIPES.
Friday April 27, 1979      
THE STARS AND STRIPES            Page 25
OUTDOORS With Brian McWilliams
(By LTC Clarence A Scheel of the Office of the Deputy Chief of Staff, Systems and Automation, at Headquarters, USAREUR in Heidelberg.)
HUNTING FOR AND BAGGING A TROPHY DAMHIRSCH (Fallow deer) in November 1978 was the most thrilling hunting experience I have had in more than 30 years of big game hunting. Although I have successfully hunted antelope and mule deer in Colorado, red deer and roe deer in Germany, and white-tailed deer in Texas, Washington, Oklahoma, Kansas and New York, none of these hunts compared to the excitement I experienced when I saw the big buck with the large palmated antlers drop after a carefully placed shot.
You can probably say that the anticipation for the hunt began last June when I registered with the USAREUR Hunting and Fishing office for the annual lottery drawing for the trophy hunt.  Of the more than 2,000 American military, civilian and dependent hunters in Germany who entered the lottery for mouflon, fallow deer, red deer and chamois trophies, I was one of the five lucky hunters drawn to hunt for the fallow deer.  Since five allocations consisted of two Class I and three Class IIB trophies and since my name was drawn fifth for this species, I was authorized to bag a Class IIB Damhirsch.  A Class I buck must be at least 10 years old and have fully developed "shovels" on both sides.  A Class IIB, although still a desirable trophy, may not have a fully developed shovel on more than one side.  In October, Herr Schuster at the Heidelberg Hunting and Fishing Office booked my hunt for Nov. 14 with the Hassloch Forestry office at Moerfelden, near Rhein Main International Airport.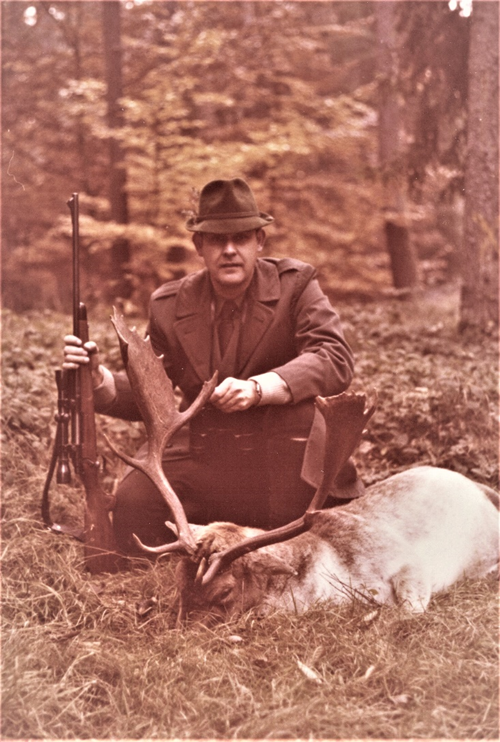 LTC Clarence A Scheel with prize trophy
Before daybreak on the 14th, I met my guide, Forester Antes, at the Hassloch Foresthaus.  After the customary greeting and exchange of pleasantries, he explained that rather than still hunt on a stand, as is normally done for roe and red deer, we would be stalking.  At daybreak, we started walking.  For the next two and one-half hours, we must have walked 8 to 10 kilometers.  During that time, we saw several Class I bucks with massive antlers, numerous Class II and Class III and several females.  Every time we saw a group, the anticipation built up, but in every case, there was no IIB.  Since it was by now mid-morning and deer were beginning to bed down, we decided to walk back to the Foresthaus and plan a different strategy for the next morning.  On the way back, we saw several more, but still no IIB.
Continue reading

"HUNTING FALLOW DEER (DAMHIRSCH) IN GERMANY"