I had been in the market for a new truck for quite some time but it wasn't until I attended the 2015 Houston Auto Show and sat in the new Ford F150 that the choice became clear.  I recently purchased a new Ford F150 Lariat SuperCrew Cab FX4 and couldn't be happier with my decision.  My requirements included four wheel drive, seating for five adults, towing packing, leather seats, and all of the luxury options.  Performance and comfort at highway cruising speeds was another important consideration as our hunting lease is a three hour drive down I-10 towards San Antonio.  Quite frankly, this ruled out some pretenders but the F150 can effortlessly roll with traffic at posted speeds and then some.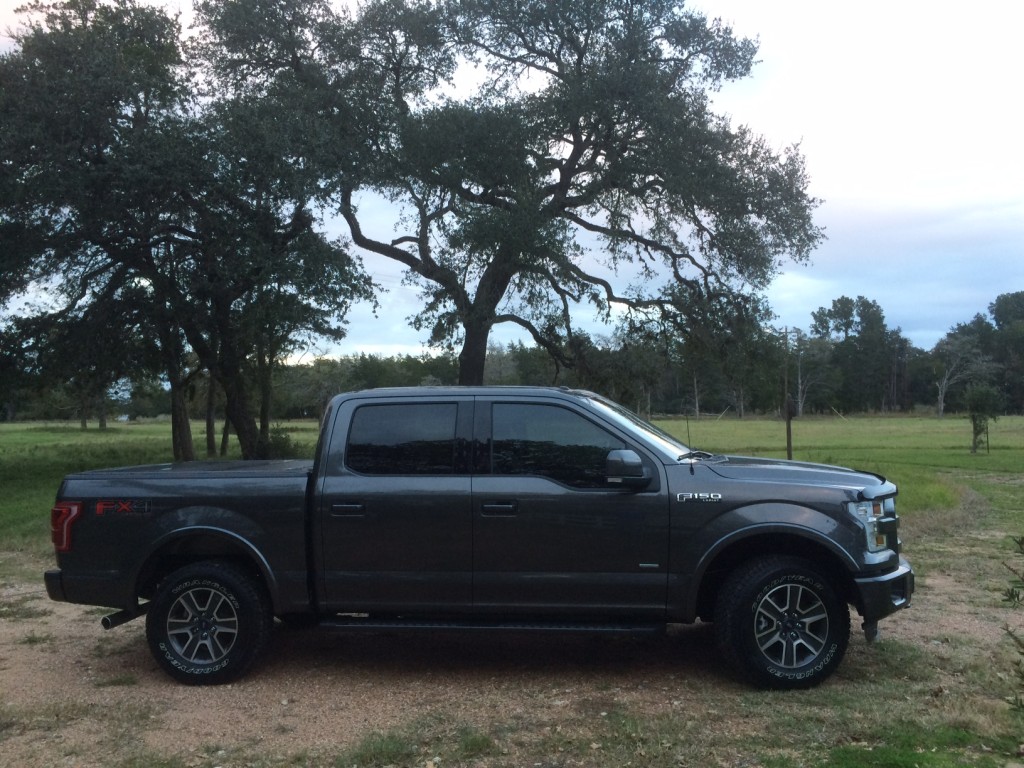 The Lariat is a great package that can include luxury and performance while saving some coin compared to the King Ranch, Platinum, or Limited models.  I selected a vehicle with Equipment Package 502A which includes heated/cooled leather seats, remote start, blind spot warning, remote tailgate release, LED spotlights in the mirrors, full power, LED headlights, and much more.
FX4 Off-road package is a cut above the standard 4X4 offering.   FX4 gets you underbody skid plates, Hill Descent Control, electronic locking rear differential, and upgraded shock absorbers.  Worth it.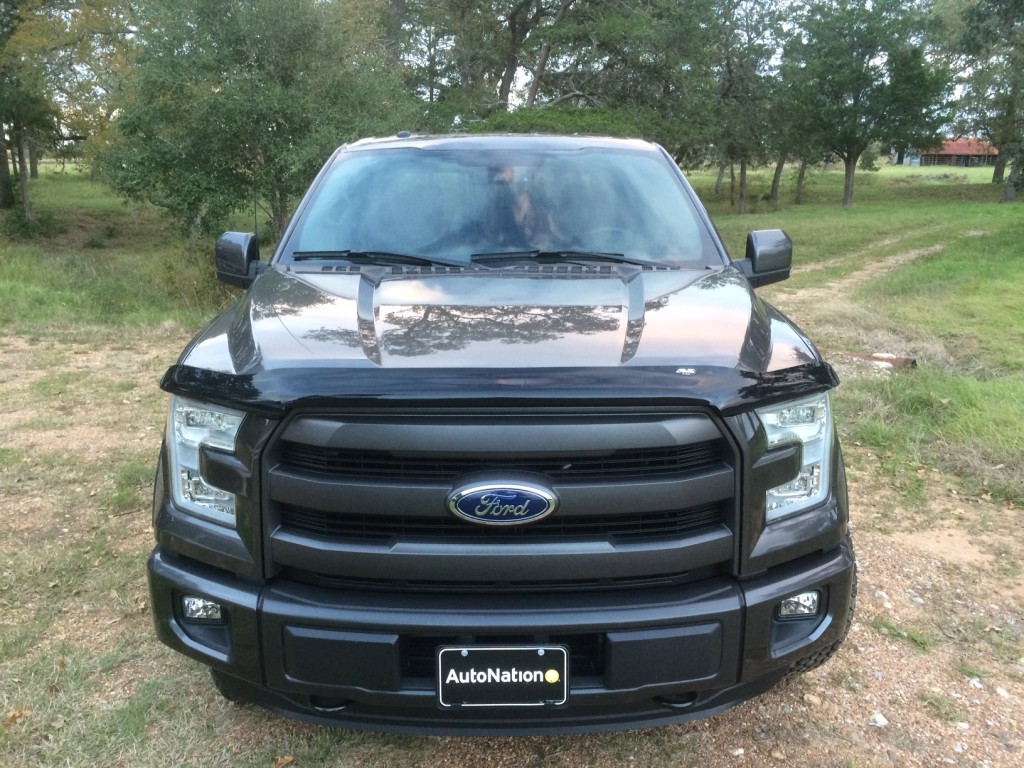 Of course, this is the all-new aluminum body model that everyone is talking about.  The one negative I have found is that the hood "flexes" some at, ahem, speed.  The first time I really opened her up on the highway I actually pulled over thinking that I had not totally latched down the hood.
I decided upon the 3.5L EcoBoost V6 engine.  It took a mind-shift to not automatically order the 5.0L V8 and I simply could not go with the 2.7L  EcoBoost V6.   I don't expect gasoline prices to stay low forever and I keep my trucks a long time.  Who knows where gas prices will be three or four years from now?  The 3.5L EcoBoost V6 packs 365 horsepower and 420 pounds of torque muscle.  It actually has more torque than the V8.  The twin turbos come on strong and deliver plenty of passing power on the highway.  Handling is very good for a truck – almost "crisp" compared to many of my previous trucks (and I have owned BMW, Porsche, and Jaguar vehicles).
Personally, I think the Magnetic Metallic color is awesome.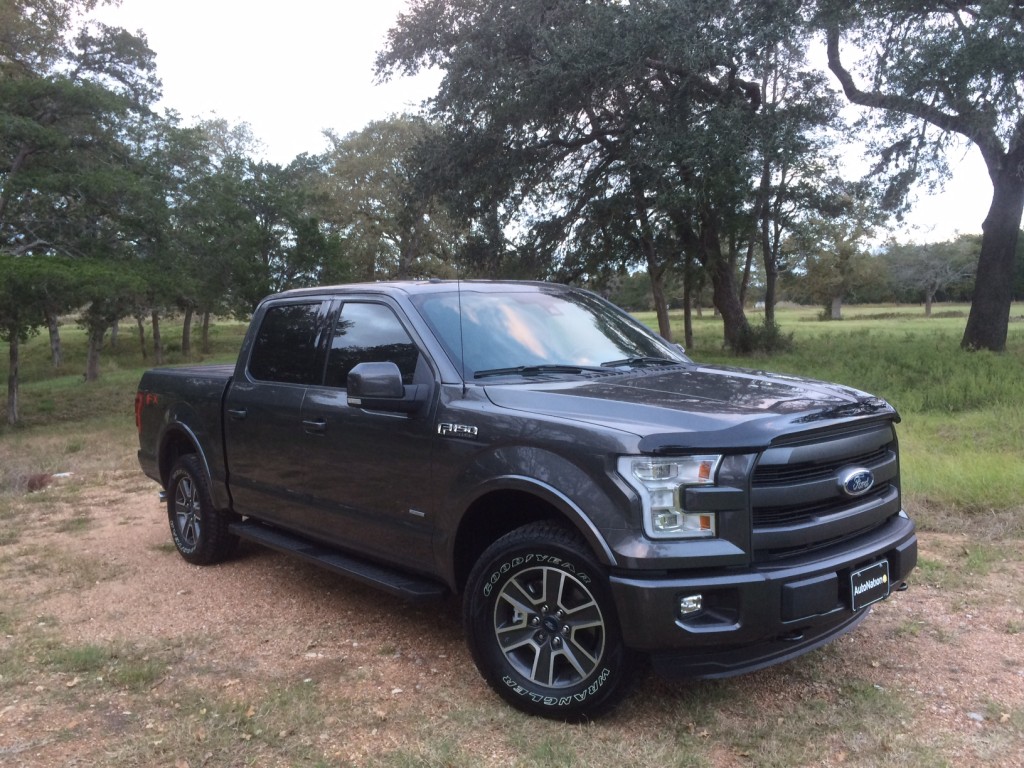 As luck would have it, the rains came nonstop the first several weeks after I bought my new ride.  This is no garage queen.  I now have about 2,000 miles on her and she has been in the dirt probably four or five trips out.   Our small family ranch is pretty civilized but it is still a dirt road to the house and can get dicey when it rains for awhile.  Our hunting lease is downright tough and most of it cannot be driven in a two wheel drive vehicle.  First weekend out it rained hard, the roads were slippery, muddy, and not to be taken lightly.  The F150 FX4 handled the chore while I tooled around with my heated seats and listening to Sirius radio!  Wow.  Loved it.  The digital instrument panel includes a Power Distribution graph that illustrates the power shifting between axles.   Cool.
My first upgrades were a Bakflip G2 bed cover, WeatherTech floor mats, and hood bug deflector.  The Backflip G2 worked even better than expected and despite the downpour for three straight days there were only a few small puddles (drops really) of water in the bed and some of that surely came from opening up the tailgate to get at my gear.
The Ford F150 is not inexpensive unless you opt for the base models like the XL.  With most F150s on the lot listing for between $45,000 – $55,000 it is a big decision for most of us.  Texans work hard and play hard.  There is a reason the F150 is the best selling vehicle.