If you're a veteran crossbow hunter, you have probably had days out in the woods you didn't want to end. With backpack hunting, they don't have to.
Here are a few must-haves for any crossbow hunter planning a backpack trip.
1. First-Aid Supplies
"Safety first" is a phrase you've likely heard many times before. But it's true.
There's no predicting what can happen on an overnight hunting trip. From cuts to sprains to breaks — and even sunburn — there are a number of risks every hunter faces while out in the wilderness. Make sure you bring along an emergency first-aid kit capable of addressing some of the most common injuries.
2. Extra Clothes — and an Airtight Container to Store them in
Temperatures can drop quickly when the sun goes down. And, you can't ignore the possibility of rain or snow dampening your hunting trip. Make sure you're ready.
As you're packing your camo hunting gear, include at least one pair of pants and a shirt for each day of your hunt. Bring along two pairs of socks for each day since they are more likely to get wet than any other article of clothing. Be sure to also bring along clothes for both warm and cold weather. After they're worn, store dirty clothes in airtight containers to prevent bears and deer from catching your scent.
3. Storage Case for Your Crossbow
The elements damage your crossbow if it isn't properly stored. Be sure to choose the right storage solution before leaving for your hunt.
Modern crossbows are made up of many different parts that can easily get damaged if exposed to the rain, heat, or cold. Arrows and broadheads are also susceptible to weather damage. Luckily, there are cases available for each component. Find the right ones for your crossbow and bring them along with you on the hunt.
4. Replacement Parts for Your Crossbow
As durable as today's high-tech crossbows are, their components can wear out and break over time. Don't let a minor malfunction ruin your hunt.
Before hitting the road for your back hunting trip, don't forget to pack an extra set of crossbow strings and cables. While they will certainly add some bulk to your backpack or case, you'll be happy you were prepared if you run into any technical difficulties along the way.
5. A Water Filter
Dehydration can put a damper on any backpack hunt. Rather than carrying along packs of water bottles, try using a water filter.
With a water filter, you can source your water from creeks and rivers that would otherwise be unsafe to drink from. Water filters also come in a range of sizes, with some designed to allow the user to drink directly out of a stream and others for drawing larger amounts of water into a tank for storage. Find a filter that is light enough to carry but functional enough for any environment.
6.  The Right Backpack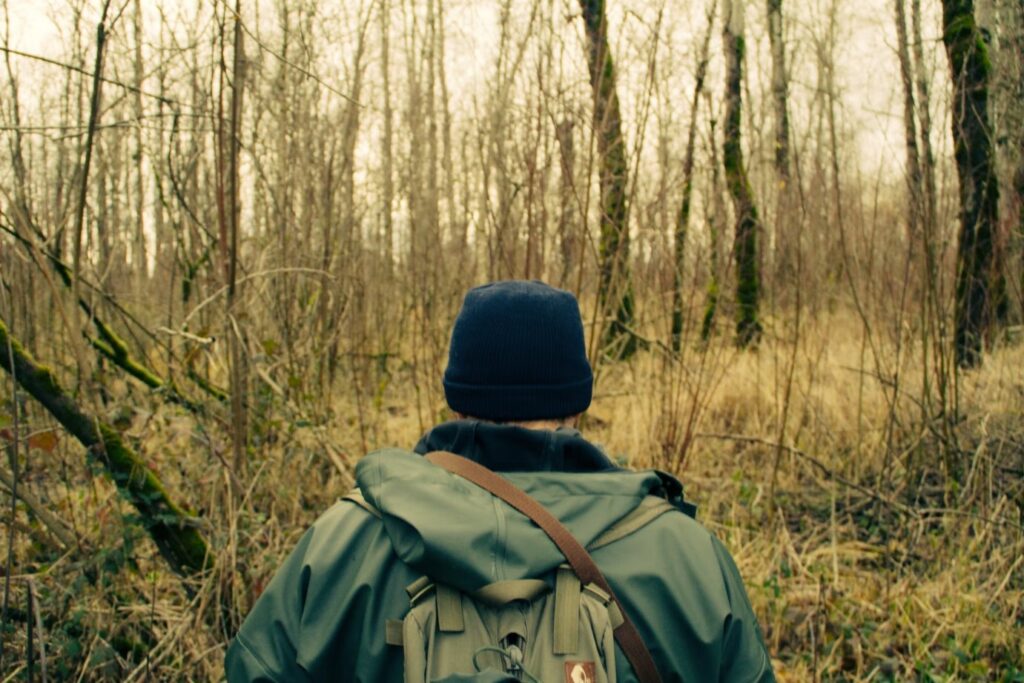 It should go without saying, but you can't go on a backpacking trip without a backpack. Finding the right bag, however, can be a challenge.
To start, you need enough storage space. The advice you'll usually hear is that your backpack should be 1,000 cubic inches per day. So, you should get a 3,000 cubic inch backpack for a three day trip. You should also consider the possibility of having to haul meat back with you. Many hunting backpacks allow you to strap meat between the bag and frame. Keep this in mind when you're shopping for your hunting backpack.
7. A Flashlight
Out in the woods, it is pitch black at night. Be sure to bring along a flashlight so you don't get stuck in the dark.
As you're shopping for a new flashlight, be sure to consider the following:
Brightness of the light
Battery life
Size
Durability
8. Fire Starting Equipment
A campfire is a source of light and heat as well as a way to cook food. You don't want to leave fire-starting equipment at home.
While putting together your fire starting kit, be sure to include waterproof matches. It's also a good idea to bring along a hatchet and knife to cut wood you'll eventually use in the fire. As always, take caution while making a campfire out in the woods to prevent forest fires.
Cherish the Experience
Trust us when we say your first backpack hunt will be one to remember. Enjoy every minute of it, and happy hunting!
The following two tabs change content below.
Latest posts by Texas Outdoors (see all)