Have you ever dreamed of fishing Alaska for salmon and world-class trout but can't justify spending $1,000 – $1,500 per day at the premier Bristol Bay lodges?  My brother Charles and I recently returned from a week-long fishing trip to the Kenai Peninsula and enjoyed a terrific experience at a very reasonable price.
Everything is more expensive in Alaska.  It is a long flight and you have to go for a minimum of seven days – and two weeks is recommended.  I am going to share our secrets and tell you how to have a great fishing trip on a budget.
We flew in to Anchorage and picked up our Toyota Matrix from National.  The first thing you need to know is to leave Anchorage immediately!  You might as well be in Cleveland.  If you are set on visiting someplace specific in town do it on your last day out if you have time.  You are going to Alaska to be in the wild.
As luck would have it, our trip coincided with the opening of moose season!  Although we weren't officially "hunting" we went out and did some scouting with our friend who lives in Ninilchik.  Mike owns and operates the MeanderIn and is an avid moose hunter.  He was hoping to spot a young spike opening morning but otherwise just locating cows in anticipation of the bulls coming down from the mountains in a couple of weeks.  It was fun being out in the woods spotting moose.  We saw a couple of young bulls – not legal 50″ – and some cows.  Most importantly, we did not encounter any brown bears!  As Mike stated matter-of-fact after one hike, "You survived bear alley!"  Gee, thanks.
The MeanderIn sits above the Ninilchik River.  The view from the deck is stunning as you can look both ways down the river valley.  Mike is a great host and chef.  I highly recommend the MeanderIn if you are staying in the area.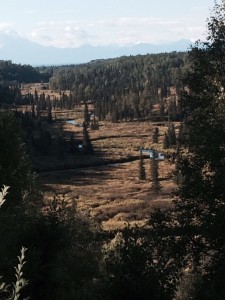 Our days were spent scouting for moose at dawn and  at dusk and fishing for silver salmon midday.  Great times!  Staying at the MeanderIn allows you to easily fish two rivers – the Ninilchik and Deep Creek are only ten minutes away.  Anchor River and Kasilof River are close by as well.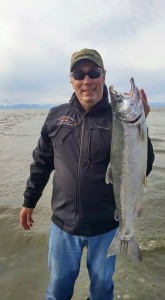 The Ninilchik General Store is your first stop.  There you can get your Alaska fishing license, gear, and, of course, some local beer (casting fluid).  The store sells a decent collection of tackle for spin or bait casting but very little for the fly rod.  They also sell the all-important tide charts.
Tides here are extreme.  We generally got out about an hour before low tide to go after the fish that backed up to the holes near the mouth of the river.  These fish never made it all the way up-river before the water started dropping so they slid back down.  We would then walk out on the mud flats to where the river meets Cook Inlet and fish the incoming tide – slowly progressing towards the beach as the ocean flooded in.  This is exciting fishing!  The salmon are rooster-tailing through inches of water as they race upstream.
This is fishing with spinning or bait-cast.  Lure of choice is a Mepps with some color in the tail.  It is close-in, fast, and social.
Break out your fly rod up-river.  Both Deep Creek and the Ninilchik offer good fly fishing for salmon and trout – depending upon the runs.  At the right time you can land a 30 plus inch steelhead.
Everything is about the fish runs.  Here is one good explanation of the fishing to be found on the Kenai but there are countless other "run charts" available online.
How to get your salmon fillets home?  Super-easy.  Go to Tanner's Fish Processing in Ninilchik and buy an insulated fish box.   This is basically a styrofoam cooler inside a cardboard shipping box.  Freeze your fish and check it in as luggage on your flight home.  Way cheaper than paying for a commercial fish processing service that will ship Federal Express.  Think $25 rather than $200.  Pretty much every hotel, motel, and fishing lodge has a fish freezer.  Even the Best Western in Seward has a fish freezer.  This is an accepted and expected service in Alaska.
Say a fond farewell to MeanderIn and head to the mighty Kenai River.  There are countless fishing lodges along the river.  We chose the Eagle Landing Resort but there are many to choose from including the iconic Gwins.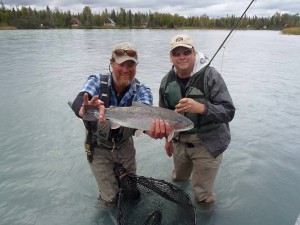 Troutfitters is my recommendation for drift boat trips down the Kenai.   Fish the Upper Kenai – through the Refuge – or Middle Kenai for rainbow trout, Dolly Varden, and salmon.  The Upper Kenai is spectacular with no motors allowed.  Basically, the Upper is above Skilak Lake and the Middle is below Skilak Lake.  Both sections offer incredible scenery and fantastic fishing.  The Upper is a bit more remote – the Middle a bit more crowded.  There are some sections of Class II or Class III rapids on each section.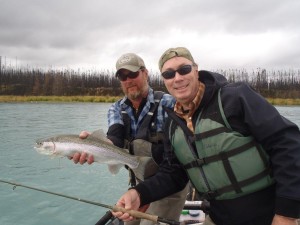 Drift boat fishing trips run about $250 – $275 per person per day.  Please remember to tip your guide – $100 is the going rate.  These guys work hard, are up before dawn getting ready, and work their butt off rowing the boat all day.  Troutfitters hooked us up with Mike and you simply couldn't ask for a better fishing guide.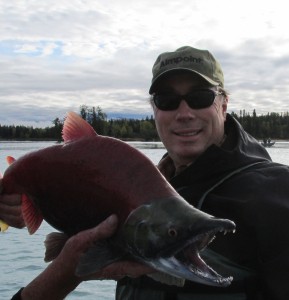 We used 6 weight and 7 weight fly lines.  The fish are feeding on the salmon eggs and that is the go-to "fly."  Different sizes and colors of beads that set up to slide just above the hook.  We got into quite a few nice red salmon and landed a bunch of trout.  Charles probably won the "best fish" award here.
There you have it – an Alaska fishing trip that doesn't break the bank.  Fish the Ninilchik and Deep Creek for free other than the cost of your room at the MeanderIn.  $250 per day plus lodging to fish the legendary Kenai River.  You can do this!
The following two tabs change content below.
Publisher of Tactical Gun Review and Texas Outdoors Network. Mike wisely spent his youth hunting and fishing in South Texas.
Latest posts by Mike Coker (see all)