Opening Day of deer season is a treasured tradition throughout Texas. It is a day when families come together in the field to celebrate the hunt.  Uncles coach their nieces and nephews on trigger technique. Grandmothers bake everyone's favorite pie. Grandpa spins tall tales of the black panther he saw down by the creek that evening.
Texas Outdoors Network is calling on Texas Governor Greg Abbott to declare the Friday preceding the first Saturday in November a state holiday.
Proclamation
Deer hunting generates tremendous revenue throughout the state of Texas.  Deer hunting enriches family life and teaches important values like fair chase and sportsmanship.  It is part and parcel of our culture.  A culture to be celebrated.
The first Saturday in November is a treasured tradition embraced by generations of Texans.  Opening Day of whitetail deer season.  Hunters take vacation days, pack up the truck, and leave the city far behind as they return to their roots.
Who doesn't relish the soul-satisfying sound of a heavy chain on a ranch gate?
It is high time we recognized Opening Day as an official state holiday.
Therefore, I, Greg Abbott, Governor of Texas, do hereby proclaim the Friday preceding the First Saturday in November to be an official state holiday.
GREG ABBOTT
Governor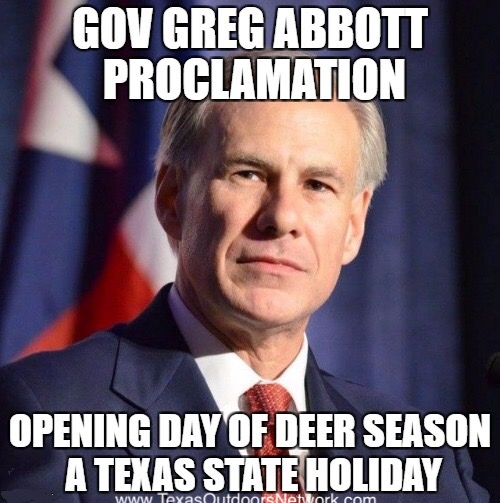 The following two tabs change content below.
Publisher of Tactical Gun Review and Texas Outdoors Network. Mike wisely spent his youth hunting and fishing in South Texas.
Latest posts by Mike Coker (see all)