Portland Marine officially opened at the end of 1967 with a new building, which was quite an improvement over the rented three car garage which served as headquarters for the oilfield and charter boat service operated by Liz and Glen Coker for 11 years. The new 1200 sq. ft. building was split equally between showroom and shop and Portland Marine employed one full time and one part-time employee. The business was located at 500 Moore Avenue next door to the Portland Volunteer Fire Department.
Family legend has it that one day Glen came home and informed his wife, "Liz, I just signed with Chrysler, we are in the boat business!"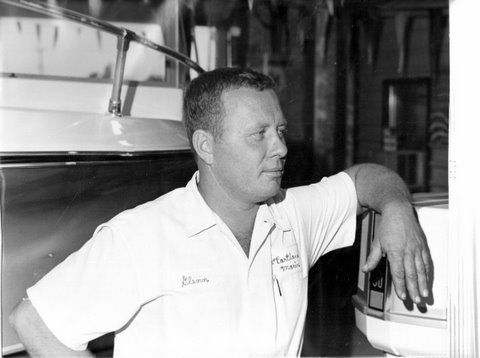 All was well until 1970 when Hurricane Celia destroyed all buildings and stock. While rebuilding, a 1400 sq. ft. shop was added and a storage lot purchased across the alley (next door to Royal Foodtown which was owned by Buddy Ganem).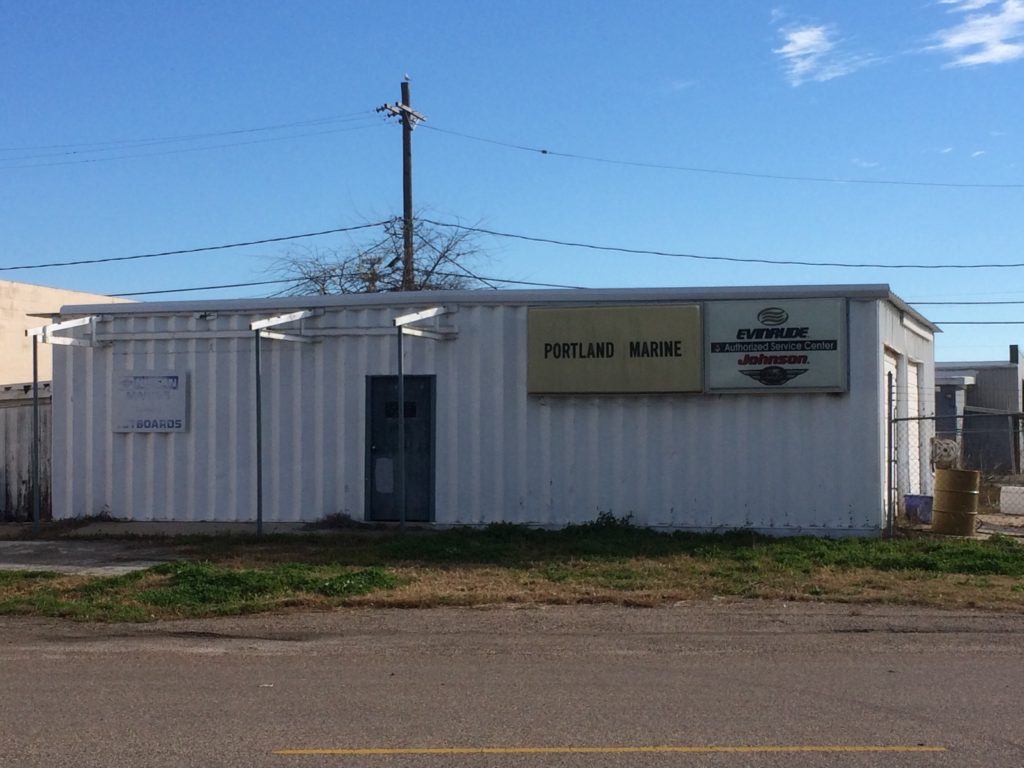 In 1972 a new 5000 sq. ft. air conditioned showroom was purchased along with the city block it was situated on. The old quarters were converted into the South's most modern shop including the first full-size drive-in test tank for testing motors under power. By the late '70s, Portland Marine employed seven full-time and five part-time employees (including myself).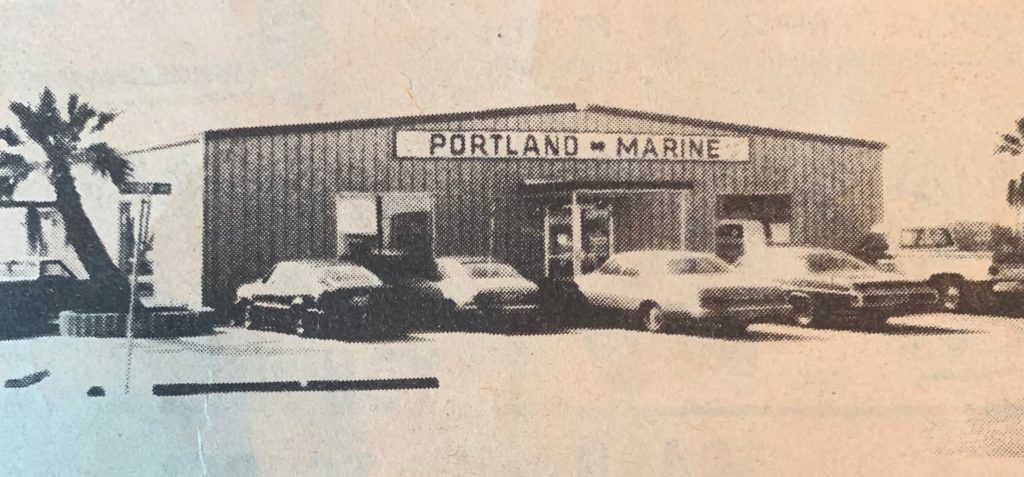 Along the way, Liz and Glen won many national sales contests. Their hard work resulted in Portland Marine being recognized as one of the premier dealerships in the country and they earned international reward trips to such exciting destinations as England, Ireland, Jamaica, and the Canary Islands.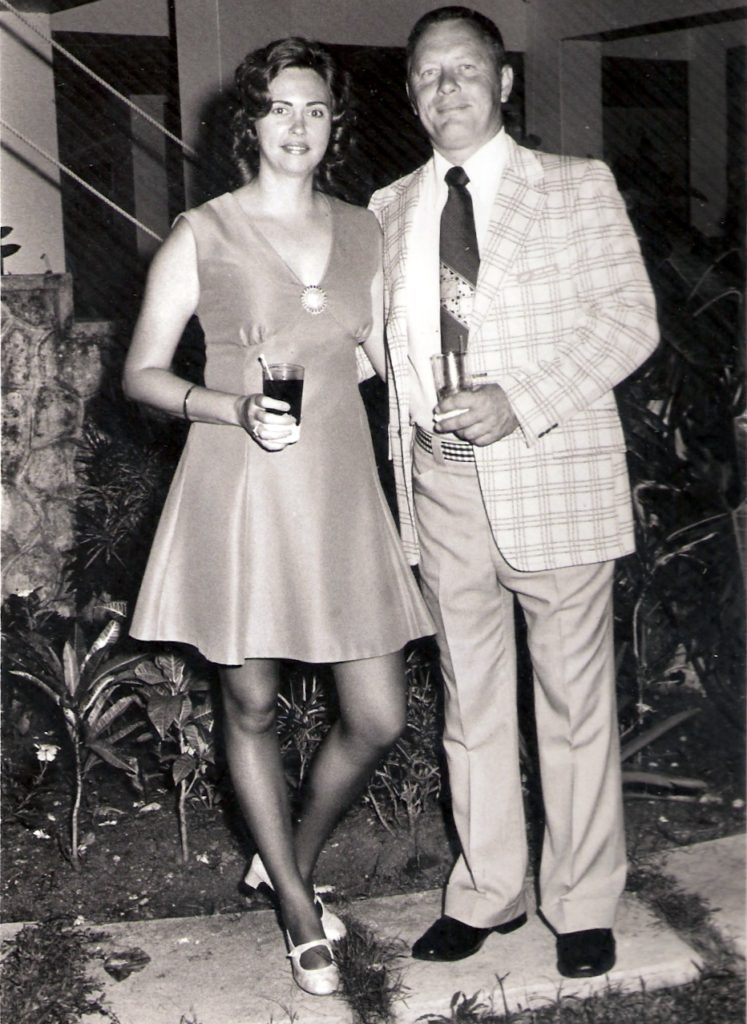 Portland Marine was one of the first Yamaha Outboard dealers in the USA. The Yamaha 200 was revolutionary and simply outclassed the domestic makes. At the time, Portland Marine had strong sales of both Chrysler and Evinrude. It soon became a fact that those boaters who could afford it always picked the Yamaha. It was superior in every way.
Throughout his life, Glen had a deep hatred for those black Mercury motors. He strongly believed that they were heavy, slow to spin up, overly complicated, and did not survive in the harsh salt water climate.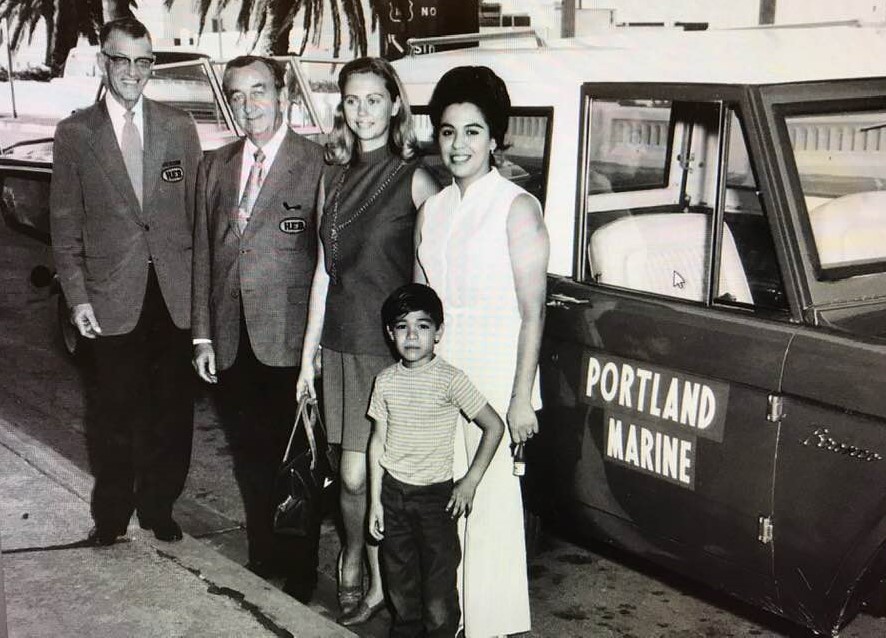 Glen was President of the South Texas Boat Dealers Association. He fought to protect the interests of recreational fishermen – at times putting him at odds with his commercial fishermen customers – and made many trips to Austin to lobby against gill nets and trot lines.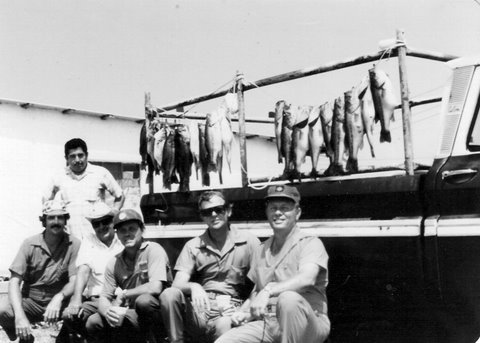 Our number one selling rig was a Robalo 21′ with a Yamaha 200 horsepower outboard. Boats have grown tremendously in size (and price) over the years but at the time this was considered an ideal boat to run down to Baffin Bay or to take 30 miles offshore. Outfitted with a T-Top, and sometimes a 20hp "kicker" for safety, it was an awesome boat to troll for kingfish in the open Gulf. From personal knowledge, it had the performance and quality construction to jump Gulf swells – clearing the prop always produced a distinctive scream combining excitement and terror. Glen ran full-throttle. In rough water he would shout, "Get her on top!" as he put the hammer down.
Ronnie Hubbell started working at Portland Marine part-time while in high school. Turns out that Ronnie is a master mechanic and quickly rose in rank to service manager. Ronnie eventually left Portland Marine to start his own dealership in Aransas Pass. Ronnie's Marine grew into three locations – the original store in Aransas Pass, a second location in Corpus Christi, and a third dealership outside of San Antonio. Ronnie and Glen were two of a kind.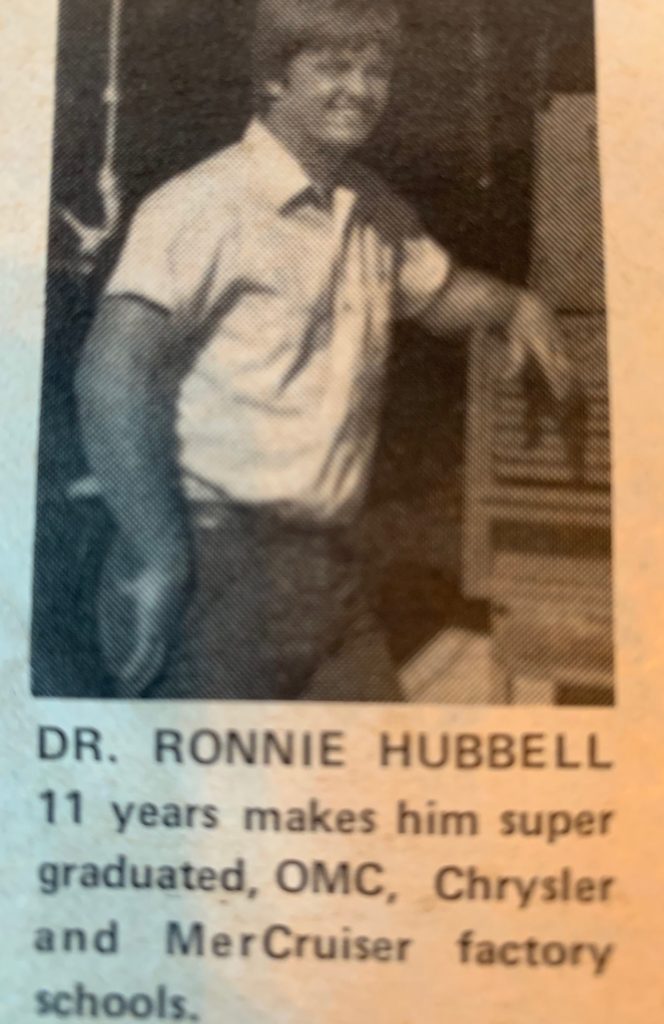 Thinking of Glen, Ronnie recently commented, "the most important thing I think I still remember day to day, was if you're gonna do something, try like hell to do it right."
Glen was always trying to bring value to his customers. He designed and constructed at least three different boats to offer performance at a lower price point than the name-brand boats. The Apollo was a 19′ center console that was an alternative to the much more expensive Robalo. The Salty was similar but featured a square bow. The Apollo and Salty were both manufactured in Florida. The Critter was a simple fishing boat designed by Glen and built by Johnny Majek (yes, that Majek).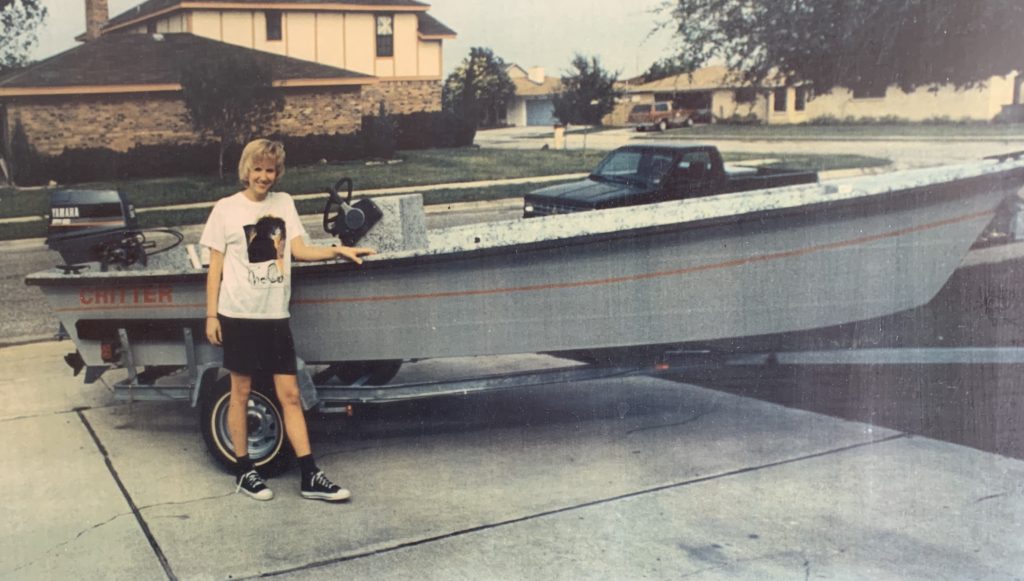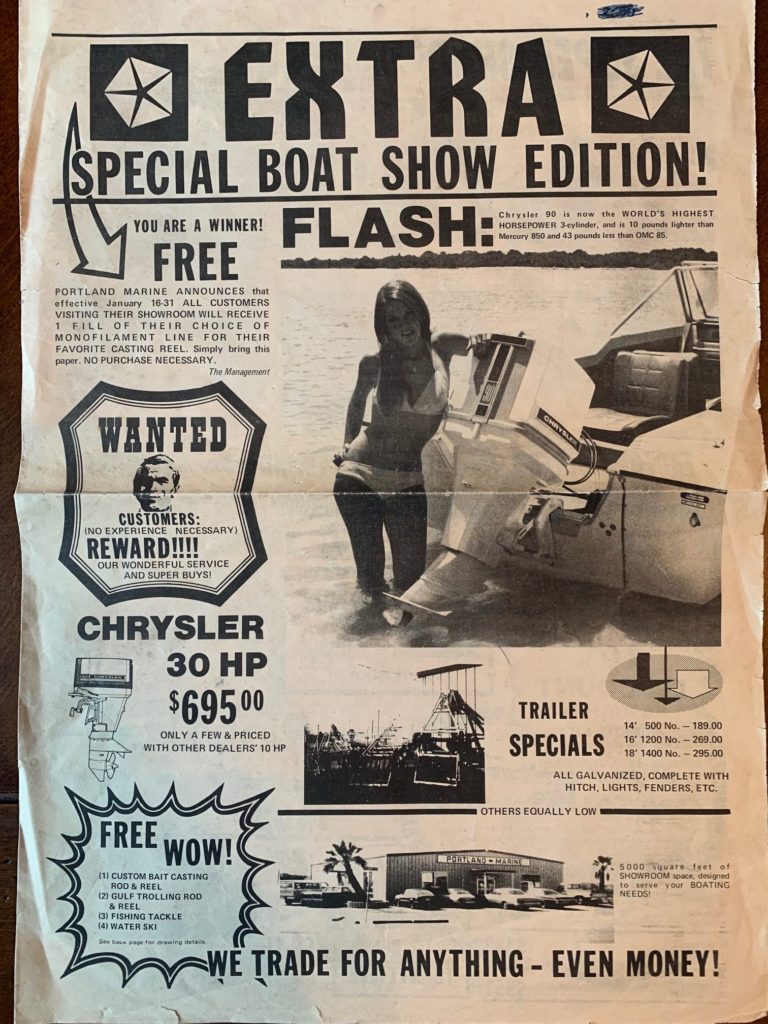 Sample pricing from 1977-1978:
Chrysler 30 hp outboard $695
16′ Commerical Polarkraft $553
18′ Richline aluminum boat, 30 hp Chrysler, and trailer $1495
Starcraft 15′ with 75 hp Chrysler $2795
Manatee 18′ bow rider with 130 hp Volvo I/O $5466
Salty 19′, 135 hp Chrysler, EZ Loader trailer, fully loaded $5995
Glen Coker and Portland Marine were actively involved in racing boats and sponsoring races down at Sunset Lake. With ace driver Ronnie Hubbell on the throttle they won numerous state and national races.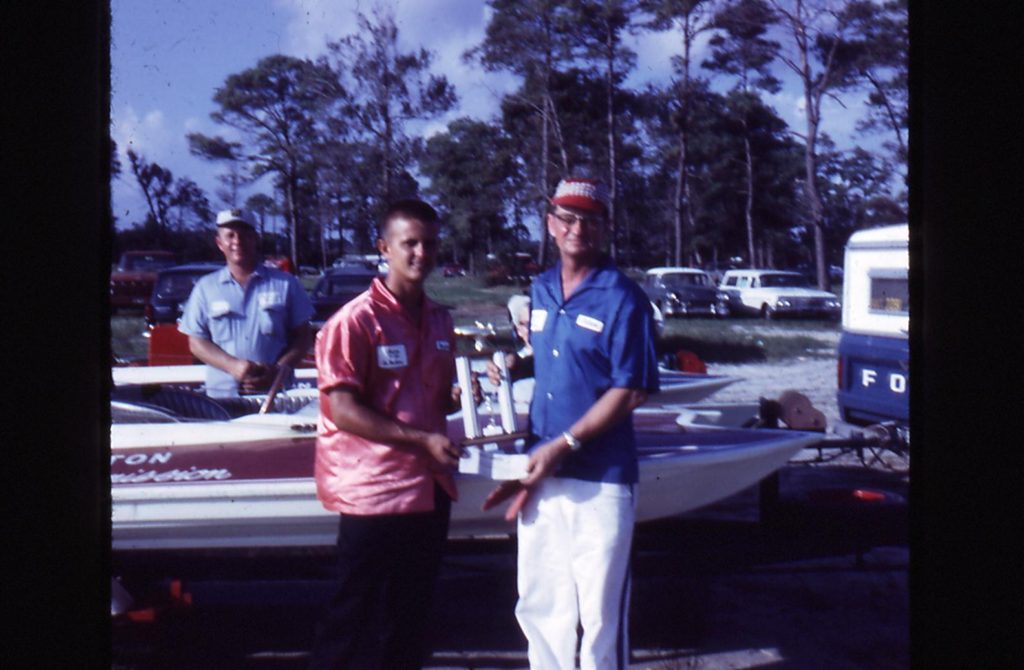 In 1978 the dealership was sold to Mr. Justice. Quite frankly, he drove the business into the ground.
Richard Foley soon stepped in and bought Portland Marine in 1980. Richard steadily restored Portland Marine to its position today as a top boat dealership in the Coastal Bend. Richard had been the service manager in the shop earlier and was the right man to carry on the tradition. The dealership was relocated into the old Jeff's Auto Parts building on 7th Street. Sadly, Richard passed away in 2008. Today, Portland Marine is owned and operated by Carol Foley. Stop in, they will treat you right.
Although it has been 41 years since my family sold Portland Marine, the values I learned while working there still guide me to this day.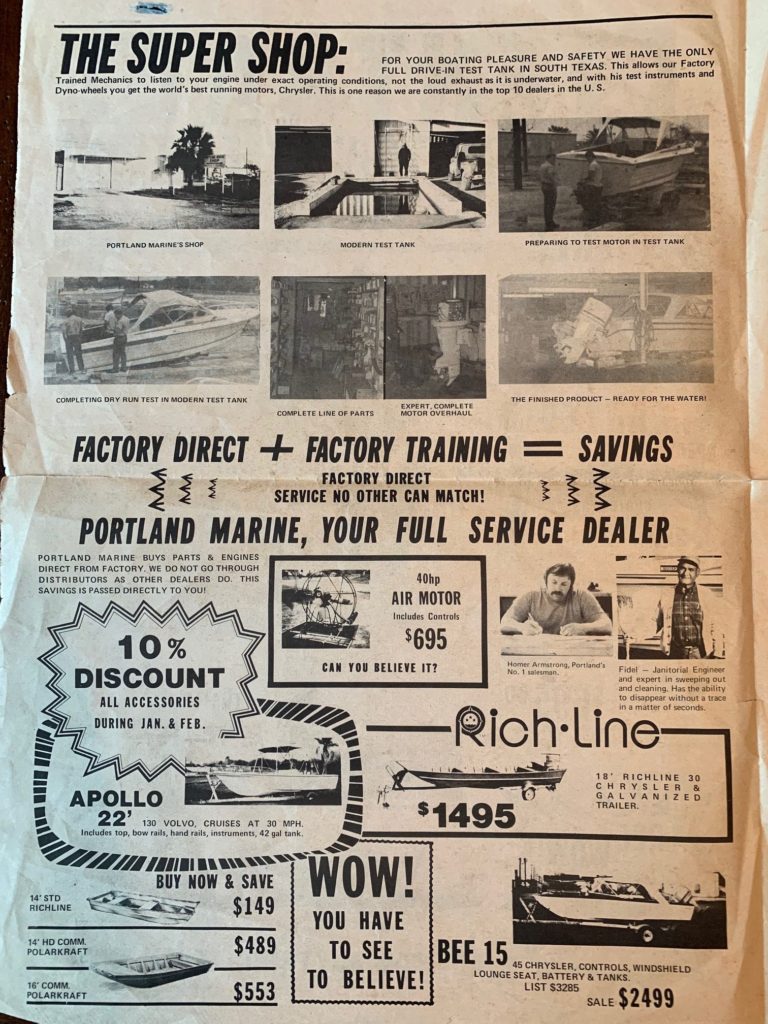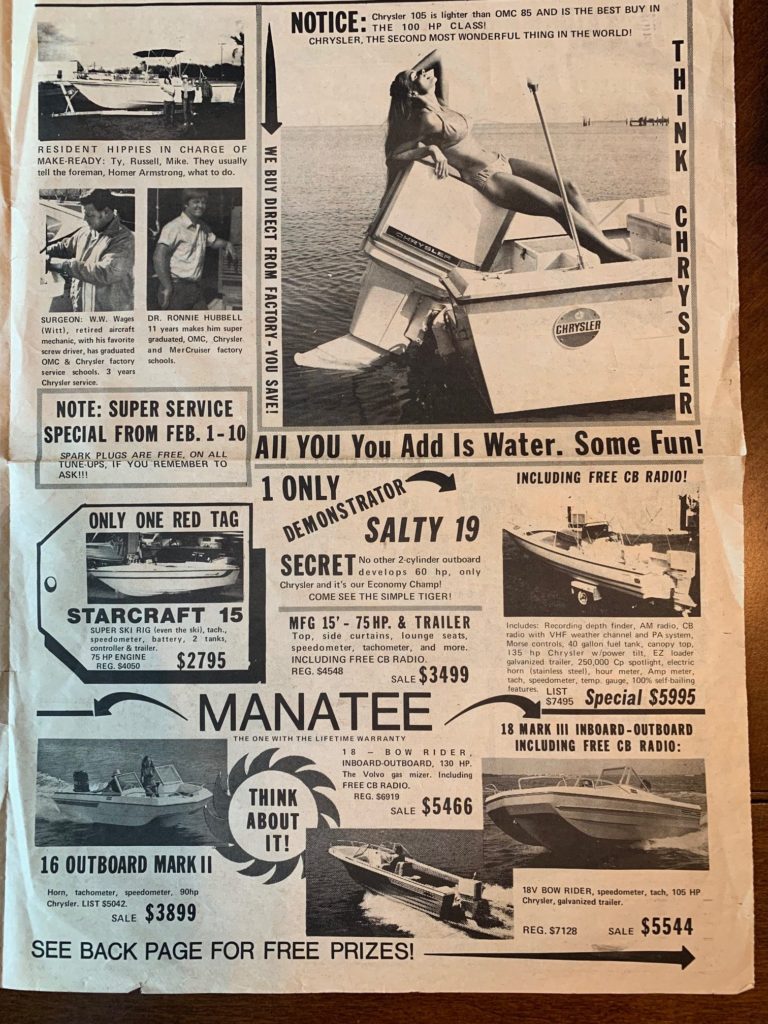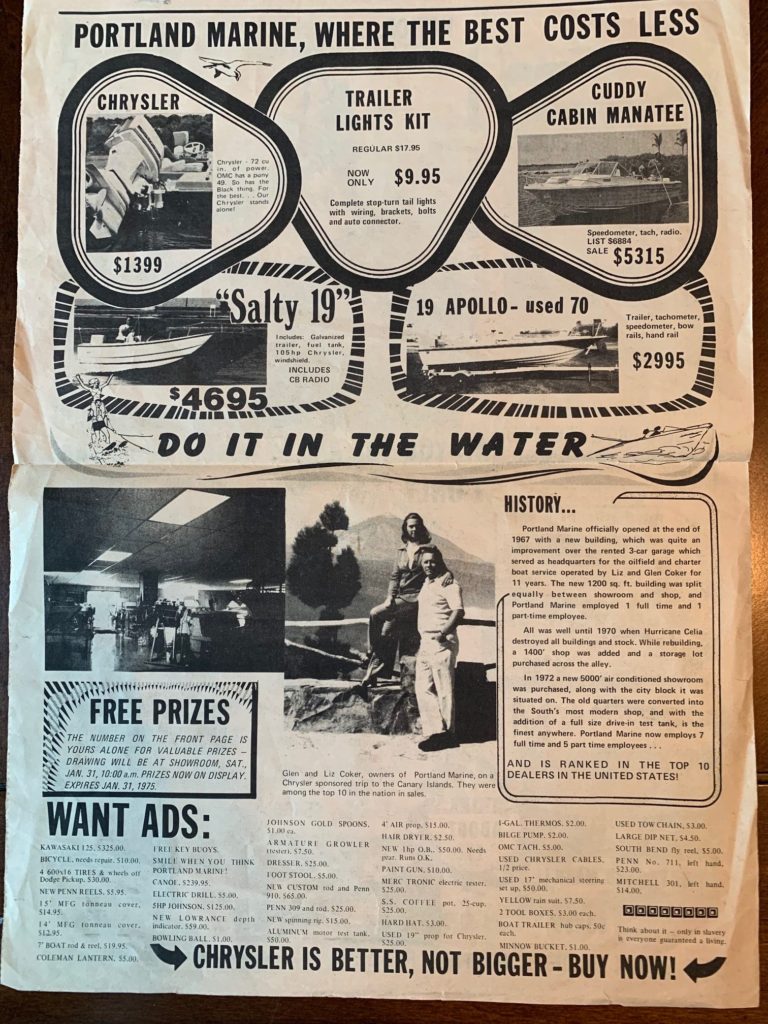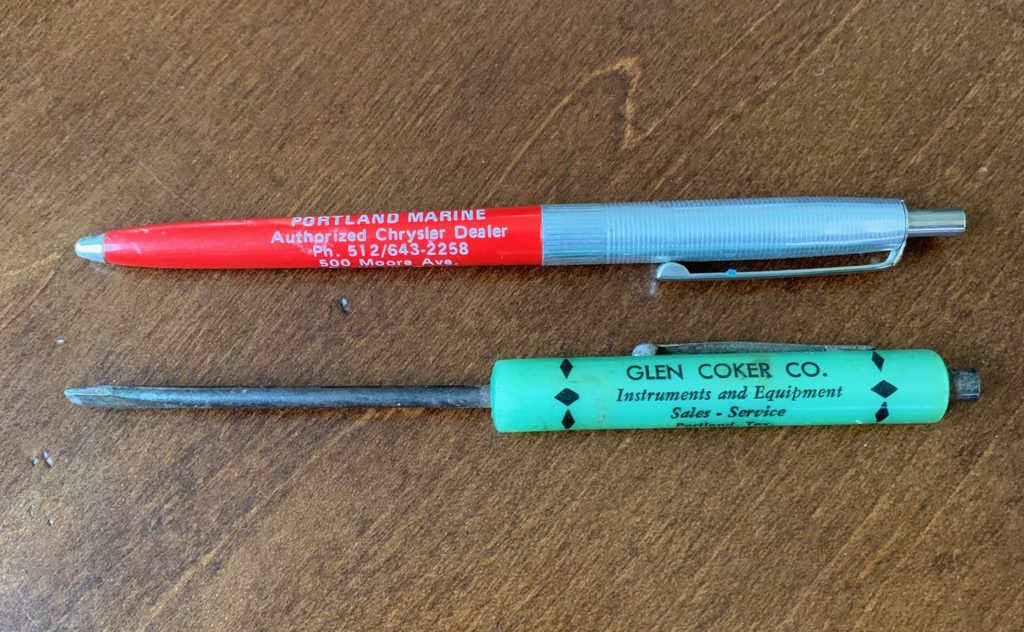 Glen Coker story on Tactical Gun Review
The following two tabs change content below.
Publisher of Tactical Gun Review and Texas Outdoors Network. Mike wisely spent his youth hunting and fishing in South Texas.
Latest posts by Mike Coker (see all)