Plot Watcher Pro
Being a long-time believer in game cameras, I was intrigued by the "plot watcher" time lapse cameras.  I contacted Day 6 Outdoors and they were kind of enough to send me their Plot Watcher Pro for evaluation during whitetail deer season.
Features and Specifications
Day 6 Outdoors popularized time lapse cameras in this market with the original Plot Watcher.  The Plot Watcher Pro is their latest model and improves upon the original with a number of new features:
Longer battery life (up to one million images).
Security cable ready.
LCD screen.
Temperature and moon phase on each image.
Form and Function
The Plot Watcher Pro is a light and compact design that blends well into its surroundings unlike many of the boxy game cameras (all of which are evolving into more compact designs).  The strap is long enough for most applications and holds the camera securely in place.  The camera accommodates a Python cable lock if you are worried about security.
The controls are easy to understand and simple to set.  It is important to understand that this is a daylight-only camera and does not capture images at night.  A photocell controls on/off operation.  They conveniently added a "mid day skip" feature that breaks up each day into two separate movies.  Personally, I would never use this as deer are frequently moving mid-day especially when the moon is overhead or underfoot.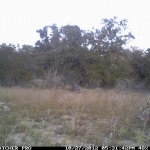 Field Test
I first tested this unit at the family farm as more or less a security camera.  You may want to consider this camera for monitoring a remote area without electricity such as a ranch gate or barn.  Why not use a traditional game camera you ask?  The main reason is that the Plot Watcher never sleeps (during the day) and does not require a "trigger event" to take a photograph.  It may not be practical to place a game camera close enough to the hot spot to detect motion without it being observed.  The Plot Watcher Pro can be positioned further back, quietly and discreetly capturing all movement in the area.
We are hunting a new area this year and one tower stand overlooks a fairly large pasture with scattered oak trees.  I mounted the camera to the blind thinking it would be great to capture the same view one would see as if we were present.  This was somewhat of a mistake.  Yes, it served its purpose in being able to see the direction the deer were moving and at what time of day but it was impossible to scout individual deer because the wide angle lens (critical to recording a large area) meant that deer more than 100 yards away were simply black spots moving around.  The software includes a zoom feature but enlarging a dark, fuzzy smudge doesn't help much.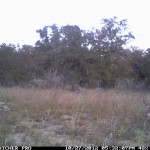 Ok, on to plan two.  I moved the camera to a tree stump about 130 yards out from the blind in an area where deer pass through.  Perfect!  The camera was in its element and produced clear video (and still images) of the deer moving through.  And because I had the camera set to take shots at five second intervals I had many still photos to click through to evaluate each buck.  The Plot Watcher Pro produced many more individual pictures than a traditional game camera would have.
You really need to carefully consider what you are trying to accomplish with this camera and think through placement.  Are you trying to see from direction deer move into a field?  Scout individual deer?  Determine time of day deer or present?
An add-on lens kit is available to customize your camera.  The kit includes a 2X telephoto lens and a wide angle lens.
GameFinder Software
With most game cameras you can simply pop the SD card into some sort of reader or view the pictures on a built-in display.  Not so with the Plot Watcher Pro – you must use the Day 6 Outdoors proprietary GameFinder software on a PC or MAC.
On a positive note, the software does a great job of automatically stitching together thousands of individual images into a movie file.  The software is fairly simple to use and produces a nice time-lapse movie.  You can fast-forward at different speeds or step through each frame and there is a zoom feature.
You can export one frame to a .jpg image or export a range of frames (50-100-200) to a .wmv movie.  The images and movies in this review were produced by the GameFinder export facility.
I did not experience any failures with the software.  However, the "MotionSearch" feature does not work that well in my experience.  Upon hitting "Search" the software scans ahead through the images looking for "movement" that would indicate game.  Unfortunately, this movement is often grass blowing or clouds moving.  It does seem to also correctly detect deer movement unless they are very tiny in the back of the frame.  I found it easier to just click fast forward and view the entire movie rather than relying on the Search.  Comparing movement between still images is a complex software development challenge and it does generally work – it is just that sometimes the movement is not game.
I do suggest the following software enhancements:
The ability to select "Play All" files.  As it is you must manually select each day's file.
Retain the Export File Location.  As is, you must manually change this on each export which is a pain if you are exporting multiple still images.
The biggest downside is the requirement to either lug your laptop into the field or pull the SD card and view movies back at camp or home.  Day 6 Outdoors should develop an iPAD app and I will be a happy camper.  While I would never carry a laptop into my deer stand I would take my iPAD to watch Plot Watcher Pro movies.
Conclusion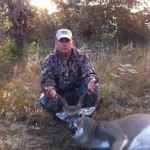 The Day 6 Outdoors Plot Watcher Pro is a wonderful tool to help plan your hunting strategy.  It is important to carefully consider how to best implement it in the field as it does work differently than a regular trail cam.  Used correctly, it can help you bag your trophy.
by Mike Coker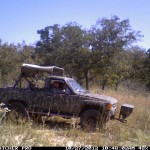 The following two tabs change content below.
Publisher of Tactical Gun Review and Texas Outdoors Network. Mike wisely spent his youth hunting and fishing in South Texas.
Latest posts by Mike Coker (see all)