In an earlier article, Royal Bull Elk from the Beautiful Colorado Mountains (Part 1), I wrote about my killing a beautiful Royal 6 x 6 bull elk in Colorado I will now discuss several successful elk hunts which took place in the same area of the ranch. In 2011, I had invited my life-long friend Melvin Kreusler from New Braunfels, Texas, to join me on my Colorado Elk hunt. We had prepared a ground blind overlooking a trail on the ridge which paralleled the ridge that my royal bull I wrote about earlier was located. We named that blind "Melvin's Nest". The two ridges are about 150 yards apart. On opening morning of the 2011 3rd elk season, I took Melvin to his nest and I decided to go to my favorite spot (appropriately called "Clarence's Point") overlooking the area where Melvin was sitting about 400 yards away. I could see across the fence onto the neighboring ranch and see whether elk were heading for our ranch and could warn via radio for our hunter or hunters on the ground to move to another location where I thought the elk would cross our ranch.
Shortly after day break, I observed a large herd of about 120 elk, including two huge bulls and several smaller ones, milling around across the fence about 150 yards from where Melvin was sitting. I expected that the herd would eventually cross the fence onto our ranch and take the trail in front of Melvin to go uphill and bed down for the day on the neighboring ranch on the west side of our ranch. It was not long before some of the elk began crossing the fence and head for the spot where Melvin was waiting. I quickly called Melvin and told him "here they come". The lead animal in the procession was the herd cow, then her calf, followed by another cow and calf, followed by a very nice 4 x 4 bull. When the bull came into Melvin's sight Melvin shot and the bull dropped in his track. Then all hell broke loose. The part of the herd still on the opposite side of the boundary fence, including the 2 huge bulls, crashed like a giant brown wave down the south facing slope covered in scrub oak bushes. The elk that had already crossed the fence continued on the trail up hill in my direction. I saw several of the elk as they ran through the timber behind my stand but I had no opportunity for a shot.
As I was walking down the hill to help Melvin, I slipped on a patch of ice and dropped my rifle. I then helped Melvin field dress his bull. I was able to back my Ford F150 4×4 right up to the dead bull. We loaded him up and immediately drove to the butcher shop about 25 miles away to have it processed. The butcher agreed to butcher and quick freeze the meat and have it ready for us to pick up on Friday when we planned to go back to Texas. By 3 PM we were back at the ranch and I went out for the evening hunt.
While all the activity with Melvin was taking place that morning on the next ridge over from the large meadow, Charlie was sitting in his nest on the meadow. The only game he saw was a fairly nice 4 x 3 mule deer and two smaller bucks. Since I was the only hunter in camp with a mule deer buck license, Charlie allowed me to hunt his nest for the evening hunt in case the buck returned. Charlie then hunted my point that evening. Since we do not party hunt, my friend Melvin's hunt was over and he could then only watch the wildlife and enjoy the beautiful scenery. I didn't know whether I had knocked my scope off when I dropped it that morning so I borrowed Melvin's 30.06 for the evening hunt.
Just about sundown that evening, I observed 4 cows and a large bull come down the trail at the top of the meadow in my direction. They stopped about 250 yards from me and began grazing. I had a clear shot at the bull so I put the crosshair on his chest and squeezed the trigger. I had never fired this gun before but I trusted that Melvin had it zeroed in. When the shot rang out the 4 cows ran away, but the bull just kept standing. After a few seconds, the bull began to wobble and finally just dropped dead on the spot. I had shot him right through his heart.
It was getting late so I quickly walked to the dead bull. While admiring my relatively young 6 x 6 bull, I looked down the meadow and about 250 yards away there stood the mule deer buck I was looking for. There was a tree stump nearby, so I quickly got behind the stump for a rest, took careful aim at the buck's shoulder and squeezed the trigger. Now we had two bull elk, (Melvin's 4 x 4 and my 6 x 6) and my 4 x 3 Mule deer buck, all killed with Melvin's rifle. Not a bad day of hunting. We then field dressed my bull and buck, and loaded them on Charlie's Dodge 4 x 4 pickup and took them to the butcher shop. The butcher promised to have all the meat processed and frozen by Friday. By 8:00 that evening we were back in camp for a well-deserved late dinner. As appetizers, we had fried fresh elk rocky mountain oysters. They were great with some Jack Daniels and seven.
Just a sideline about my large bull and the 4 cows.  This was the second hunt that I recall where we had shot into and spooked a large herd with several large bulls early in the morning.  In both cases, in the confusion after the shots, lesser, but still large, bulls would steal a few cows from the herd bull's harem and separate themselves from the rest of the herd.  This was the same thing my bull did that day.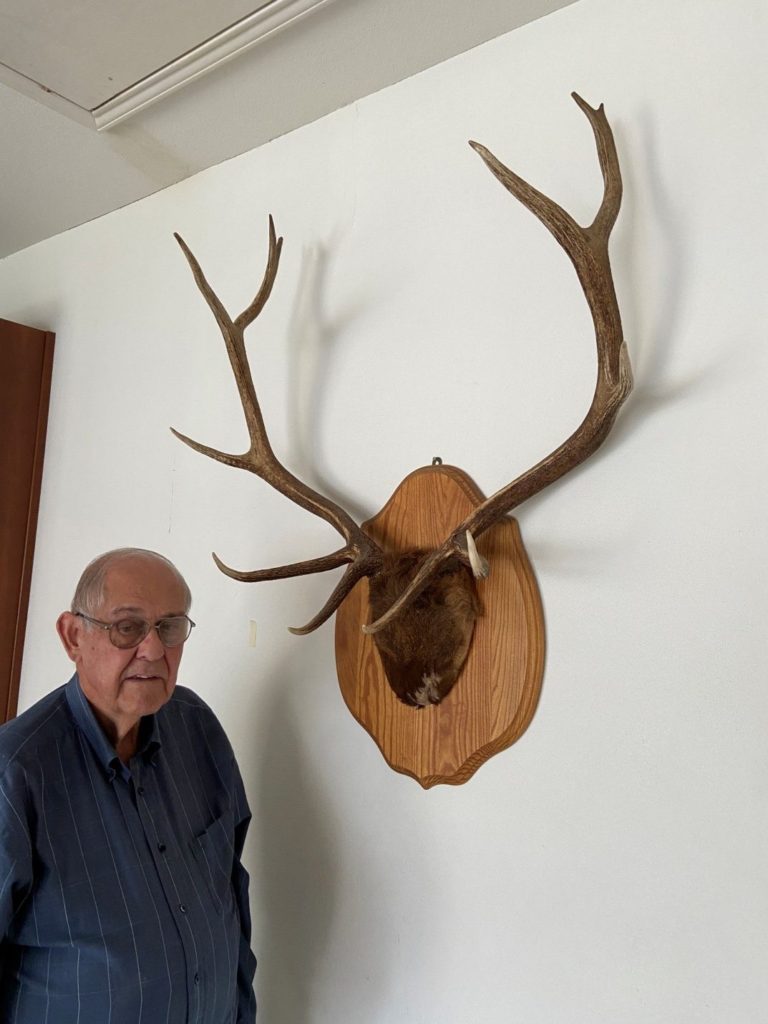 Note that the G6 points are considerably shorter than those of my royal bull l that I wrote about in an earlier article.  This bull was probably two years younger than the first one, but already a desirable trophy.
Now that Melvin and I had filled our tags, we sat in various blinds and observed, hoping to get Charlie in the right spot to get his bull. Unfortunately that did not happen on this hunt.
On Friday morning we loaded our gear and ATV and headed to the butcher shop to divide the frozen meat. Charlie, Melvin and I each got a 1/4 of the meat and Charlie took the other 1/4 share with him to Colorado Springs to give to the owners of the ranch. By sharing the meat with the owners, who do not hunt, we maintain good will and they allow us to come back year after year. Some years we have good luck as we did on the hunts described in these articles', but then again, some years we go home empty handed. Either way, it is always a thrill to be able to hunt and enjoy the beautiful landscape of the mountains of Colorado.
Just like I had luck on the two hunts I described in these articles, Charlie also had his successful hunts when I was left empty handed.
The most memorable successful hunt which Charlie had with me occurred in about 1983, before we had built the Charlie's Nest ground blind.  Charlie was hunting on the trail as it came out of the dark timber on the upper end of the meadow and his nephew Mike was hunting about 100 yards below Charlie at the edge of the wooded area.  Both were overlooking the large meadow.  I was sitting in a tree stand that I had prepared About 20 feet above the ground in a large Ponderosa pine tree on the ridge where we would build Melvin's nest a few years later mentioned earlier in this article.  From my vantage point I could see Charlie in his orange vest and cap.  We were probably about 600 yards apart.  At about 8 AM I heard a large number of shots coming from the meadow.  After the dust settled, I remained in my tree blind until Charlie and Mike came to me and told me that both he and Mike had gotten bulls.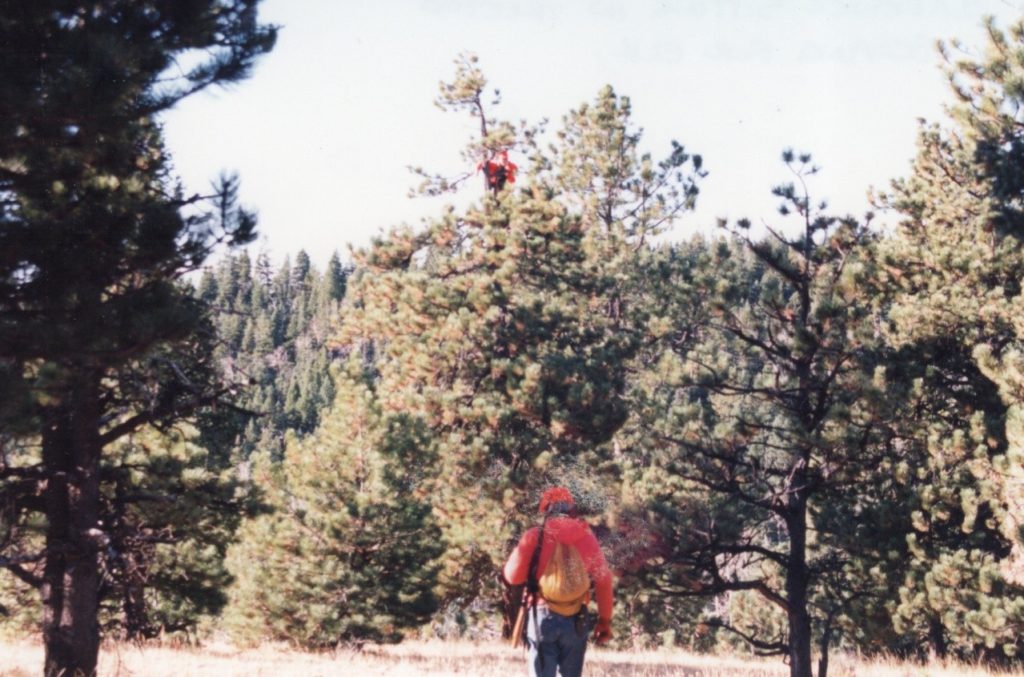 This photo shows Charlie approaching me sitting in my tree blind to tell me about the two big bulls which he and his nephew, Mike, had just killed.  (Photo taken by Mike.)
I joined Charlie and he took me to Mike's 6 x 6 bull which had travelled about 100 yards off the meadow before it laid down and Charlie had finished it off with a final shot. He then took me to the middle of the large meadow where his monster 7 x 6 bull was laying. Charlie had shot that bull at about 350 yards shooting from a standing position with no rest. Mike had shot his at about 250 yards from his position. Charlie explained that there were 3 big bulls in a group and they got two. What an incredible shot Charlie had made with his 300 Weatherby rifle. I field dressed two big bulls that day. On that hunt I went home empty handed. The next year we built a ground blind (known a Charlie's Nest) on the north side of the large meadow at the point where the bulls had been when Charlie and Mike had killed them one year earlier.
Charlie's Nest has been a very productive for all of the hunters on this ranch because the elk often enter the meadow from the bottom or lower end early in the morning and continue about 500 yards to the upper end where they enter the dark timber and continue their journey to their daytime resting area on our neighboring ranch. In the evening they sometimes reverse their travel coming down into our meadow shortly before dark and continue their journey to the large meadows on the two ranches downhill from our ranch where they graze during the night.
About two years later Charlie was sitting in his nest for the morning hunt during a heavy snow storm. At about 9 AM, he decided to walk around a bit. He crossed the 100 yard wide meadow and was looking down into the drainage on the opposite side of the meadow from his nest. Then he looked back to his nest and there he saw two big bulls right next to the blind where he had been sitting all morning and he had left about 15 minutes earlier. He killed the bigger one of the two. It was a 6 x 6. Again I went home empty handed. For me it was just as exiting If Charlie was successful as if I had killed a bull. We always considered it a very successful hunt if one of us got our bull. Only once in those many years that we hunted together did we both get our bull on the same hunt.
I am indeed grateful to my friends who own the ranch for making these hunts possible and above all, memorable.
The following two tabs change content below.
Clarence Scheel
After receiving my Bachelors Degree and my Army commission from ROTC at St. Mary's University, I began a 21 year career in the Army. During my career, I served six years in Germany--three as liaison officer to the German Army in Schwaebisch Gmuend and three on the staff at the US Army-Europe Headquarters in Heidelberg. In addition, I served on a missile site near Spokane, Washington, was sent to graduate school at Stanford University in California where I obtained my Masters Degree in Engineering, served at NORAD in Colorado Springs, served on the faculty at West Point in New York and served one year in Vietnam. After retirement from the Army in 1980, I moved to Colorado Springs, where I worked for 18 years as an engineer in the Aerospace Industry. I am now retired and living in New Braunfels, TX
Latest posts by Clarence Scheel (see all)