I've always been the kind of guy who looks at camouflage clothing as not always necessary.  Growing up in Texas and as a rifle hunter I often find myself putting on a camo jacket or shirt and some bluejeans and call it good.  In a lot of instances that has worked well and nothing more was needed.  When hunting outside the stand however, it is a necessity that I have never spent real money on.  I've always been a guy that went to the big box store and bought the cheapest clothing only to have it be done in a single hard season.  For very cold weather, I have a tan set of coveralls that were made by Walls back in the late 90's.  They have been my go to cold weather friends since I got them after high school.  When I discovered Walls acquired the 10X brand of camo clothing, I took a closer look.  I contacted 10X and learned that they have the power of Dickies and Walls behind them.  With that type of experience and quality it would make sense that their hunting apparel would be great.  Walls has been making a camo pattern on their working mans clothing line for some time and it is quality.  My daughter has a set of coveralls that were my sons several years ago and they show almost no wear.  We will pass them down when she no longer fits them and they will probably be worn by 2 or 3 other children before they are worn out and unserviceable.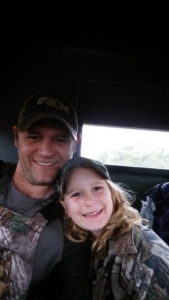 10X sent me a large array of items to try.  I first contacted them around SHOT Show last year and received my first stuff just in time to get the tail end of Turkey Season in South Texas.  The light weight breathable Ultra-Lite line was great.  It comes in Realtree Extra Green and is bright enough for summer and breathable for May in Texas.  The pants move appropriately and the shirts and pants have sufficient pockets.  A lot of effort was put into the pocket placements in all the 10X lineup.  I could not be more impressed that I would want a pocket somewhere, and there was one there.  I wore the full shirt and pants when I was on the ground looking for Turkey, but walking around and stalking I still found myself wearing jeans, but that is just an old habit and probably a little laziness.  I found that I especially liked the Ultra-Lite Long Sleeve shirt.  With the ability to roll the sleeves up, it is very similar to a fishing shirt in weight and was nice to wear.  It is my favorite out of the Ultra-Lite lineup at the moment.
My only complaints on these are the stickers that come from the factory showing what size they are.  They do not remove easily and have to be washed to get the sticker off.  Not a big deal, but it can be an annoyance.  Also, this material is so slick, that the thread holding the buttons on can come off, something that did happen to one button of mine, again nothing I care about.  I just put the button back on.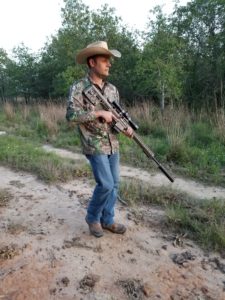 The thing that 10X has done that really shines to me is their Soft Shells.  The Lockdown Pant with Scentrex and especially the Silent Quest Lockdown Jacket with Scentrex are fantastic.  My son is quoted in saying "these are the best pants ever, I could sleep in these" due to how comfortable they are.  The combo are super soft and quiet for spot and stalk or bow hunting.  They breathe ok, but not as much if you will be doing a lot of hiking.  I wore this combination on a Mule Deer hunt in Montana an Elk hunt in Coloroado, and all throughout the Texas Whitetail Season.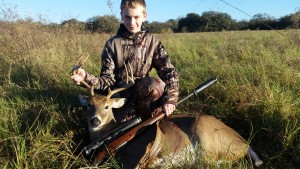 These softshells really allow you to be comfortable and to see how warm you want to be.  If the temps were going to be in the 50s and 60s I wouldn't wear a base layer bottom and might wear a T-Shirt under the top.  If it was in the low 50s and down to the low 40s a base layer with these was sufficient for me if the wind wasn't a big factor or if I was moving then I was good into the mid 40s with just a good base layer.
I have 3 complaints about these.  The main zipper pull on the jacket is a rubber covered tail that is easy to pull and grab, I would like to have seen that on all the zippers.  The other complaint is more of a caution.  I worry that these will tear if you snag them on a barbed wire fence or sharp thorns.  The main complaint is that the material is a little shiny, not much but it is in a subtle way.  I do not think it will reflect or anything like that, but to my eye it can be in the right conditions. That said, these are the perfect clothing for bow hunting or spot and stalk hunting.
The 2 main patterns they offer them in work well in most environments and I think are well done.  Again, the pockets in these are well thought out.  the pants have cargo pockets in the exact place I would want them and they are big enough to hold lights, range finders, and other big items.  The zipper pockets in the top are the same way and sufficiently hold your large smart phone or range finder should you want to put it there.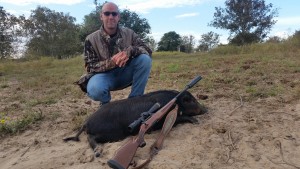 My buddy Paul wearing a soft shell jacket to take his first ever animal.
I would also like to see some kind of blaze orange option from 10X to go with their clothing.  Just a vest or something similar that could be used in other places that have the orange requirement.  A lot of my better pictures I have orange on, due to where I was hunting.  Namely Colorado or Montana.  Fellow Staff Writer Beau Durham and I went to Colorado in search of Elk.  We were skunked by the weather, but the gear performed flawlessly.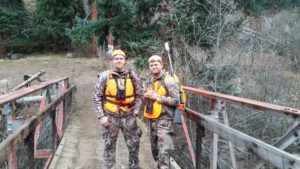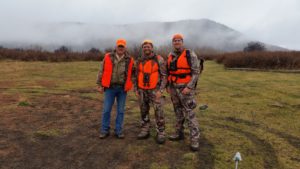 Here, Beau and I are in Colorado on one of the single hardest days we have ever had hunting.  10 or more miles at elevation and we did not kill anything.  We were quite miserable but had a ball doing it.  Moments after the picture with the 3 of us in it was taken, we helped a Colorado local kill a cow Elk.  He had his gun in his scabbard about to head down the mountain so I allowed him to use my gun to take the animal since he had a cow tag and I did not.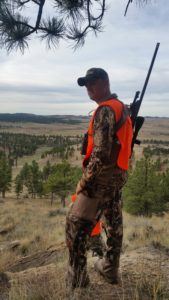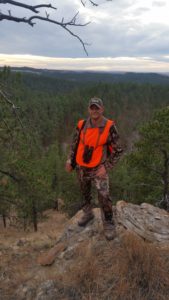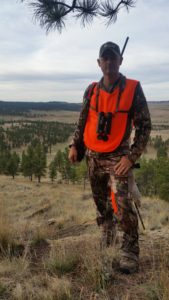 The clothing was perfect in Montana.  It was the perfect blend of warm during the cold spells and breathable for warm weather.  It blended in with the terrain and allowed me to focus on the hunt without worrying about comfort.  I have never had quality hunting clothing before this, and I can tell you this was worth its weight in gold when hiking in Montana and Colorado.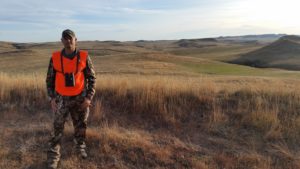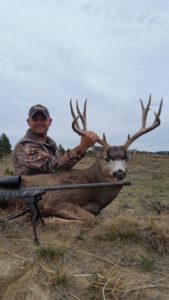 I was successful in Montana, and the entire hunt will air on the Pursuit Channel on Brush Country Monsters in late 2017.
The last items that I tried were the Silent Quest Insulated Bib with Scentrex and the Silent Quest Insulated Parka with Scentrex.  The only way to describe these is WARM.  I made the mistake to wear a base layer, the soft shells, and then the bib and parka on a particularly cold morning in Colorado.  Within 20 minutes I was sweating so much I was miserable.  The bib and parka do a great job of keeping you warm.  Often I would strap the parka to my hunting pack in case I stood still long enough to catch a chill.  The bib and parka are water resistant and do a great job of keeping you dry.  The hemline of the bib is reinforced so your hunting boots will not damage it, something that is very smart and unfortunately the soft shells lack.  The bib is lined with thinsulate and worked very well for me.  The hip pockets are huge and hold plenty of stuff and the chest pockets hold things like your license, phone and a spare round or two without issue.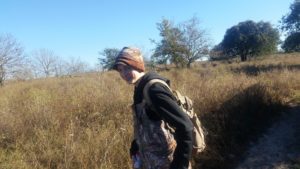 The parka is wonderful.  It is very dry when conditions are wet and it does a great job keeping me warm.  I have no complaints about this much like the bib, however I would like to see the pockets of the bib and parka to be lined with some kind of fleece, or softer material so as to keep your hands slightly warmer should you decide to put them in your pocket, but this is just being nit picky.  Beau and I have been very happy with the results of the 10X clothing line and I will say that they are the best you can buy for the money in my opinion.  I think with names like Walls and ultimately Dickies backing them up, they cannot fail and will be very successful.  The customer service I have encountered at 10X is nothing short of amazing.  This is a Texas company that has my backing 100%.  The next time you are in the market for some good hunting clothing, take a look at 10X.  You will be happy you did.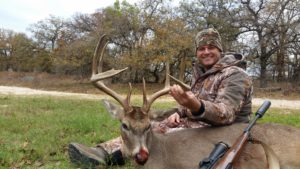 The following two tabs change content below.
Latest posts by Jason Hallmark (see all)