I have been using a silencer to hunt for the past 8 or so years. I made the decision that I would never hunt without a can so long as I have one and it is legal to do so. One of the things that a can does that is annoying, is it adds weight and length to a rifle, especially gas guns. I have been searching for a lightweight bolt gun that did not break the bank and shoots well for some time now. I was searching new rifles when I came across the Ruger American series and noticed that the Predator line comes pre-threaded. I have access to some pretty spendy guns, but most of them are pretty heavy, and those that are not are not yet threaded for a can. I decided to pick up a Ruger American Predator in 6.5 Creedmoor to match the build up I am doing on a Ruger Precision Rifle with the same chamber.
This little rifle comes from the factory able to shoot well, and the Ruger American series enjoys a reputation of having very good accuracy out of the box with nothing more added than a scope, rings and decent factory ammunition. I decided that a few things would need changing on my RAP before I even went to zero it. I am not a fan of the factory trigger, even though it is adjustable and there are some online resources that have documented some "hacks" to improve the trigger. Instead, I elected to put a Timney 2 lb trigger in it, and I will tell you that it makes a huge difference in the rifle. I consider this trigger to be a must for this rifle.
I called Warne and had them send me a 20 MOA base and 30mm rings for it. With the 6.5 Creedmoor being such a versatile round, I wanted the ability to not just shoot at point blank Texas hunting ranges, but also at distance should the opportunity present itself. I had a nice optic laying around so I decided to put the Leupold VX-6 3-18×44 with Windplex reticle on top. It seemed a little overkill at first, but this optic is at home on this rifle. It's the perfect combination of glass and reliability that the gun needed.
I was not a fan of the plastic bolt shroud that came on the rifle, so I contacted Titanium Gun Parts about a bold shroud. They sent me a red one, and promised that I would like it once I saw it. They were right, that little bit of color is pretty classy on this rifle and fits right in. I have yet to get a bolt handle for this rifle. I have a Titanium Gun Parts knob for it but not a handle. I am told Glades Armory has them for a reasonable price, which I will pick up soon. I got busy using the rifle at this point and it got pushed back on the importance list.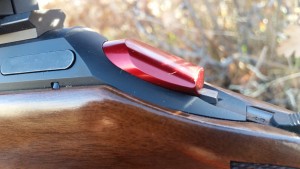 Last but not least was the stock. The stock that comes on the Ruger American line up is mostly all plastic. It serves a purpose and is very light. However, it is flimsy plastic and does not inspire confidence in me. For the average hunter who will be using the rifle harshly in various conditions, you will have a hard time finding an issue with the gun out of the box. I'm somewhat of a perfectionist and the moment I saw the stock I knew it had to go. I have been wanting a traditional wood stocked hunting rifle for a while that I could put a silencer on. The number of stock makers for the Ruger Americans are limited and the top seller is Boyds Gunstocks. I contacted Boyds and ordered the top of the line stock for this rifle. Walnut Prairie Hunter with fleur de'Lis laser engraving, black polymer tips with white washers, limb saver recoil pad and a high gloss finish. This stock has virtually all the options that Boyds does and all my pictures simply do not do the stock justice. Every time I have pulled the rifle out of the case people complement how nice the rifle looks and are shocked that it's a $450 gun. This stocks invoice came in around $414 dollars but if you did not get all the options I did, you can easily save some big money. Boyds has wood stocks for the Ruger Americans for as little as $150 or so dollars.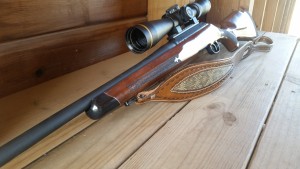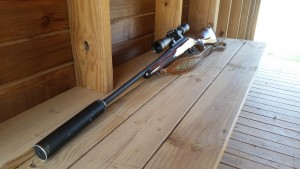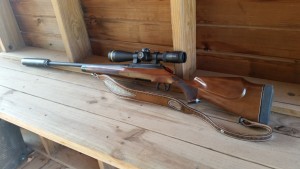 I zero'd the rifle using Winchester 140 grain match ammunition and then used Hornady Precision Hunter 143 grain ELD-X. I was getting roughly 3/4″ groups with the Winchester and slightly better with the Precision Hunter. My chrono told me I was getting 2640fps from the 22″ barrel using my Griffin Sportsman on the end. The gun is louder than a bolt action .308 but quieter than my .243 with the can in place on both. The gun also has no felt recoil. It is like a .223 in recoil and you can literally watch your rounds impact at 100yds.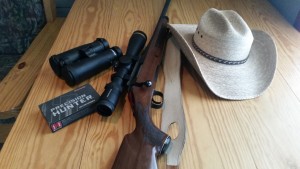 Afield, the rifle is a champ. It has simply worked well and I have used it to take a lot of game this year. 7 whitetail in total and 2 pigs have died all using this combination of the Precision Hunter ammo and this rifle. I took it elk hunting in Colorado which was unsuccessful (it was hot this year). This is my go to rifle now and despite having much more expensive guns, this one can hang with them all. Even at distance, this rifle shines.
The first animal I took with the RAP was a pig that just stood still too long. The boar had a solid black face on one side and yellow on the other. The 80yd CNS shot dropped the 230lb boar in his tracks. The exit of the ELD-X was a little bigger than the size of a quarter and the bullet clearly hit the spine.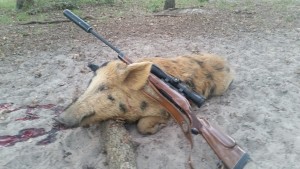 The next animal taken was from my Father in Law. Tony had not been hunting for 7 years and had never pulled the trigger on this gun. We were hunting in early October (thank you Texas MLD) and were looking for a good South Texas Doe. He dropped the hammer at 104 yards and she never took another step. Not bad for being away that long.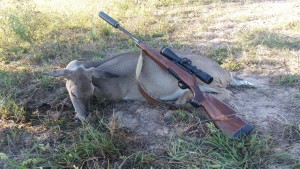 Next up is a personal friend of mine Paul. Paul had never hunted before in his life and had no idea what it was like. We had a great morning in the stand, saw lots of game and he ultimately decided to take a meat hog. He was calm, never excited and when he pulled the trigger the pig never got up.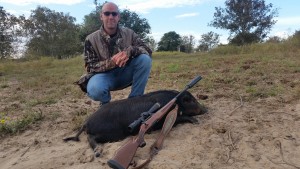 At this point I was starting to see a trend with the ELD-X. The bullet seems to expand better when it hits bone or at greater distances. However, it does a great amount of damage with a minimally sized exit wound. The bullet performed perfectly every time I used it in this rifle.
The next animal taken was from my son, who is 12. Austin and I were waiting in a nice blind all morning and a cull buck had stepped out. A short time later this other buck came running through and I recognized him as a cull also. Problem was, he ran to a spot 264 yards from where we were sitting and I questioned my sons ability to shoot something that far away. He gave me the sly "I've shot that far before dad" as if to welcome the challenge. I handed him the rifle and a few seconds later that buck took his last breath. He hammered him despite a deep quartering shot that got both lungs and the liver. Not bad for 12 I suppose.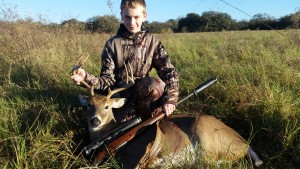 The next up was me. I have a nice lease in Seguin Texas that allows me to kill a trophy buck a year. Trophy defined by its size and age of at least 6.5 years old and around 140 inches. I hunted pretty hard this year on the lease for my trophy, they are not easy to find. I caught a glimpse of a giant 8 point that was at least 6.5 years old and I thought would be in the 140s. Every time he would come out, he would leave before presenting a shot. Once, I thought I had him and all the animals in the area stopped including him and looked in a direction to my right. When I looked back at him after trying to see what he was looking at, he had walked away. I have never personally hunted a specific deer as hard as I hunted this one. I nicknamed him the Hard8 because of how hard I was hunting him. I put in around 60+ hours in the stand, bought around 400lbs of corn and lived and worked on around 3 hours of sleep for 3 weeks. In the end, I got him with a heart shot at 80 yards and he's spectatular. He scored only 135.5″ but I could not be happier.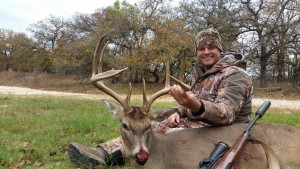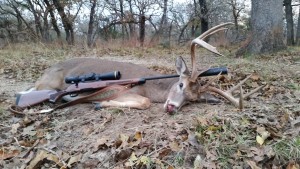 Next, over the Christmas visit with my family, my brother in law decided to try his hand. He doubled because he was able to be patient. Both deer were shot within 10 feet of each other about 20 minutes apart. Since that day, he has decided to buy a rifle just like this one and my father already has his in hand.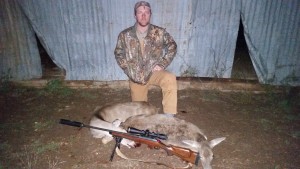 The last animals to be taken with the RAP were a pair of does. One by me, the other by my 7yo. Her first ever deer. She put the bullet in the center of the shoulder when the doe was slightly quartering. The doe went 20 yards before piling up. I could not be more impressed with a 7yo doing that under pressure. She is totally hooked and cannot wait until next time. After retrieving her deer and on my way to clean it, a group of does popped out at a good distance away. Being confident they were inside 300 yards and knowing I was good to that distance with this rifle, I let the bullet fly. I had a shaky rest and as I pulled the trigger saw the impact a little farther back than I wanted. But, she went 10 yards and her liver was mush. I did not take a picture of this doe, but she is notable because she was taken at 271 yards.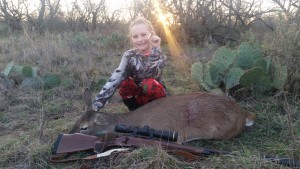 The Ruger American Centerfire rifles from Ruger are a very good deal for what you get. The accuracy and choice of all the popular hunting calibers gets you something better than what most people expect. The Boyds Gunstocks Prarie Hunter is simply the best upgrade I could have done. It made the rifle look so much better and it dropped in without any real issues. Only fitment issue I had was I had to place a washer under the mag catch tab to get the mag to stay in place.
I did suffer 2 light primer strikes on the RAP over the course of my time with it. Both were in similar conditions where it was cold and I had put the rifle down and chambered it in the dark. Best I can figure is that the bolt handle lifts up easy when the rifle is chambered and will fire with the bolt lifted slightly. But, when fired in this condition the firing pin is slowed by the bolt being forced back down causing a light primer strike. I do not see this as an issue, but more of something to be aware of.
The entire rifle is something that I'm proud to have. It performs great and I get a LOT of complements on the stock. Boyds really did a great job. The combination has proved deadly and I would not hesitate to kill an Elk or something similar at 400 yards. I have an entire season where this is all I used. I have no complaints about the gun, other than I scratched the pretty stock in Colorado pretty bad. If you are looking for a killer rifle that suppresses easy, the Ruger American is the way to go. If you have an American, call Boyds Gunstocks, they have an option that will fit your budget and needs.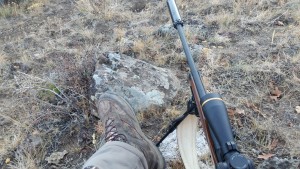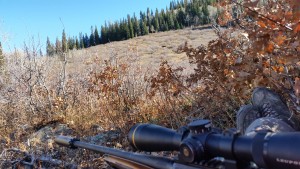 The following two tabs change content below.
Latest posts by Jason Hallmark (see all)