It frequently amazes me that hunters often feel the need to light up the woods as if it were daylight. I am the complete opposite in that I want just enough light to safely drive from camp to hunting area with minimal disruption. When driving my F-150 I turn off all of the lights other than the amber fog lights. After some research, I purchased the Kaper II L16-0075GR Green LED Hunting light to install on my 2017 Polaris Ranger XP 1000.
I bought the light right before the 2020 deer season so I simply spliced in a cigarette lighter plug and temporarily mounted the light in an existing hole in the Polaris metal roof. Worked well enough for its intended purpose but was not the way I like to roll. I wanted to mount the light in the grill area and install a proper wiring harness and dashboard switch.
Once again, I turned to Amazon and settled on the Nilight LED Light Bar Wiring Kit. This kit includes long wires, heavy 14 gauge wire, fuse block, dual leads, and lighted dashboard switch.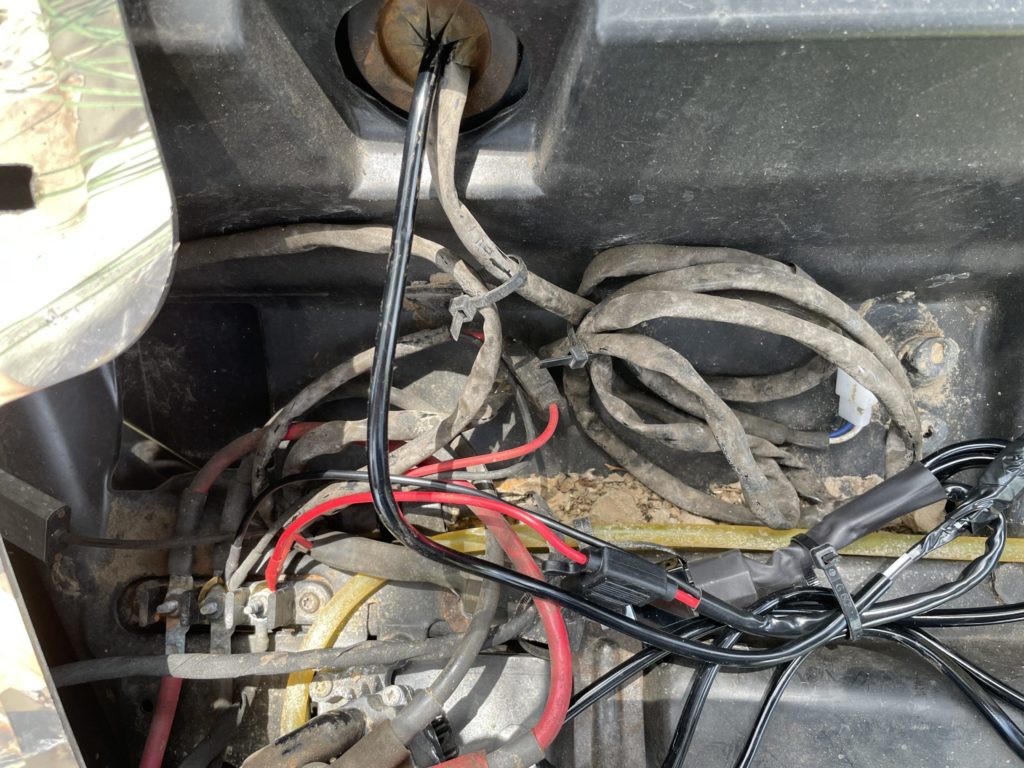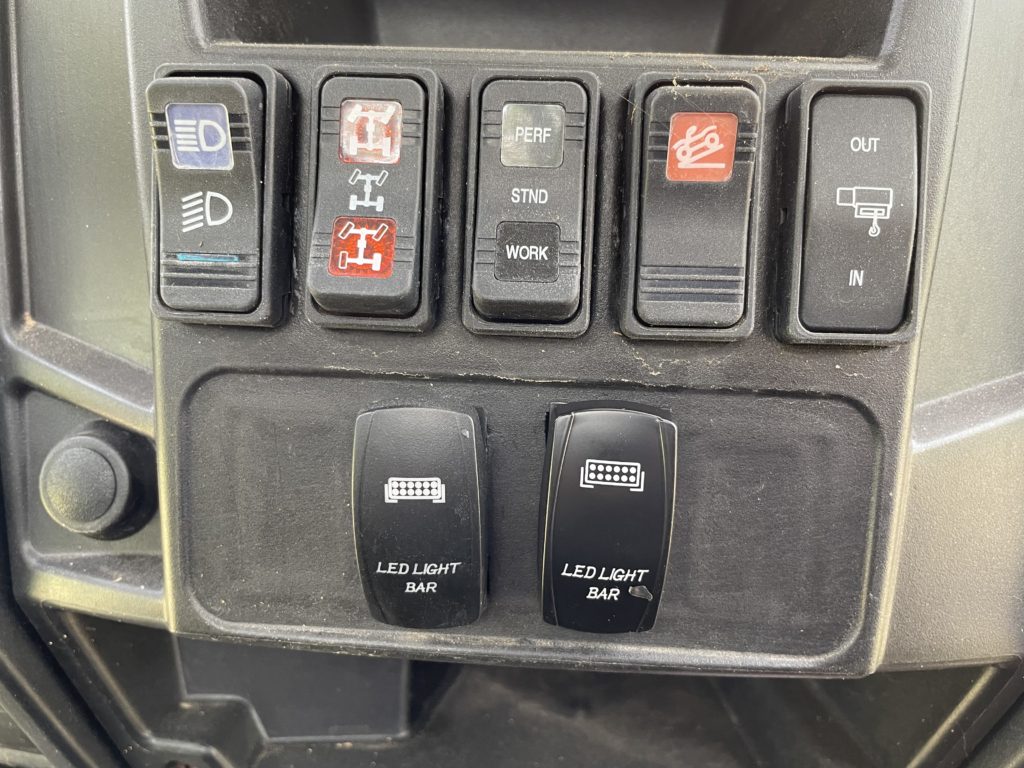 I knew where I wanted to mount the Kaper green LED light but wasn't quite sure how to access the area required to tighten the nut. Turns out the lower grill insert simply pops out! Super easy installation drilling one hole through plastic. Mounting hardware is all stainless steel.
The wiring harness is fairly long so I cut off about 5′ of wire and connected the light bar with wire nuts secured with black electrical tape.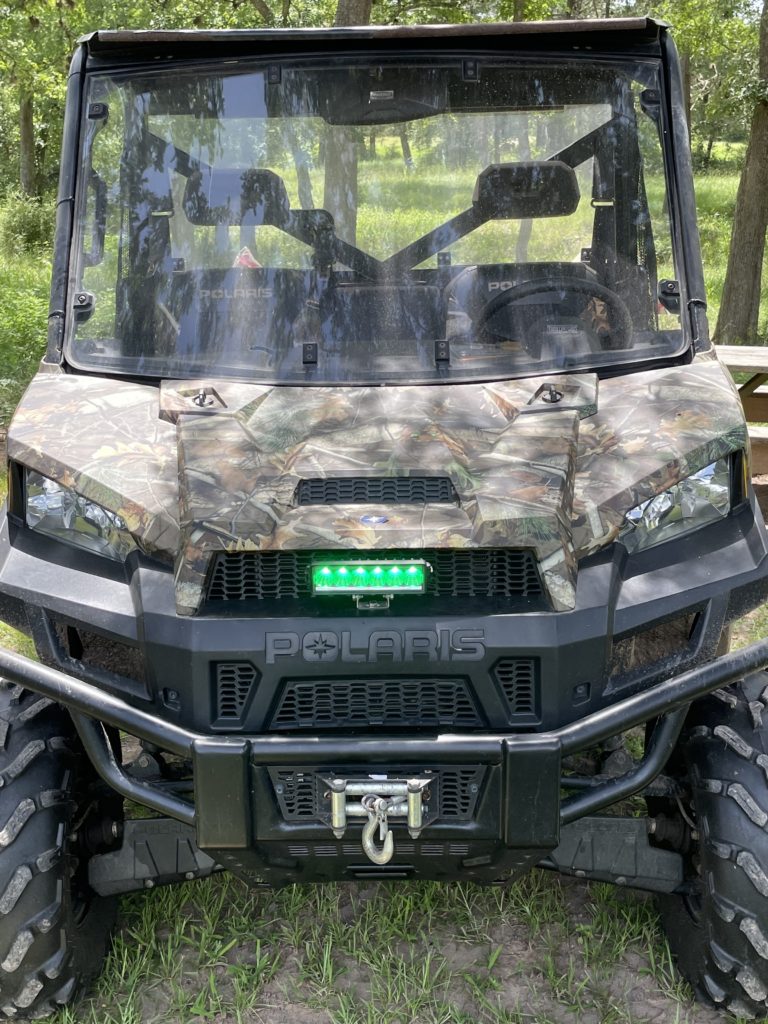 I had previously installed a SuperATV 6″ light bar on the back roofline as a work light so I knew the dash panel was fairly thin plastic. A minor complaint I have is that I wish Nilight had included a template to help cut the correct size hole for the switch. As it was, I cut it using a utility razor knife and some trial and error. The final installation looks cleaner and straighter than the photo. A proper template would have helped but it turned out fine.
There is already a hole in the firewall behind the dash so I used a fish (or tape) to pull the wiring harness through and attach to switch. The last step was to install the positive and negative leads to the factory bus bar.
Overall, I am very pleased with the final results. The Kaper green LED hunting light was under $40 and the Nilight wiring harness under $20. Labor took an hour but I could now do it in about 15 minutes.
Factory Polaris headlight bulbs were replaced with aftermarket CREE LED bulbs which made a tremendous difference at very low cost. Plug and play simple installation. WinPower H13 LED Headlight Bulbs 9008 CREE 70W. Highly recommend. Upgraded the dull yellow light beam to a bright white light.
Parts Kit:
Kaper II L16-0075GR Green LED Hunting light
WinPower H13 LED Headlight Bulbs 9008 CREE 70W
SuperATV 6″ LED light bar
Nilight LED Light Bar Wiring Harness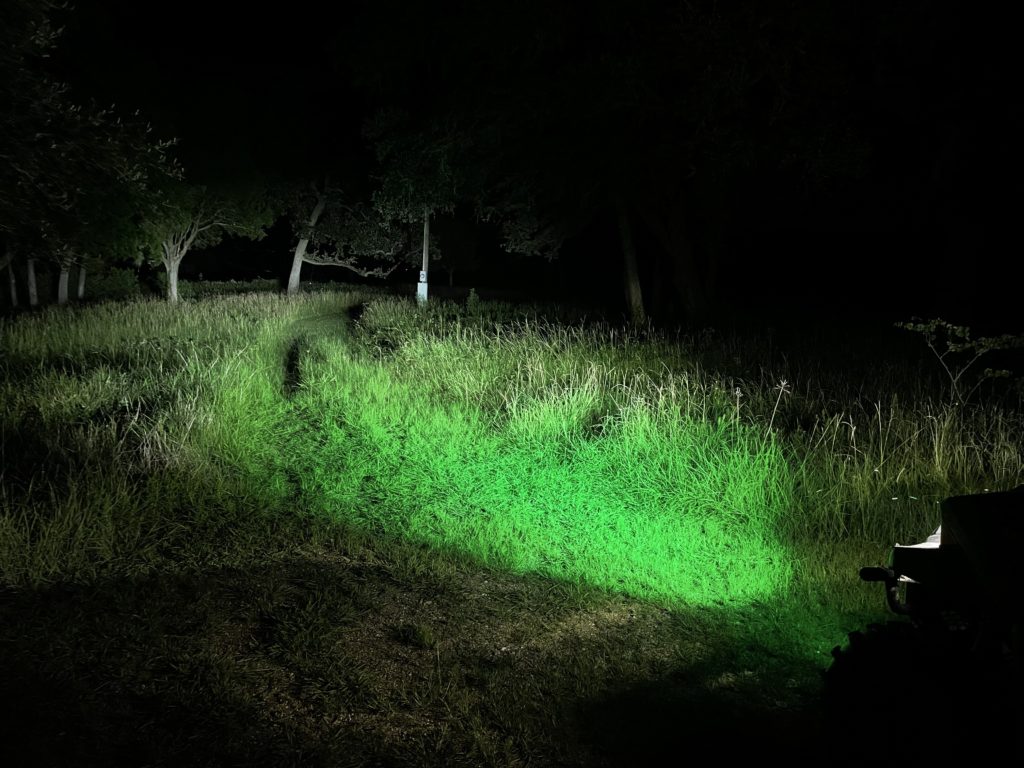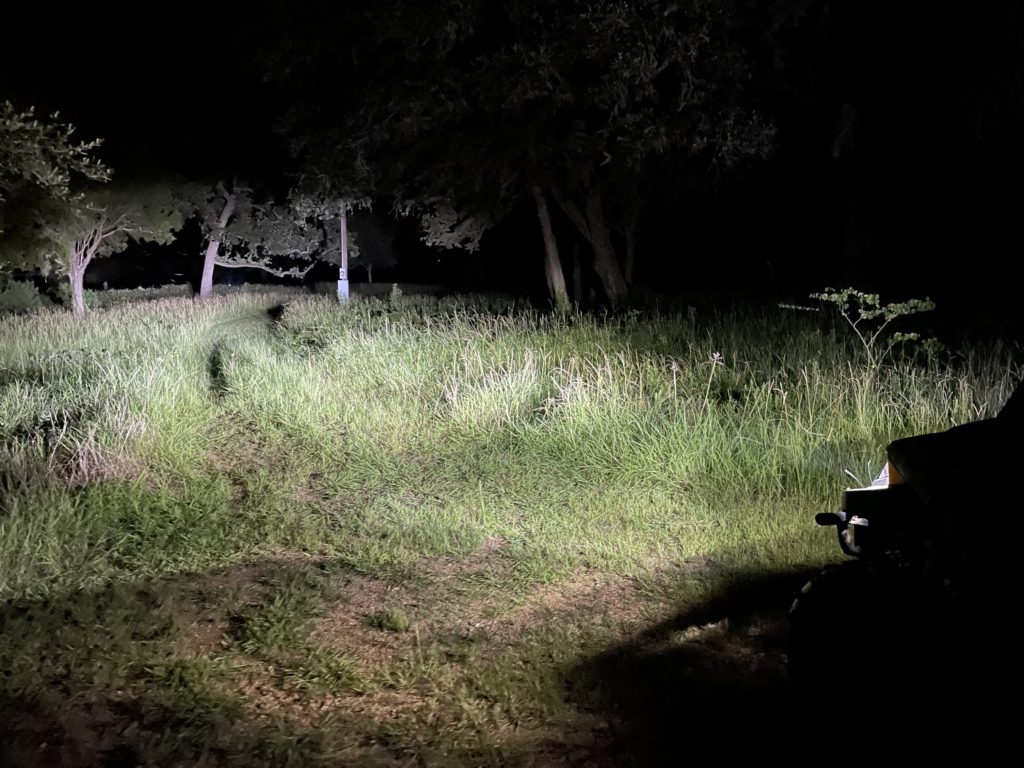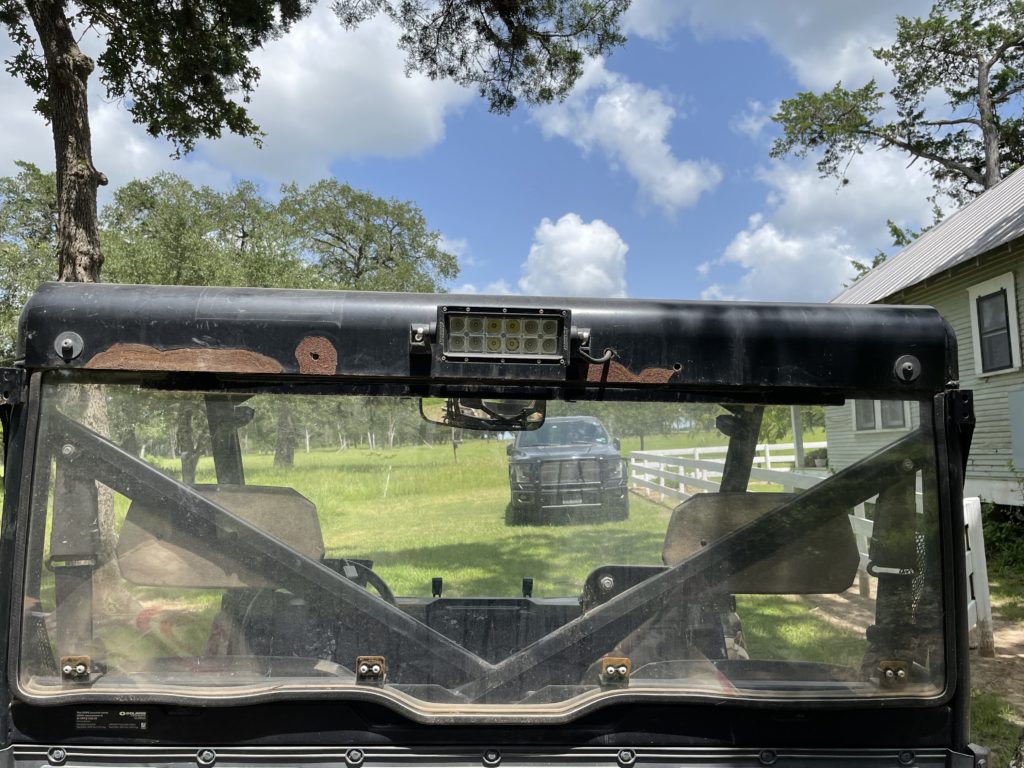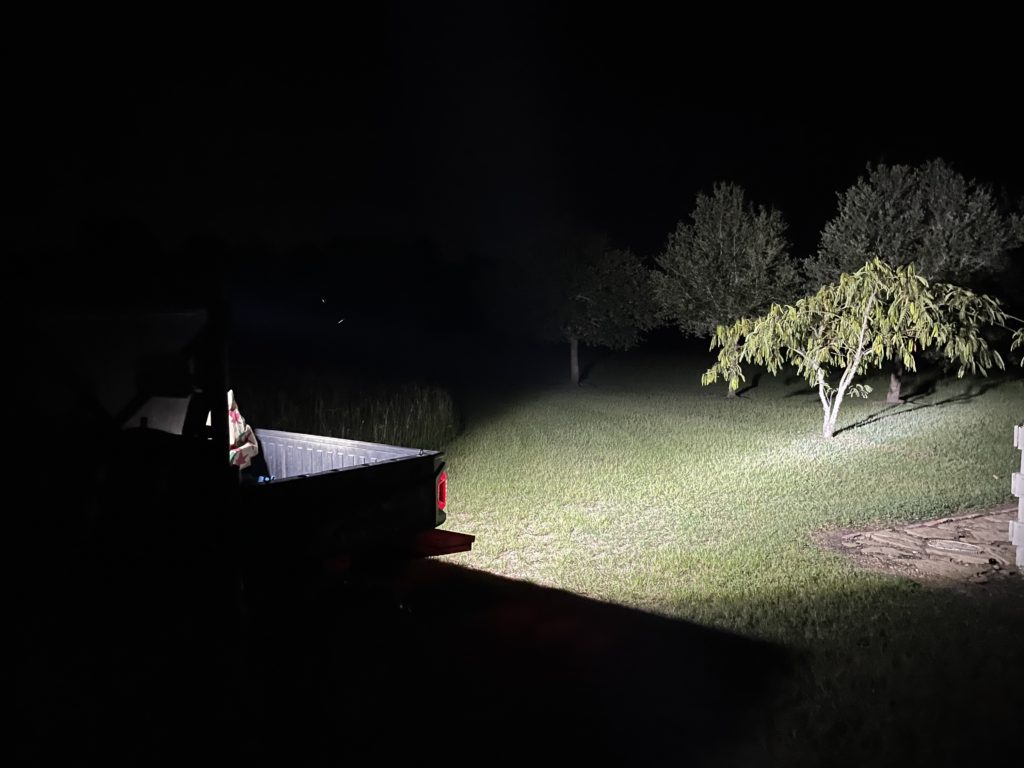 The following two tabs change content below.
Publisher of Tactical Gun Review and Texas Outdoors Network. Mike wisely spent his youth hunting and fishing in South Texas.
Latest posts by Mike Coker (see all)