For those of you who may be unfamiliar with Kalhes, they are the oldest optic manufacturer in existence. Based in Austria they have been in the game since 1898. They have never been a huge name in the US due to the lack of a consistent US distributor. That all changed a few years ago when Swarovski Optics, who is their sister company became the US distributor and service center.
This is a first focal plane tactical scope with a 3-18 zoom range, 50mm objective,  tactical turrets, illumination, etc.. in a very compact package.  I have used this hunting in very low light and shooting matches out to 1k.  It has performed flawlessly as expected.  Kahles is the oldest optic manufacture on the planet and are made in Austria.
I will fully admit to have a positive bias towards Kahles scopes. I got turned on to them like 15 years ago when I was frequenting the OpticsTalk forum. They had a great reputation for having incredible glass and I was fortunate enough to get my hands on a CL 3-10X50 hunting scope with the turret that allowed you to preset zeros at different yardages. This was before the big FFP "tactical" scope thing really came in to play. I was amazed at how much better in low light that scope was in comparison to the common hunting scopes of the day, Leupold, Nikon Monarchs, etc.. In fact I vividly recall hunting with my dad late one evening and I was on a big buck out in the field at 300 yards and had him dead to rights so to speak. My dad was looking through a Nikon Monarch which as decent scope and a big step up from his trusty old Leupold. He was saying he couldn't find the deer.. I switched rifles with him and he went "oh wow, there it is!" Suffice it to say he "got" the need for great glass that evening.
Fast forward a few years and I got a Kahles 3-12×50 FFP tactical scope and was again, blown away by the optical performance. I recall having a competitor, a USO 3-17 out at the 1k range and how the Kahles resolved the targets, even at the distance better and make shooting easier, despite having less magnification. I coined a phrase that day "glass trumps magnification".
If you read those older reviews you can see they care clearly some of the absolute best scopes on the market at any price. 
Now to the details of this optic.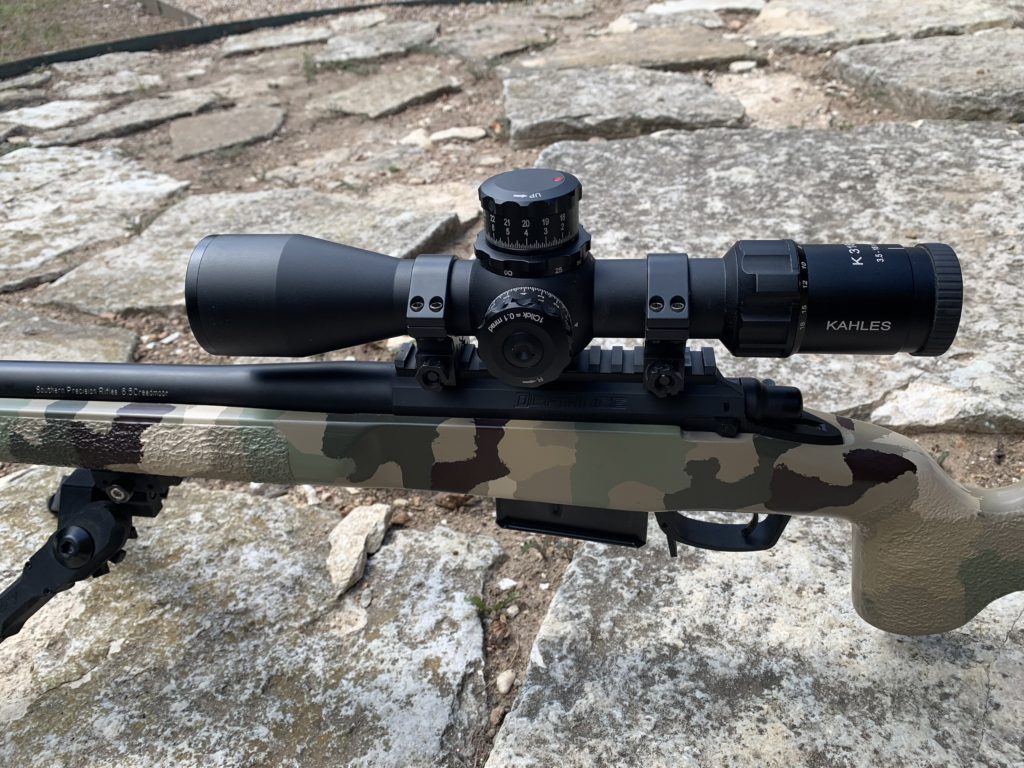 Highlights
Ultrashort and lightweight riflescope for demanding shooters
Absolutely reliable repeat accuracy and precise, clearly defined click mechanism
Wide field of view and exceptional high contrast image
Innovative TWIST GUARD windage (patented)
Parallax wheel integrated into the elevation turret (patented) (25 m to ∞)
Precise illuminated reticles in 1st focal plane
Technical Data
Magnification:
3.5 – 18
Eye relief:
36 in
Field of view:
27.8 – 5.5 in/100 yds
Diopter compensation:
+2.5 / -3.5 dpt
Twilight factor (DIN 58388):
13.2 – 30.0
Impact correction per click:
0.1 MRAD
¼ MOA
Adjustment range (E/W):
30 / 20 MIL 102 / 69 MOA
Parallax adjustment:
25 m till ∞
Length:
123 in
Weight:
33.2 oz
Focal plane:
1
Illuminated:
Yes
Warranty:
10 years
A few standout features:
Clockwise or counter clockwise elevation adjustment.
I got the CCW as being a right handed shooter and using my left hand for elevation adjustments means that for me, it seems more natural to "wind up" by rotation my wrist towards the front of the rifle for longer shots.
I have done extensive testing on tracking. I have a .1 mil (.36″) grid on a large poster sized target. Placed in ranges from 100 to 750 yards. Given that the host rifle will shoot damned near one hole groups if I do my part it makes for a great tracking platform. All my elevation and windage adjustments went exactly where I expected them to go and always returned to the same zero. I always do a box test where start with a round in the dead center. I go right 10 mils, then up 10, then left 20, down twenty, over 10, and back up 10 to get back to my zero. Shooting out to 1k my rounds impacted where I expected them to based on previous data. Good to go. I am generally a dial for elevation and hold for wind but I do sometimes dial for windage correction.
Left side windage adjustment with Twist Guard
Again, being a right handed shooter having the windage be on the left side of the scope makes so much more sense than being on the right. I maintain a positive grip and rifle mount with my right hand. It also features the "twist guard" which is essentially a plate that rotates freely on the outside to prevent it from getting accidentally bumped off center
Elevation turret location for parallax adjustment.
The parallax adjustment is located under the elevation knob and is easy to read and very convenient to use.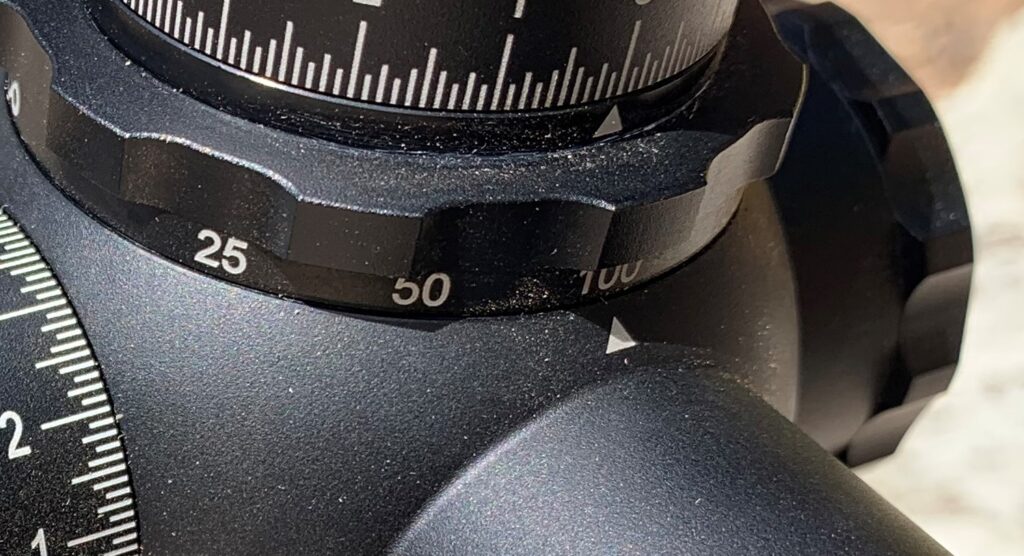 Zero Stop
Like most tactical scopes, it features a zero stop and this one was easy to setup.
Reticle Illumination
Located on the right side of the scope is the illumination control. Being mil based reticle with a center dot, what gets illuminated is the center dot and the reticle out to the first mil hashmark along with the .5 stradia marking. It is capable of being extremely dimly lit making it actually useable in very low conditions unlike scopes that can't get dim enough and are actually counter productive by being too bright and causing your pupil to constrict and making matters worse. I wouldn't necessarily call it "daytime bright" like a red dot but it is bright enough to make the rather fine reticle easier to find, especially at low magnification settings on a dark target.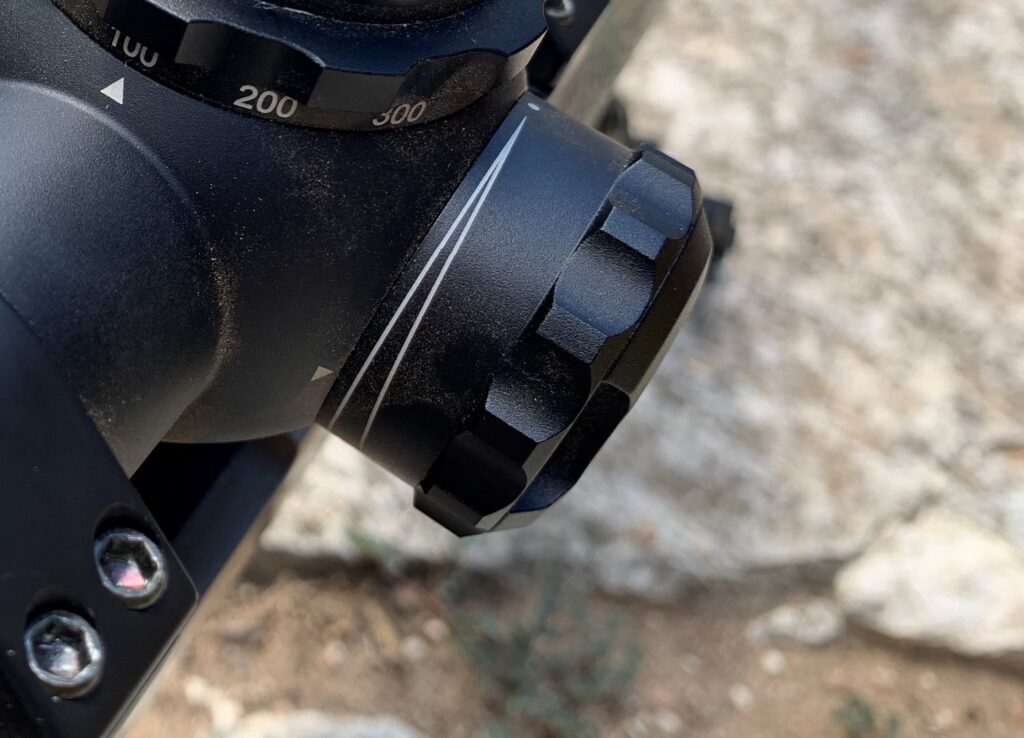 MSR/Ki Reticle
This is a mil based reticle featuring a center dot that is .04 mil with .5 and 1 mil hashmarks along with two different ranging reticle features. Below is the detail on the reticle substensions.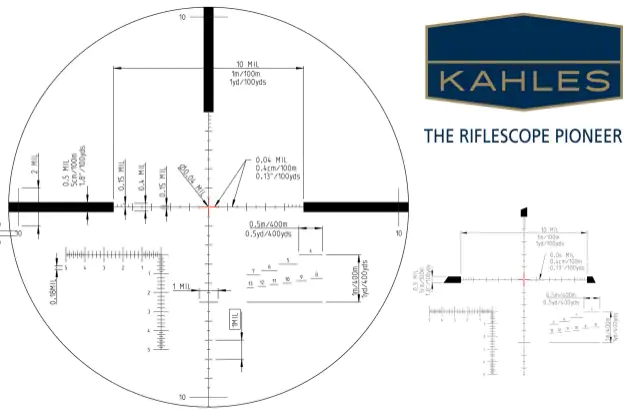 Conclusion
This is an incredible scope and would be ideal on either a competition PRS type rifle or a "tactical" precision hunting rifle and it can certainly serve dual purpose. I have it on a custom 6.5 Creedmoor with a 22" barrel and it makes for a extremely capable dual purpose rifle. I like that the glass is outstanding of course, great resolution and clarity. Works very well in low light. It has generous and consistent eye relief in all power settings. I find it very easy to get behind so to speak. It doesn't exhibit any tunneling (fisheye effect) at lowest magnification settings like some FFPs I have used. The elevation turret is easy to see where you are at, it has a very positive click and there is a button that pops up when you go into the second revolution making it very easy to know if where you are at. I love the compact size and for what you get is on the lighter side for a tactical scope. I can't recommend the Kahles K3-18 strongly enough.

For more details.
https://www.kahles.at/us/sport/riflescopes/k318i-3_5-18x50i
The following two tabs change content below.
Latest posts by Charles Coker (see all)