Full disclsure.. I am a gnarly old dude, 55 years on planet earth and the last 25 years I have been a mountain biker. I love it, it gets me out in the woods (or the desert) and I get my adrenaline rush, physical fitness and mental health therapy all in the same day!. I have owned a LOT of bikes, I mean 30 or so probably, my first year I went through 4, and in fact got so involved in riding and racing and the quest to have the best I opened a high end shop.
Initially I was doing it out of my garage and at times would have 10 full blown custom bikes in varying stages and was shipping them all over the world. I carried nothing but the absolute best handbuilt frames from the top US makers, Titus, Ellsworth, Tuner, Ventana, Intense, etc.. I got to build up and test on the trail all of these bikes and all the best components daily. I knew what REALLY worked and how they really performed on the trail. I got so into I ended up partnering with Titus cycles out of Tempe, AZ and launching my own bike, the Hammerhead 100x. I took my favorite frame and did a few slight tweaks to it and we sold a ton of them. I shipped bikes all over the world. In fact, I am still very proud of this and have full size posters on my office wall. Check out the reviews on MTBR.com when you want a trip down memory lane, I do occasionally! Hammerhead 100X https://www.mtbr.com/product/older-categories-bikes/2002-full-suspension/hammerhead/100x.html
At some point around 2007 I decided to leave the industry and go back to IT, I left with an Ellsworth Evolve 29er FS and rode it for 5 years (unheard of for me!) Then I got rid of it and built up a Turner Sultan 29er FS, loaded with all the goodies including Industry Nine wheels. I rode that bike for 8 years and admittedly, didn't put a whole lot of miles on it the last few years. Last year I told my wife "next year, I am getting a new bike" My son is 16 and likes to ride and I was hoping getting a new ride would get me excited to ride again. Fast forward to a few months ago and I did a ride with a long time buddy, Wes Heyslip who owns Velorangutan cycles in Austin. He was like "man, you need a new bike". "yeah, it's on the list" I responded.
A few weeks later one of my co workers demoed out an Orbea Occam from Wes and ordered one. When it got in I was talking with Wes about it and he said he was slammed on bike builds and so I offered to get it from him and build it up so my buddy could have it for the weekend. I did it and sent the built pictures to my friend to surprise him, he was out of town until the next afternoon and so I offered to take it out in the morning for a shakedown ride at one of my favorite trails in Austin that is not on any public trail map (the best usually aren't!) I had also spoke with another long time friend and customer the night before who had bought one after demoing two other bikes I was considering, the Ibis Ripmo and Pivot Switchblade, both well received trail bikes with 140 rear and 160mm up front. He said he just felt right at home on the Occam after he demoed one up in New Mexico from a dealer, his had the Fox 36 150mm fork (upgrade over the Fox 34/140) In fact, he loved it so much he bought the shop owner's personal bike he had just built up! I took the bike out and was kind of shocked at how well it handled, this whole "modern geometry" had me quite puzzled, coming from old school geometry I didn't see how a bike with a long wheelbase and a 65 degree head angle was going to handle tight singletrack. I was pleasantly surprised! This bike had the 140 on it and I felt it would still be fine with a 150 or 160mm fork. And it climbed great too and of course descended extremely well as expected. I ended up buying the M10 XT build and swapping out the 140 for a 160 the shop had. I rode it for about a month and then swapped out the wheels for a set of Industry Nine Carbon Enduros. Oh yeah! Game changer. This bike did everything better than the Turner Sultan, it out climbed it, out cornered it and of course out descended it. Well, me being me I decided to order a custom color one, because, well, why not and besides, my buddy had the same color as me and that just isn't cool.
I spent all last week riding Bentonville, AR and surrounding areas an was loving the bike when I got a text that the new bike was in. Of course it was! When I was out of town! I got back into town and picked the bike up. At first I was going two swap forks, the new bike came with a 150 Fox 36 and I had planned to do the fork swap and at the last minute I decided to run it at 150 as I was curious to test between it and the 160. It's only about $50 bucks to swap parts so why not? I did the initial ride on it and well, it felt just like the 1st one. I am probably going to leave as is for the forseeable future.
Are there any negatives to the bike? Well, slight personal preferences, didn't like the grips and put on a set of ESI Chunkys. Saddle was swapped out for a WTB Silverado and rear tire for a 2.4 Maxxis Dissector, Those are all just personal preference "issues" of course. I will say the bike is equally at home in the tight, technical singletrack as it was in Bentonville doing parks and "enduro" type stuff with some fast downhilling thrown in the mix.
This brings me to a very cool thing! The ability to go to the Orbea website and do custom paint jobs for no extra charge! Really cool tool they have online to personalize your bike!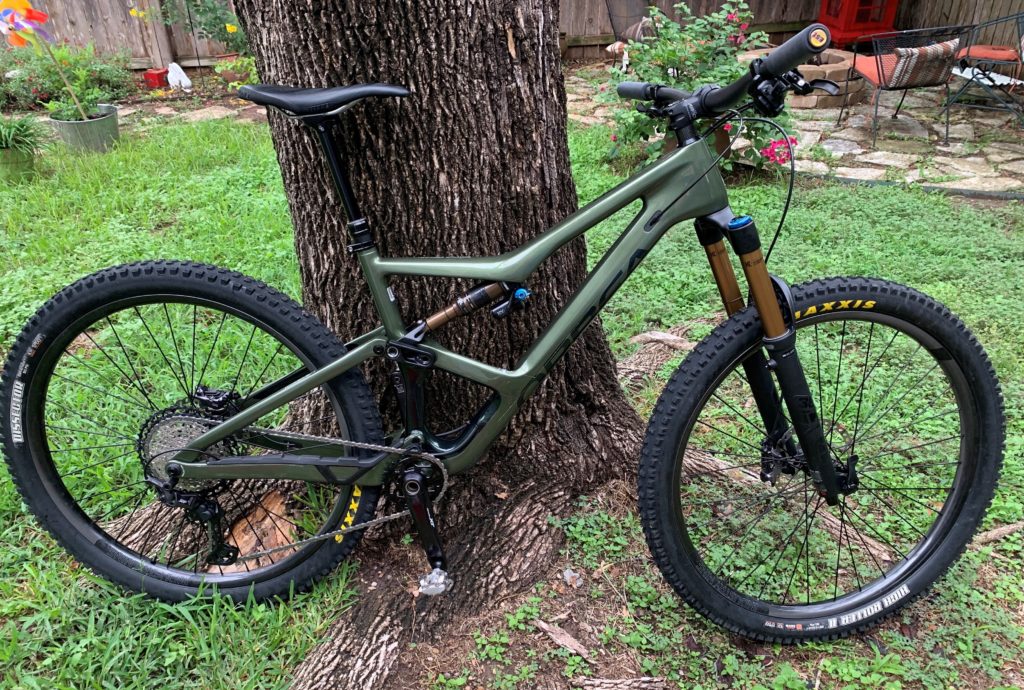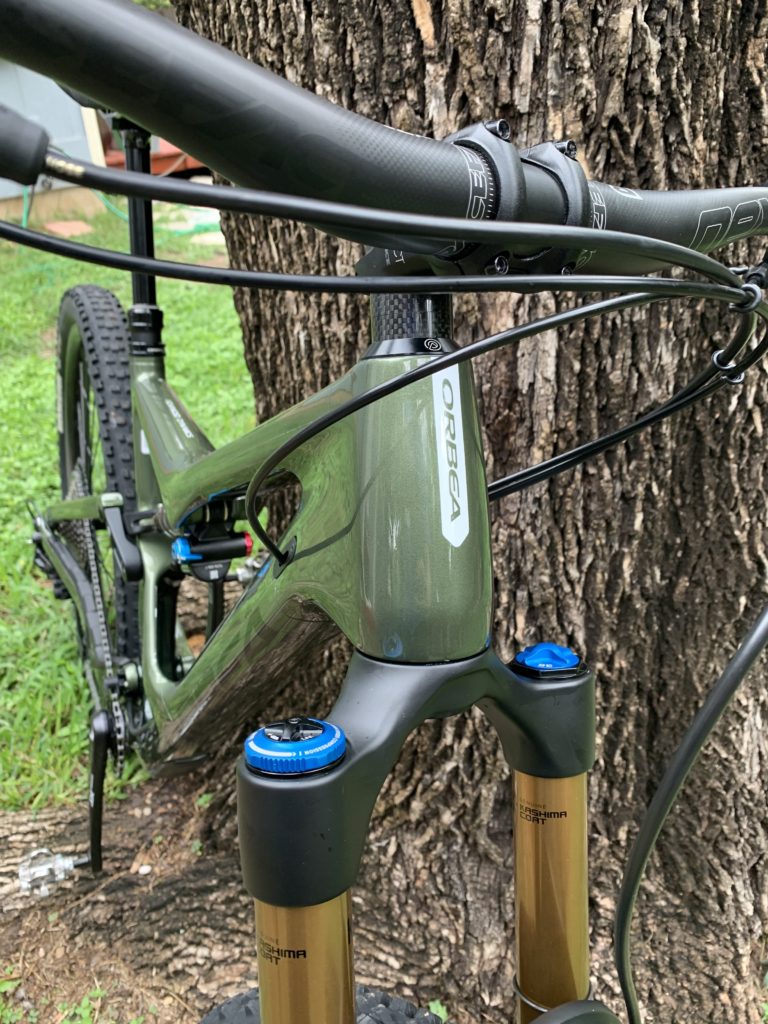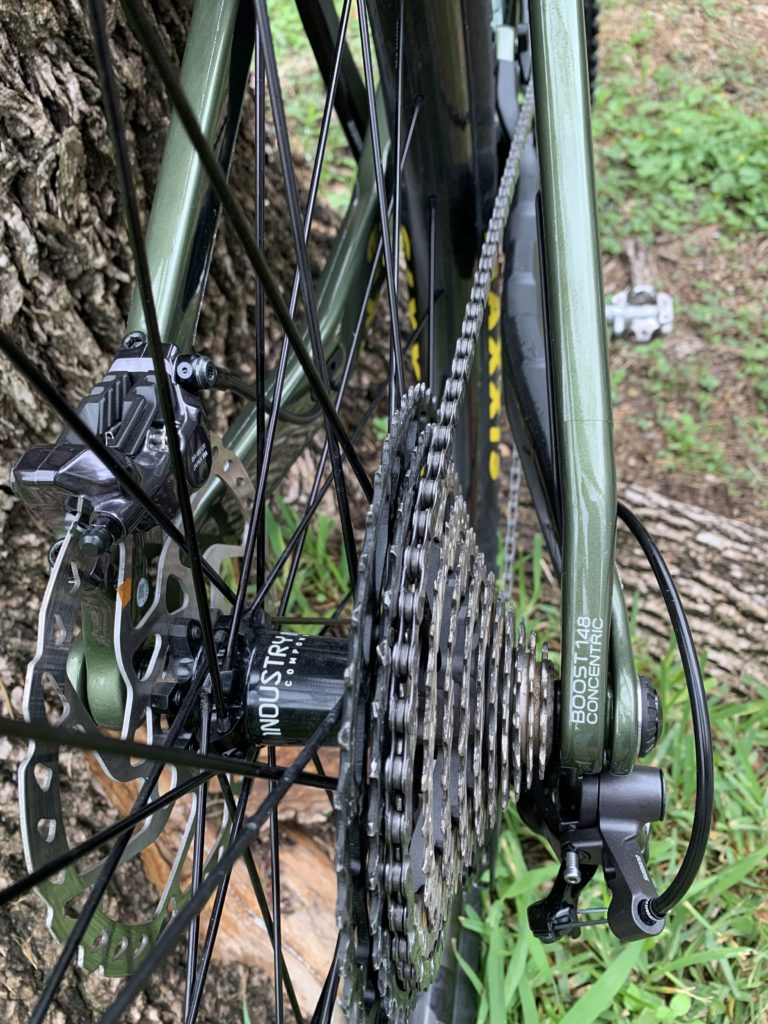 A nod to the old bike shop days
Do yourself a favor and check it out at Orbea.com and be sure and check with my buddy Wes at Velorangutan in Austin, he treats people right and ships everywhere. He will have a discussion and help guide you in the right direction at a fair price, he carries Orbea, Nukeproof, Scott, Devinchi and Ibis. www.velorangutan.com
The following two tabs change content below.
Latest posts by Charles Coker (see all)