Today we tried some areas that I haven't fished in several months. The conditions were right with a 5-10mph ENE wind, green water, lots of mid sized mullet, and rafts of finger mullet. We decided to work the entire pocket, which would make for about a 1.5 hour wade. As soon as we got out the clients were catching 16-18″ trout along the bank throwing a variety of Gambler baits.
I walked down the drop off in crotch to waist deep water yielding no bites. As we approached 3 small shell pads I knew of down the bank, we tightened up, walking closer together. At first it was a few strikes, then a couple barely keeper reds, but then one of my cast throwing a olive green/silver Mirrodine XL sailed with the wind and to the backside of the reef. Almost instantly it got crushed. At first glance it shook like a trout, even pulled and glided like one. But then she breeched and my jaw hit to ground. I knew right away it was my PB flounder. Catching several each year I never gave it much thought. Being that the ones I usually catch are in the 15-18″ range. This girl here tipped the Boga at 6.25# and on the rod was 25″ long. After a quick picture, we released her back into the water.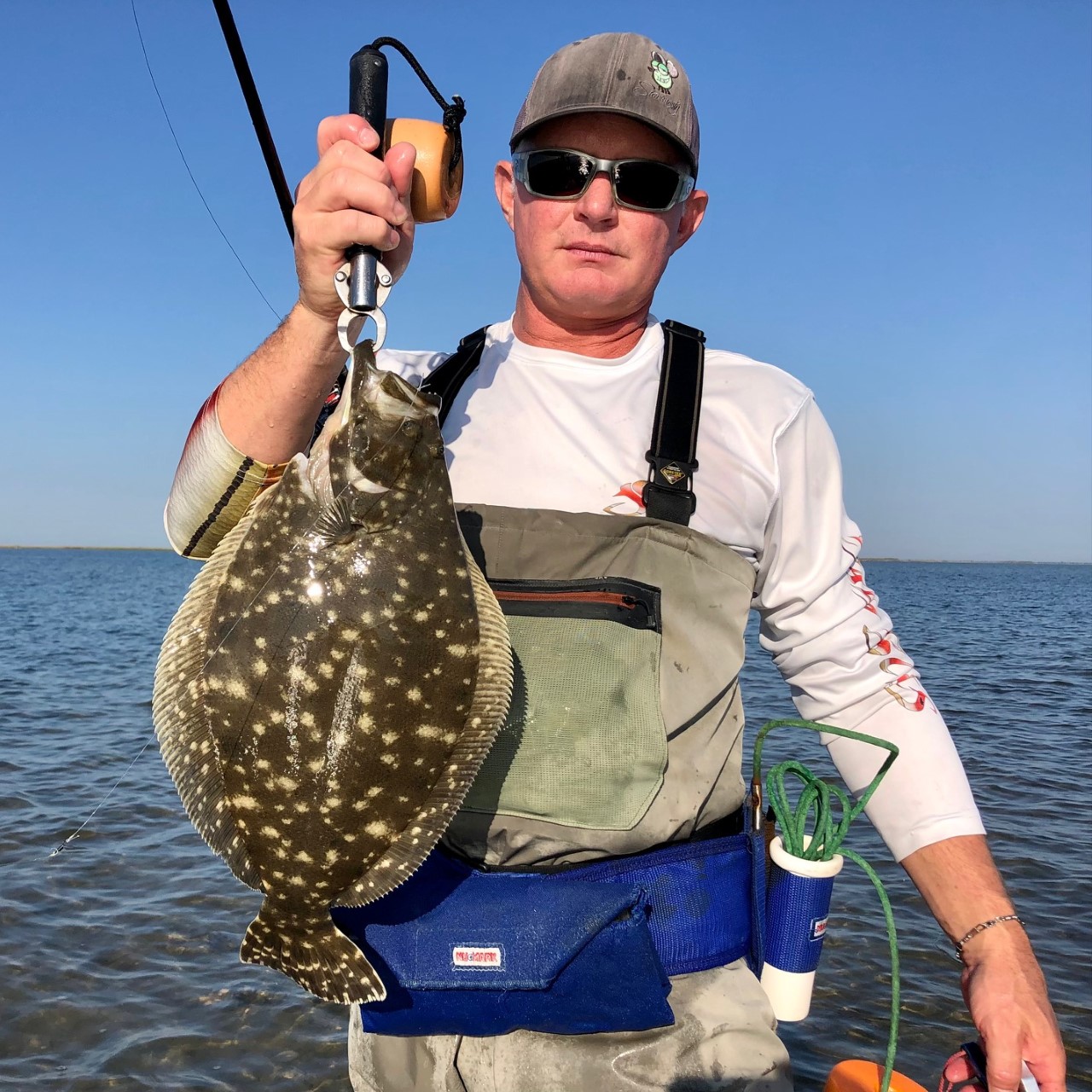 After my client handed me my phone back, he turned and made a pitch on the other side of the reef, and was hooked up. We laughed in amazement, another solid flounder. This want went 4#, and once again after a quick photo she was released for another day. The clients continued down the shoreline as I made the 500 yard walk to the boat.
Once I caught up with them upon idling up, they had caught a few reds out of a school of 20-30 fish, and a few nice trout. Of which one they said measured around 24″ on the rod. Never leaving fish to go find fish, we continued on hooking into a few more solid trout and lower slot reds. It's always a blast when a plan comes together, and knowing when to dig in and stay is also key.
Captain Nathan Beabout
(210) 452-9680
N&M Sportsman's Adventures
www.nmsportsmansadventures.com
AB Kennels
The following two tabs change content below.
Captain Nathan Beabout has guided fishing trips and duck hunting trips on the Middle Texas ​Coast since 2007. He has fine tuned his fishing and hunting skills, and adapted to all skill levels of customers for a successful trip. Spending many days on the water every year, his knowledge and skills of fishing from San Antonio Bay to Cedar Bayou and Port Mansfield areas, has developed and can lead you to a memorable trip. Call Capt. Nathan at (210) 452-9680
Latest posts by Capt. Nathan Beabout (see all)