All Seasons Feeders have a reputation for reliability and durability.  We have used them extensively on our deer lease for a number of years and they just run – day after day.  When deciding upon a new road feeder the obvious choice was All Seasons.  We ultimately purchased the 100 lb Hercules over the standard galvanized model because we can be tough on equipment.  The All Seasons Hercules is one solid piece of gear that should last many years.
A 100 lb capacity is just about perfect for us.  It holds two bags of corn which gets us through most weekend hunts.  The 50 lb model doesn't seem like enough and the 200 lb is overkill (plus heavy).  We have run a variety of corn, Golden Deer Nuggets, and Orange Flavored corn through it with zero feed problems.  I mention this because some of these, especially the Golden Deer Nuggets, are sticky and tend to clog up some feeders.
Our feeder is mounted to the front of the hunt truck so it is out of the way.  You can mount it to any 2″ receiver but it would certainly cramp our style if mounted to the rear – making it more difficult to load game and restricting access to the bed.
The remote control plugs into the cigarette lighter.  Plug it in, hit the switch, and corn is slung out fast and hard.  Makes quick work of "corning the road" for sure.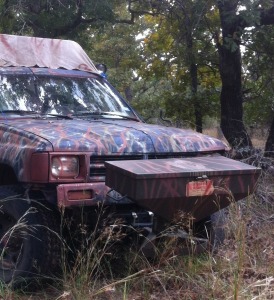 In case you are not familiar with this method, "corning" means to drive down a (private, dirt) road or sendero slinging corn to draw out wild hogs and/or deer.  Of course, you can also corn a pasture, around a stock tank, wherever.  Outside of deer season, we can quickly corn around three or four stock tanks mid-afternoon, head back to camp for a rest, then ease back to the tanks right at dark looking for pigs.  It is legal in Texas.
This feeder utilizes the "Eliminator" spinner to prevent the loss of feed while just driving down the road.  The spinner is spring loaded and pops up when powered off – pressing the spin plate against the funnel hole preventing feed from leaking out.  Hit the switch and centrifugal force spins the plate down.  I consider this feature a minimum requirement on a road feeder otherwise you will leave trail of your precious feed wherever you drive.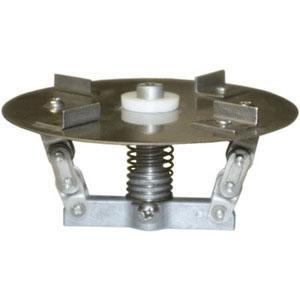 I have been very pleased with All Seasons customer service.  The ranch we hunt is very sandy.  After a year or so of hard use the spin plate got a bit cranky and would often stick open or shut.  One call to All Seasons and a new Eliminator was shipped to my house.  About five minutes of work and we were back in business.  Good old-fashioned Texas service.
www.AllSeasonsFeeders.com
The following two tabs change content below.
Publisher of Tactical Gun Review and Texas Outdoors Network. Mike wisely spent his youth hunting and fishing in South Texas.
Latest posts by Mike Coker (see all)