Pintails were the only ducks we really chased back in the day. By "back in the day" I mean the late '70s and early '80s along the Gulf Coast. What a wonderful time and place to be a teenager. It helped that our family owned Portland Marine and I had easy access to a variety of boats. Hanging out at Port Aransas, water skiing in the Aransas River alongside the alligators, fishing the back bay, and duck hunting. What a great life! And nothing was better than coming home with Sprig Pintails!
You see, Pintails were only 10 points (on the 100 point system). By comparison, today a bag limit can only include one Pintail. We would try to carefully select only the male Sprigs and often each limit out. That was out in the bays, the marshes held teal, wigeon, shovelers, and gadwall.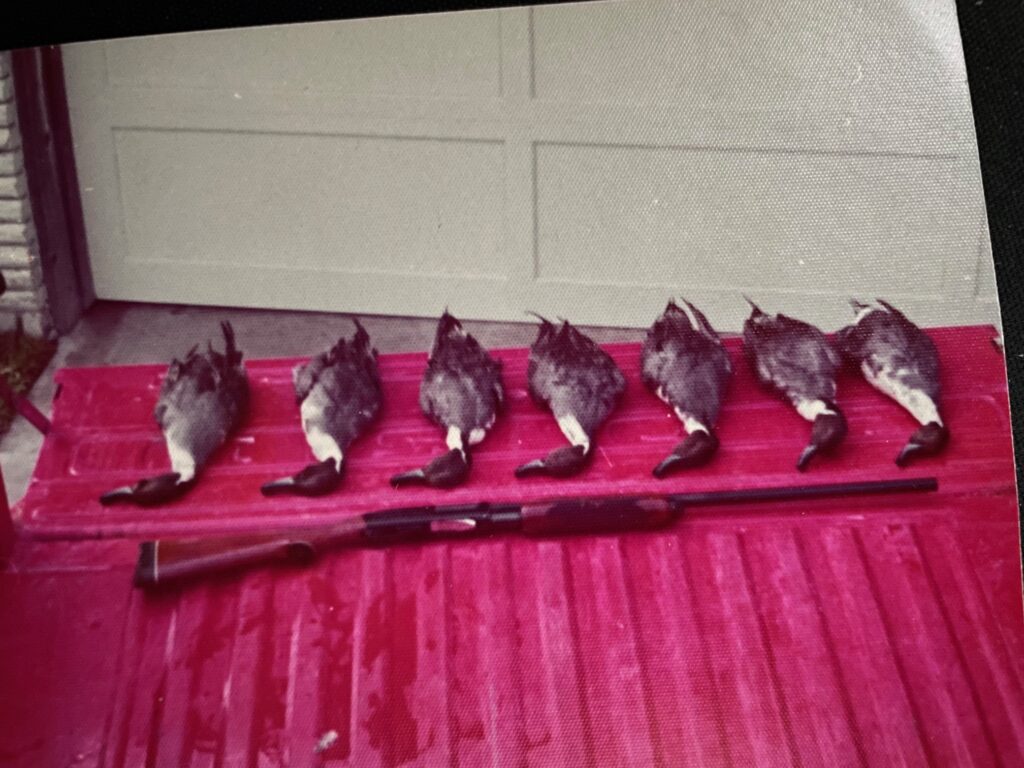 I never saw a mallard in the wild. Pintails were everywhere. For my 18th birthday, my Grandmother produced an oil painting of Pintails coming in.
Coastal Bend
We generally hunted two different areas. When we were really young, we would hunt the marshes south of Bayside, TX. Our parents would drop us off in the dark and we would lug a dozen Flambeau decoys each, along with our Remington 870s, out into the marsh. We wouldn't even use blinds, just hunker down in the grass. Me and Ross Walton would come home with an assortment of ducks.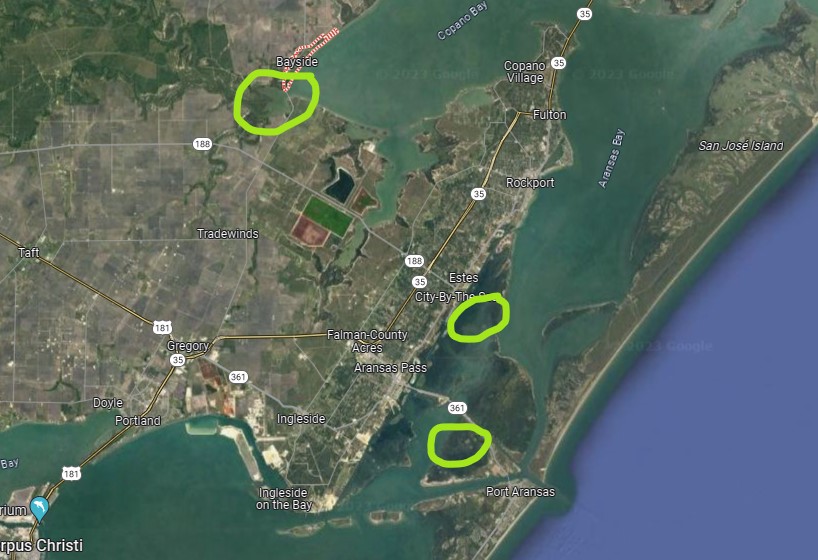 Occasionally, we would hunt the Mission River were it dumped into the bay. There were lots of little channels that cut through the lowland. Again, we would just find a good spot and hide in the grass. The hunting wasn't great but there were some geese come through that made it worthwhile.
As I got a bit older into my mid and late teens, we graduated to hunting the bays for Pintails. This required a driver's license, a boat, and real blinds. Those cold winter mornings, piloting a 16′ Polar Kraft powered by a 20hp Chrysler, are forever imprinted in my memories. One dark morning, a jumping mullet hit Russell Dinkler right in the chest and he about thought he had died as it flopped around in his lap. Man, that was funny!
My favorite spot was in Estes Flats. The pit blind was a fiberglass tank cut in two and buried into the small sand island by Harvey Evans. Harvey actually had two blinds nearby, the pit blind and a traditional blind covered in palm fronds. We would set the decoys and call in Pintails using an Acme Thunderer metal whistle with the cork cut out. I don't recall who taught me that trick but it was deadly and the whistle made by the metal Acme cut through the wind and carried far. Pintails make a whistling sound, not the common "quack."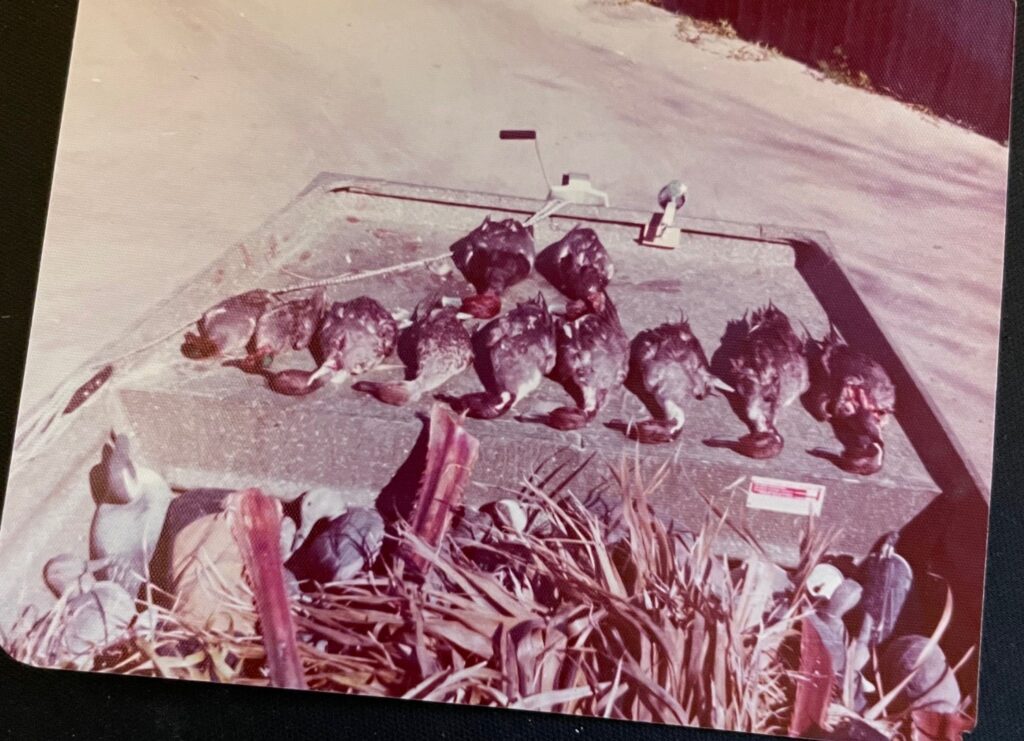 After I graduated high school, my parents bought a home in City By The Sea between Rockport and Aransas Pass. This was awesome as it provided quick access into Estes Flats. My brother Charles and I would duck hunt Harvey's spots using a 14′ Lowe aluminum boat with a 9hp outboard for the short trip from the house across the intracoastal. For the record, I had approval from Harvey.
There were great rafts of redheads in the bay. We never bothered much with them because of their high point value. You could bag seven Pintails for the price of one redhead!
The majority of these hunts were with my trusty Remington 870 12 gauge. That gun took a beating and never once malfunctioned. It was abused to no end. Our "cleaning process" was to remove the barrel and action, blast it all with a water hose inside and out, then drench it with WD-40. I refinished the stock once and the bluing twice. It was not much to look at but it ran flawlessly. Unfortunately, I sold it for $50 when I was broke in college. I would give ten times that amount to get it back.
Mentors
Speaking of Harvey, my duck hunting education was provided by three men: Harvey Evans, Don Kline, and Zach Taylor.
As a kid, Harvey Evans was one of my heroes. You see, my Dad (Glen Coker) was an excellent hunter, fisherman, and outdoorsman but he was not into waterfowl. He just wasn't a big fan of being wet and cold! On the other hand, Harvey lived for duck hunting. He owned black labs, was a renowned field trial champion, and hunted ducks with a Winchester 101 O/U. Harvey was, at that time, the first and only person I knew who owned such a superlative shotgun. I had never even seen an Over/Under outside of a store and here was Harvey carrying one out in the saltwater. His dogs were magnificent to watch in action, retrieving ducks under Harvey's commands.
He carried that Winchester for 50 years until, near the end of his life, some piece of crap stole it off the front porch of a quail hunting lodge in South Texas while he was eating lunch. They closed down the camp and searched but it was gone forever. A man's prized possession probably ended up in some pawn shop along the border.
In addition to his hunting skills, Harvey had two other things going for him. First was his terrific wife Barbara. She was a key member of The Retriever Club and could cook up a fantastic duck gumbo. In addition to the dogs, they also raised homing pigeons. Seeing as how I mowed their lawn, I was around Barbara quite a bit and thought the world of her.
Did I mention that Harvey was a salesman for Nabisco and always had boxes of cookies in his trunk? Labs, shotguns, and cookies, you can see why I admired the man.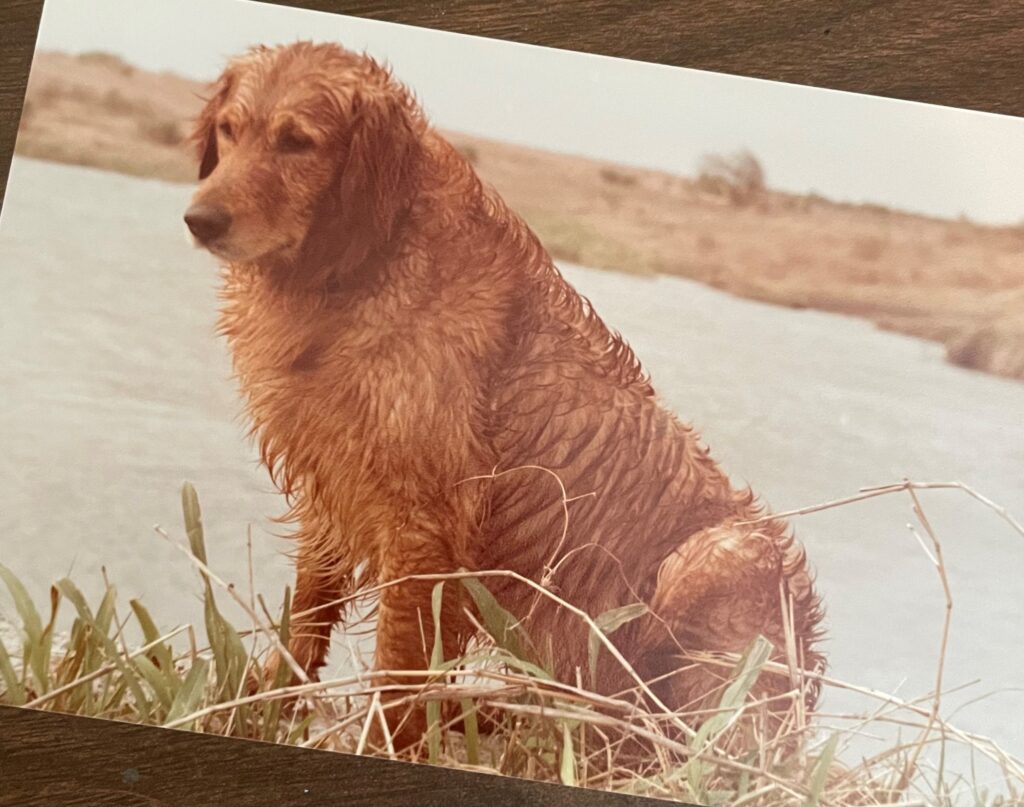 Don Kline was another mentor who taught me a lot about waterfowl. I can't recall his day job for sure but I think he worked at the Reynolds Metals plant. In any case, he owned a "real" airboat with a Lycoming engine and that was a big deal way back then. He ran a Remington 1100 and was a big proponent of the autoloader. Mr. Kline did some guiding during the winter and set out his blinds and decoys in the Brown & Root flats between Aransas Pass and Port Aransas. He would charge $150 per gun.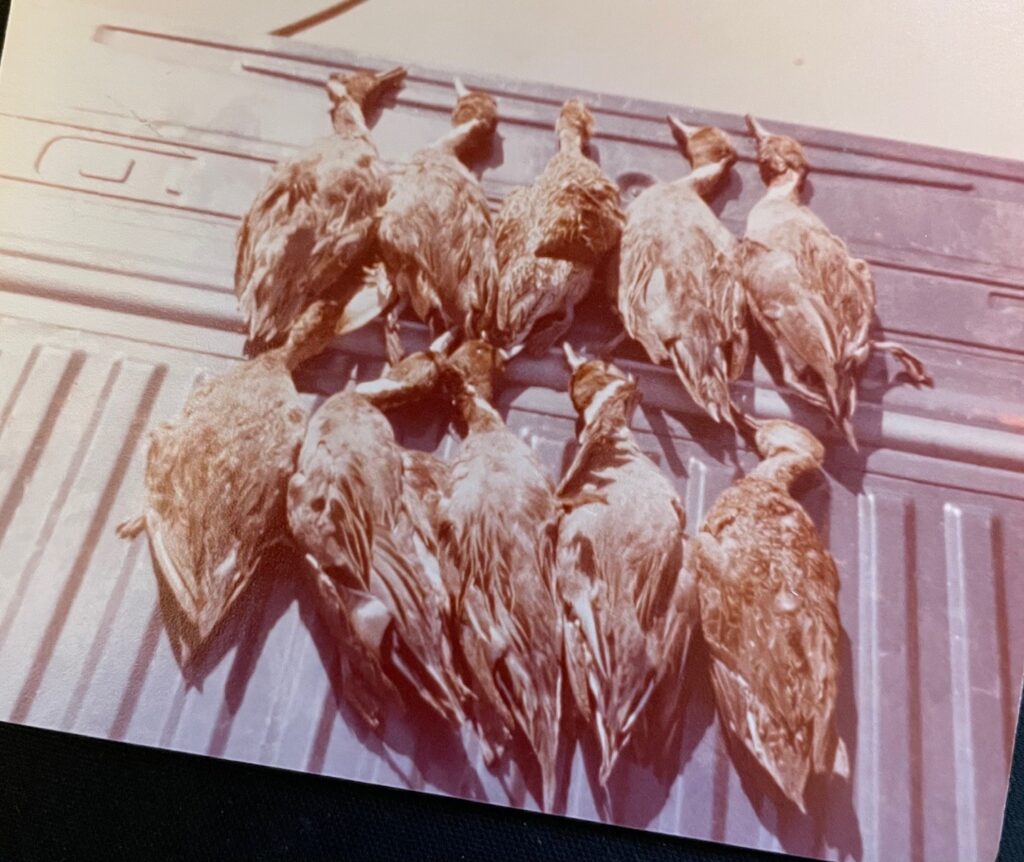 I went out with Mr. Kline a few times and he was the one who taught me the difference between sand and mud when it came to getting a boat stuck. His airboat would settle to the bottom as it came off plane. If it landed in mud, the boat would slide in the slick mud upon takeoff. On the other hand, we were stuck hard if it was a sand bottom. For these instances he had a section of 4″ PVC in the boat. We would lift the bow and push the PVC as far back underneath the boat as we could. He would then gun the engine as I stood outside rocking the boat. Eventually, it would roll on the PVC, break free, I would throw a leg inside and hang on as he got underway to circle back and pick up the PVC pipe!
At night, I would study up on Zack Taylor's Successful Waterfowling. This book was indispensable to my education. My copy is from 1974 but I see there is a more current version available on Amazon. If you enjoy duck hunting, buy this book.
I would be remiss without a shoutout to Mrs. Mouttet. Her family was from Trinidad and she could make the toughest duck into a delicious meal. In short, she would marinade it for about five days and then Armand would grill it.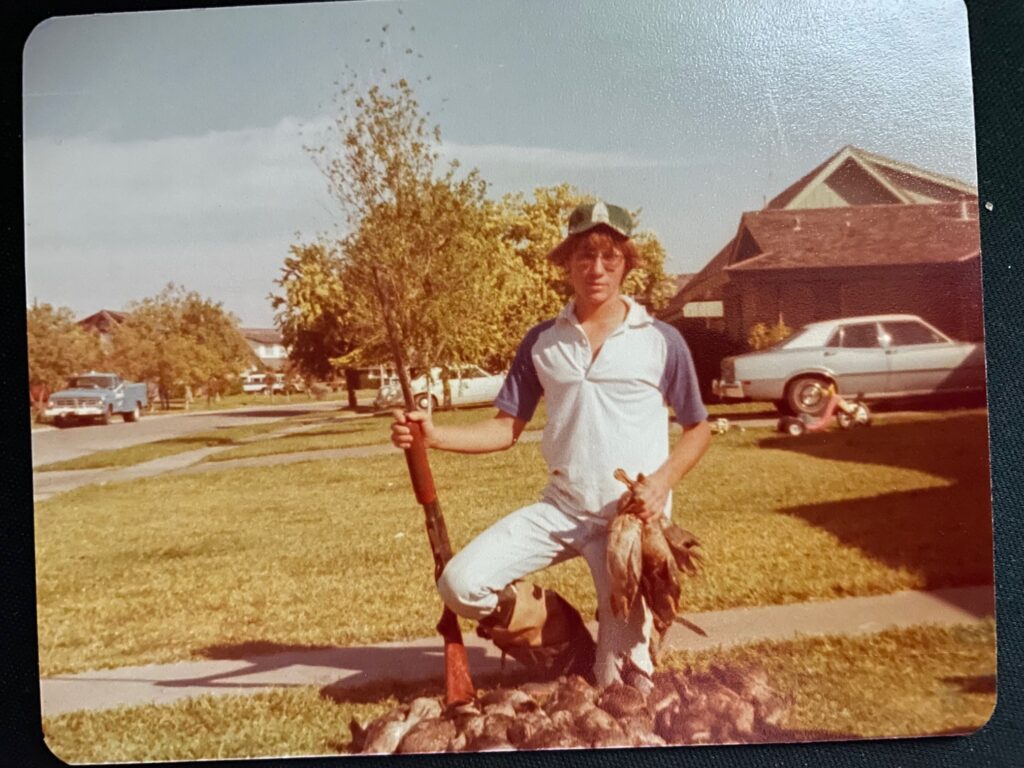 A bygone era
The Gulf Coast in the 1970s offered duck hunting and fishing the likes of which we may never see again. Ten Sprigs a day and a cooler full of giant trout. Those were the days.