I love this time of year..  I look forward to it, no, I crave it.  The first cool front, that feeling of crisp dry air, the smells of fall and the upcoming winter in the air.  Man oh man, gets my blood pumping!
It's almost here! Deer season!!
And then, it happens.  Opening weekend.  The tradition of going out for the first hunt.  The preparation, anticipation and excitement. It's all there.  As a kid one of the memories that was forever etched in my brain was pulling off the road and up to a locked gate at night.  Getting out in the dark and cold and that sound of the metal and chains.  It was like going through a magical door and what was on the other side was pure bliss.
Fast forward more years than I would care to mention I still get that feeling.  My dad told me once that when that feeling no longer happens it's time to stop hunting.  Well, it is far from happening.
There's a lot to the hunt, who's bringing what for food, steaks, good beer, whiskey, coffee?  yep! OK, we can wing the rest!
We got out and my son David got the first deer, a nice doe at 130 yards with his new hunting rifle, a 6.8 SPC.  Perfect heart shot! His excitement at nailing HIS deer was priceless.
We hunted hard but didn't come across a shooter.  Until the 2nd weekend. It was the first in November and it was a cold and rainy morning.  In fact, a number of guys slept in.  Well, our saying is "you can't kill em from the cabin!"
Deer and pigs were moving, a great sign.  Glassing down a sendero as well as peering into all the trees, deep, looking for horns.
Saw some nice 8 and 10 pointers come out, all too young though.
About 8 AM I caught a glimpse of movement in the trees and saw what I thought my be horns. I zeroed in with my Trijicon HD 8×42 binos  review on Tactical Gun Review  and sure enough, NICE buck.
I could tell he was a 10 point and heavy horned. I waited for what seemed like forever before he turned his head and I got a good side profile and really could make sure it was a good buck by the sheer mass and profile of the head.
Well, it was time to drop the hammer.  One shot out of my suppressed Wilson Combat 308 review on Tactical Gun Review and it was over.
So much for not hunting in the rain!
Deer scored 144 and aged at 6.5 by the taxidermist.
Can't wait for the mount back!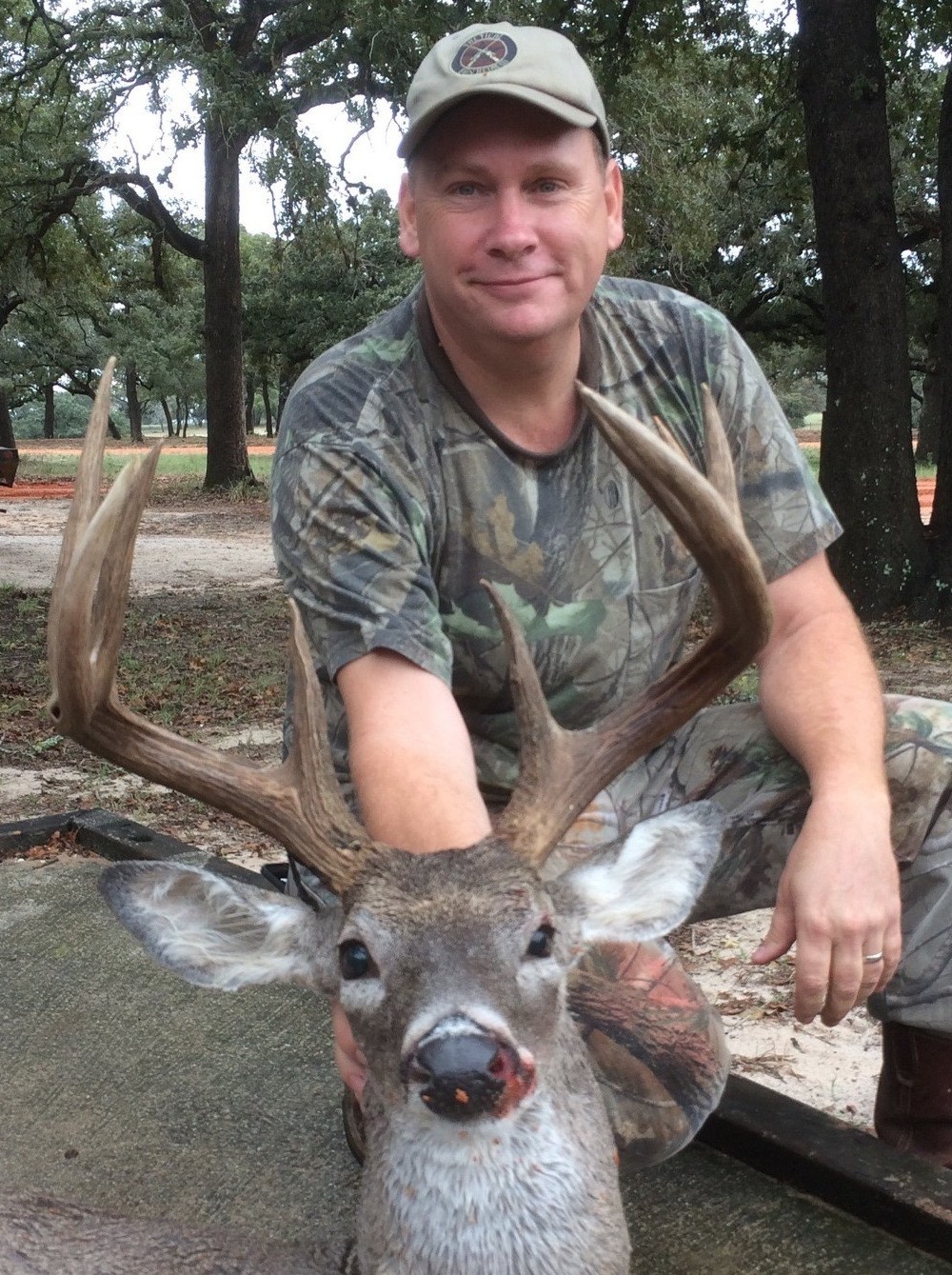 The following two tabs change content below.
Latest posts by Charles Coker (see all)