Let me tell you why I love Simms Fishing Products.  First, a little background.  I grew up fishing the South Texas Gulf Coast from Rockport down to Baffin Bay and the Land Cut.  Fly fishing was unheard of back then.  I knew of no one who used a fly rod.  Fly-fishing for tailing redfish is exploding in popularity theses days but when I was coming up it was non-existent.  Therefore, I knew next to nothing about fly fishing gear.  I rarely wore waders fishing and if I did I pulled on my tough, inexpensive duck hunting waders.
At some point later in life (once I had a bit of cash in pocket) I began to have opportunity to visit the beautiful Rocky Mountains.  Trust me, traveling from the hot and humid Texas Gulf Coast to the cool mountains was a revelation.  Standing knee deep in the Frying Pan or Madison during an August morning is heaven on earth.  Like many beginning fly-fishermen I took the path from Bass Pro to Orvis.  In my mind, Orvis was the best you could get – synonymous with high quality fly fishing  gear.  And it is good!  Can't go wrong with Orvis.
But let me tell you why I love Simms Fishing Products.
I finally decided to upgrade my box-store wading boots with a top-notch pair that would be comfortable all day.  I'm very observant of the gear used by professional guides – these guys use and abuse equipment and choose wisely.  Most of the fly-fishing guides I have had the pleasure of fishing with wear Simms boots and waders.  Done.  I purchased a pair of Simms wading boots from Fishing Tackle Unlimited in Houston.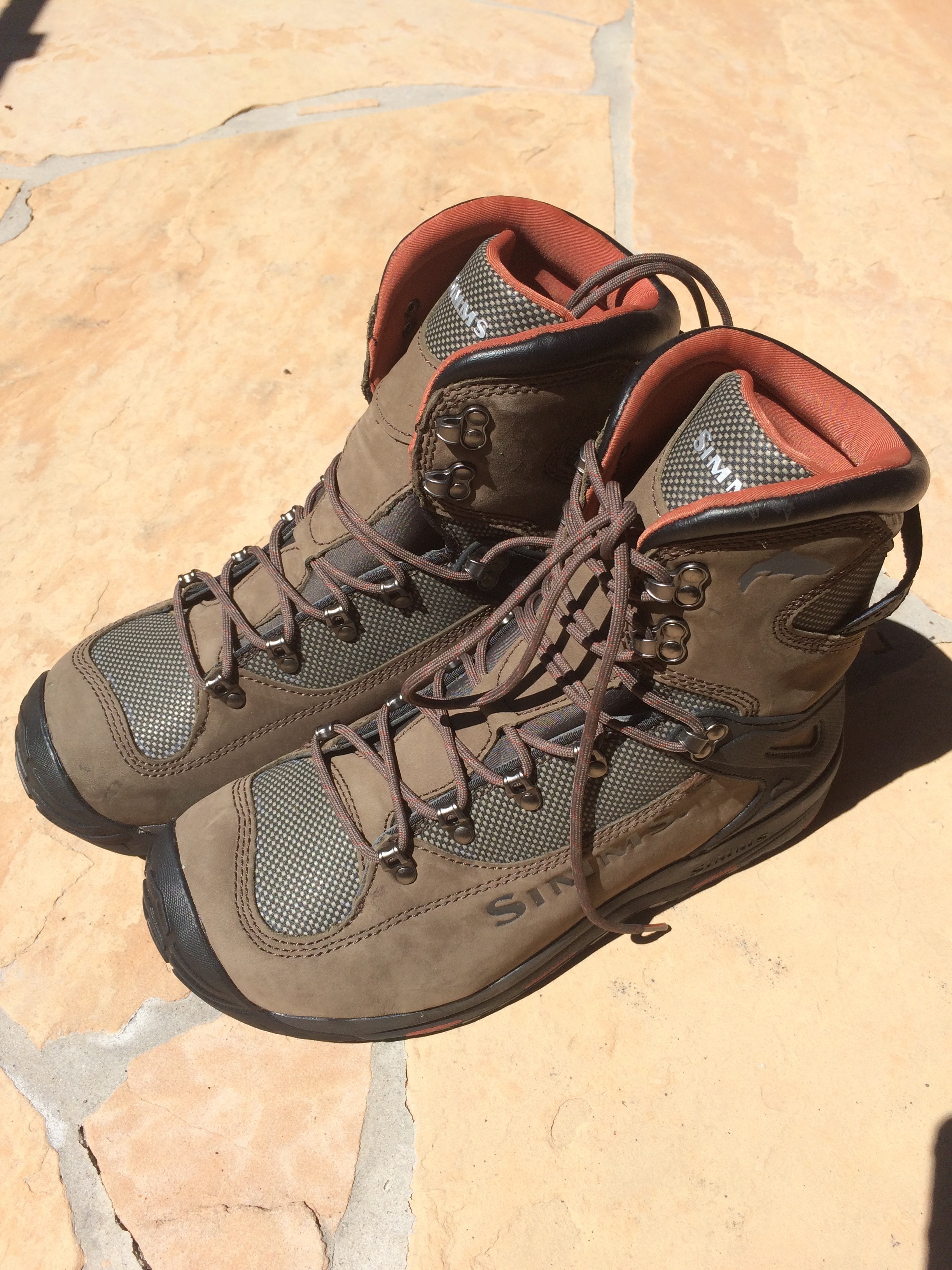 The Simms wading boots were comfortable and provided sure grip in rocky, fast moving waters.  I added HardBite Star Cleats one trip to the White River outside Meeker, Colorado.  The river in front of Elk Creek Lodge is real greasy, slimy and I needed the extra security.
And then, bad news.  We were fishing Yellowstone some months later and the soles began separating from the boots.  Yikes!  Luckily we were drift boat fishing two days so that was a blessing.  But we were also wading within Yellowstone and the soles were getting worse by the hour, flopping around and generally a pain to walk in.  I finally ripped one sole off.  The other sole was about one-third off but still serviceable.  To say I was disappointed and frustrated is an understatement.  I had purchased these a year or two earlier – couldn't remember exactly when and didn't have the receipt.  I thought they should have lasted longer but oh well, time for a new pair.
When we got back home I decided to call up Simms and ask about their warranty.  I got hold of customer service and explained my problem.  I also was very upfront about the fact that the boots were about two years old and that I didn't have a receipt.  "No problem, send them in and we will take a look at them.  The sole should not come off."
Several days later I received a call from Simms.  The gentleman started off by saying that they don't even make that model of wading boot anymore.  And then the shocker.  He asked, "Would you mind if I upgrade you to the newest version of our G3 Guide Boot?"
Do I mind?  Talk about treating the customer right.  I send in some used boots, no longer in production, no receipt, and the company sends me an upgraded replacement.  Customer for life!
On the same trip to Yellowstone, the weather was just tricky.  Sun one minute, rain the next.  And then it got nasty.  Real nasty.  Rain coming down sideways with some ice in it nasty.  Through it all my guide wore the same Simms fleece hoodie.  Meanwhile, I'm hot, then cold, then wet.  Not unbearable but I was sure envious of my guide.  I asked him about his jacket and he said he would show me when we got back to the fly shop.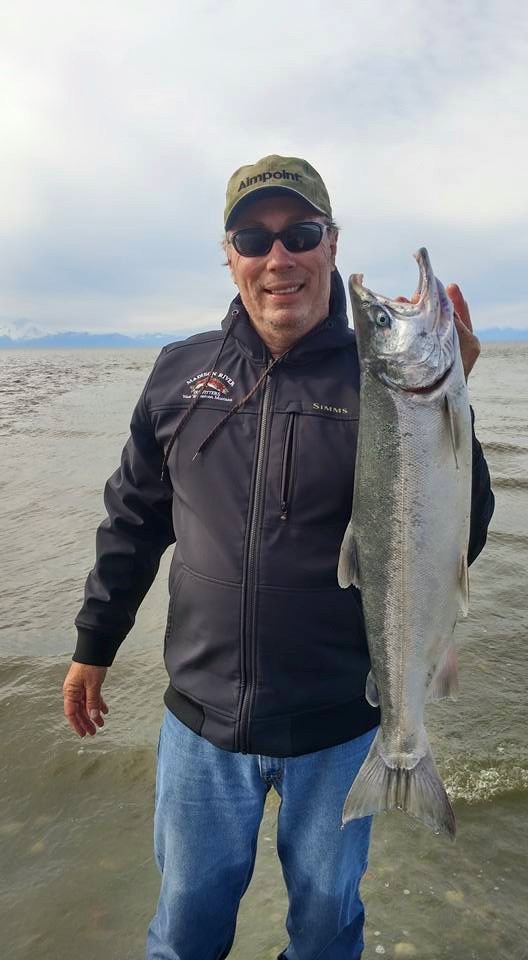 We got back to Madison River Outfitters in West Yellowstone pretty late.  Mickey walked me over the Men's Clothing section, pointed out the Simms Rogue Fleece Hoody and said, "That's the one you want!"  $99.  Sold.
I have since worn the Simms Rogue Fleece Hoody all over the place from Texas to Alaska.  It is just awesome, perfect for intended use.  Unlike most fleece jackets, it has a smooth, slick "DWR" finish.  Durable Water Repellent finish.  I flat-out love this jacket and it goes with me on every trip to the mountains.
Special shout-out to Brad Richey and all the guides at Madison River Outfitters in West Yellowstone.  Those guys are simply the best and the ones to use for drift-boat fishing the Madison or within Yellowstone Park.
The following two tabs change content below.
Publisher of Tactical Gun Review and Texas Outdoors Network. Mike wisely spent his youth hunting and fishing in South Texas.
Latest posts by Mike Coker (see all)