This started 2 years ago… sitting in a blind, with lots of time to think.  Being a certified gun nut I am always itching for the next one.. I just really love putting together cool guns.  I am very much a dedicated use, specialty kind of guy.  I like ones that are purpose built for specific tasks.
My goal was a lightweight, short barrel (not SBR) rifle for hunting.  I had the bug for  a 7mm08 as I think it would serve well out of a shorter barrel. I have or have had rifles in a lot of calibers, I love my 6.8  ARs out pig hunting, my 6.5 Creedmoor bolt action for long range, my 308 AR10 for hunting and banging steel, you get the idea.
I thought it would be cool to take advantage of the Savage platform and how easy it is to switch barrels with really only setting headspace required.  I really liked the Savage Lightweight hunter model with the fluted bolt and relieved receiver.
Here are the specs:
Savage lightweight hunter action
McGowen 17″ lightweight stainless threaded custom barrel chambered in 7mm08.
McMillian A3 Sporter Edge Tech carbon fiber stock in McMillan desert camo
CDI Precision bottom metal

Cerakote by Cedar Park Cerakote

Bushnell LRHS 3-12

Nightforce rings, EGW base

Crux Archangel ti can
I have a McMillan A5A stock for my Creedmoor and absolutely love  it.  I shoot ARs a lot and have really grown to prefer a more vertical grip than the normal hunting rifle stock I grew up with.  And once you start using stocks like McMillans and Manners it is hard to like the cheap factory stocks, even though a lot of guns shoot extremely well with them.
Here's picture of my 6.5 Creedmoor built by Greg Young at Southern Precision Rifles.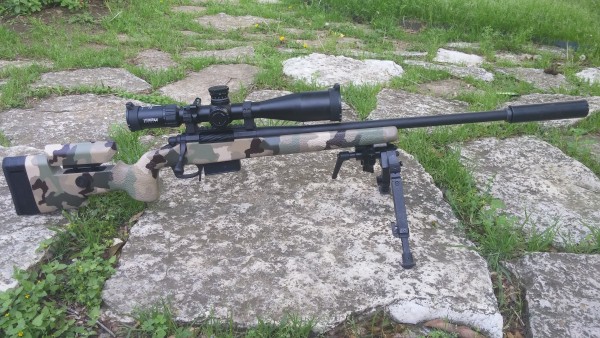 I chose the McMillan A3 Sporter stock because it is essentially aimed at the guy who likes the A3/A5 type stock but wants a lighter version for hunting and shooting offhand.  It has a nice wide forend so it stays flat and resist rolling and is contoured to allow your hand to wrap out it and is textured for grip.  I absolutely LOVE it!  I will probably use the same stock for my next build.
I had McGowen make me a tapered barrel that flares at the end like an AR15 lightweight barrel and then is shouldered and threaded for suppressor use.  One thing I would recommend is getting a new barrel nut with your barrel as the one that came with the stock barrel was smooth and there was no way for me to really lock onto it.  I installed it myself and then had Blackjack gunsmithing services in Austin set the headspace for me.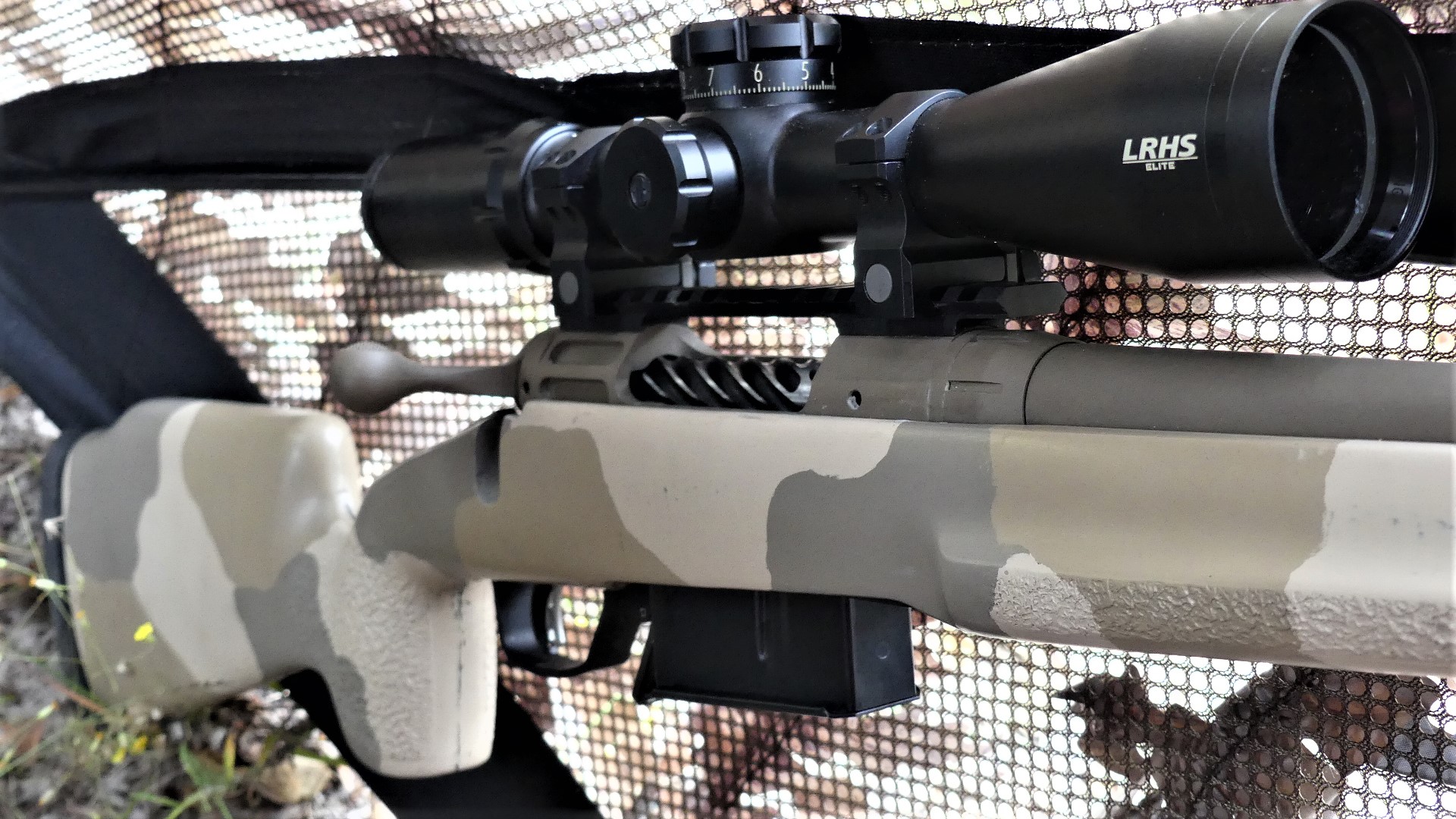 I gave McMillan a  drawing of the  barrel profile and they nailed it, just the perfect amount of clearance for freefloating.  I bedded the action being sure to leave the rear tang with just a tad of clearance as required. I have used Brownells Accuglass, JB Weld as well as Marine Tex, I decided to try JB Weld Marine as I figured it would bond to the fiber glass exceptionally well.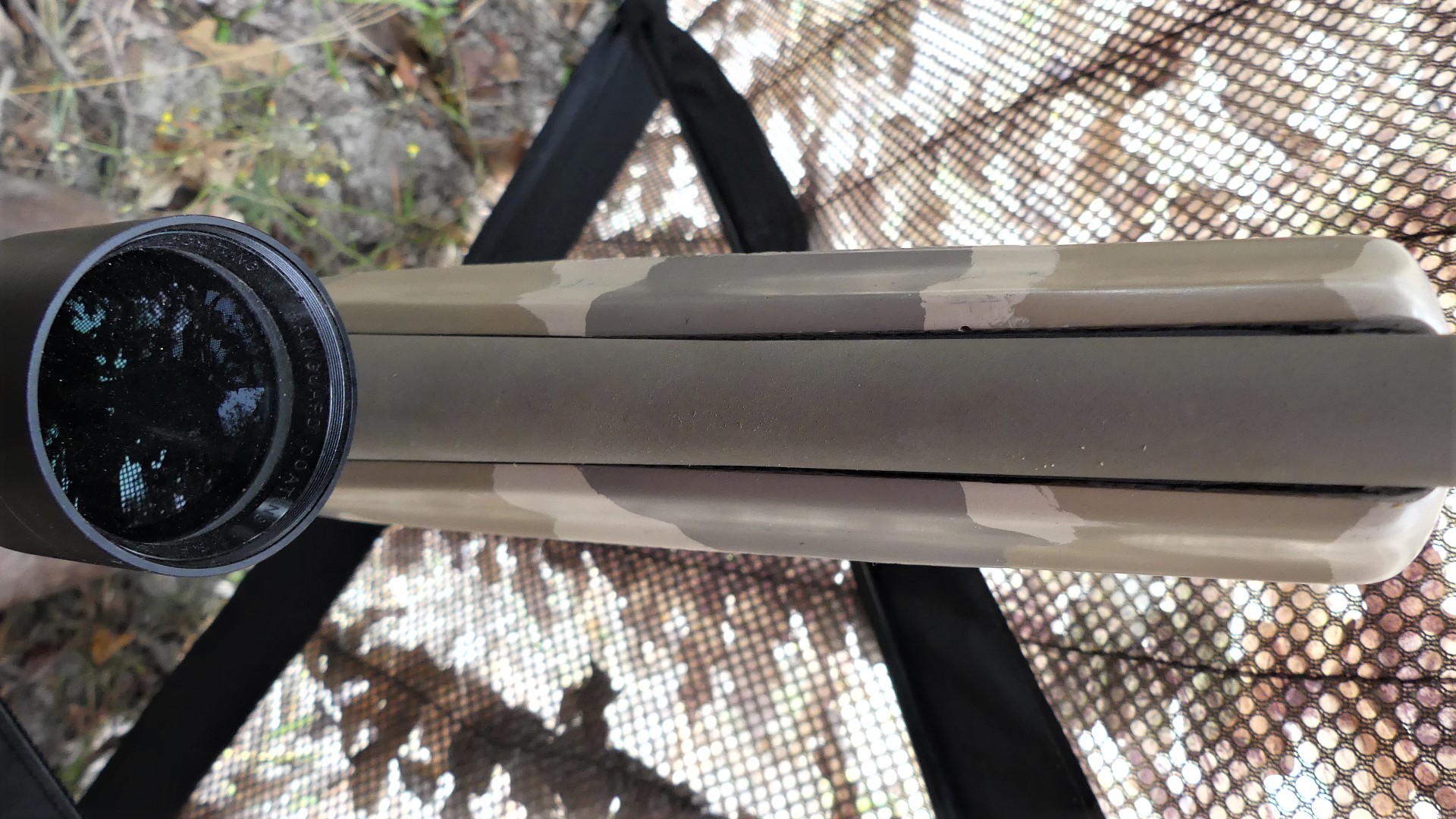 I had the barrel and action cerakoted by Cedar Park Cerakote,  Here is the rifle along with my son's 6.8 that they did as well.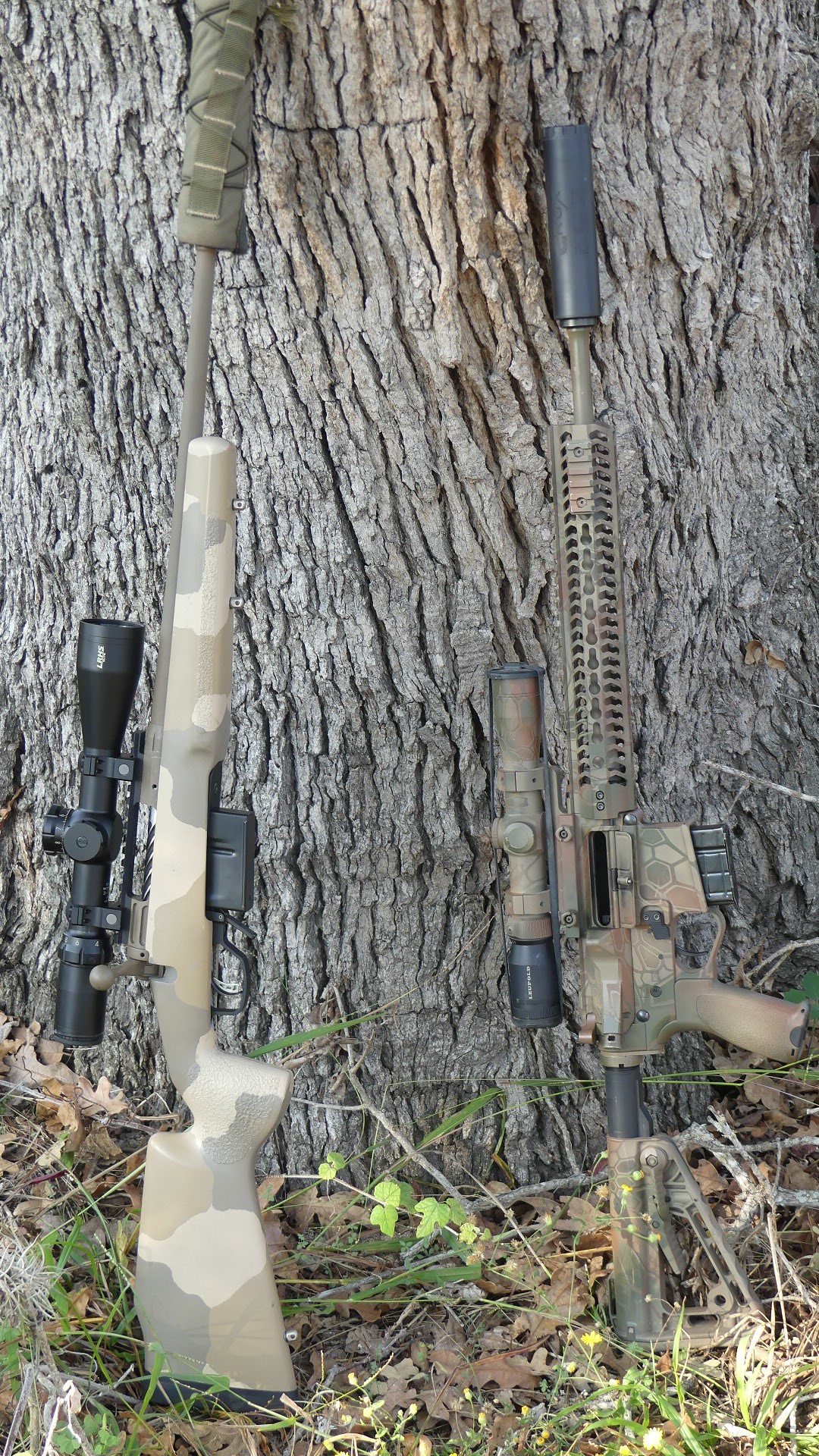 Took the gun out over the weekend and tried a number of factory loads.  It REALLY liked the Hornady Full Boar 139g GMX and the 120g Federal Fusion.   It shot the 139g load at 2800 FPS which is awesome for a 17″ barrel.  The 120g load was running 2900 FPS.
I am very happy happy with the results!  We put up some new steel at 100 yards and one of them was a 1″ steel "plate" actually which is about the size of your thumb and I was drilling it dead center.
Man, I really like this gun.
The Bushnell LRHS 3-12 is definitely a favorite of ours for a "precision hunting rifle"  Glass is outstanding, it tracks great when running the elevation turret.  Once you get used to running "tactical" scopes it is hard to use a traditional scope if you want to shoot out past 2-300 yards.
Unfortunately, I didn't shoot anything over the weekend I will very soon!
The rifle on the right is my 13 year old son's custom 6.8 SPC!
The following two tabs change content below.
Latest posts by Charles Coker (see all)