If you spend anytime in the dark off road, hunting, wheeling, fishing or whatever then you know how important it is to have quality lighting.  I have a 2000 Jeep Wrangler (TJ) that I use daily.  From commuting on the interstate to hunting in South Texas this is my do all vehicle and I have learned that being able to see in the dark is critical. My TJ came equipped with factory fog lights and for a time they worked very well. Several years ago, I had an unfortunate encounter at 60mph with a little 8 point buck which rendered my fog lights broken. Since that time, I realized that lighting was very important, but it was not until I started really using the Jeep that I found the need for lighting to be critical. I sourced some very cheap China made LED fog lights and mounted them in the fog position, and for the price they work well enough. However, they are flood lights not a spot and do not throw the light very far. For this, I contacted the experts at Rugged Ridge and picked up some A-Pillar mounts and lights.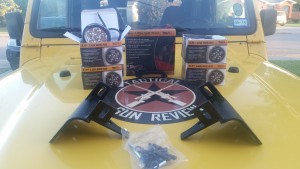 I knew I wanted some kind of light in the A-Pillar position as I would not be laying my windshield down.  Also, I was concerned that a single set of lights would not be enough light, as I knew I did not want a light bar across the windshield.  Large light bars across the windshield create extra wind noise, something that any Jeep owner will tell you is not really wanted.  Since I drive my Jeep daily, the annoyance of more noise was unwelcome.  There are few quad mounts for the TJ/LJ series of Jeeps for the A-Pillar but seem to be a lot for the newer JK models.  My search landed me at Rugged Ridge.  The light set I ultimately settled on can be found here.
The Kit I ordered retails on the Rugged Ridge site for $334.99 and comes with the Dual A-Piller mounts, 4 3.5″ Round LED lights and the mounting hardware.  The Lights come packaged 2 per box and each light has a pig tail included that helps with wiring.  The mounting brackets have a bed liner type coating on the surface and on the side that mates up to the vehicle are coated in a soft rubber so as to not damage your vehicle.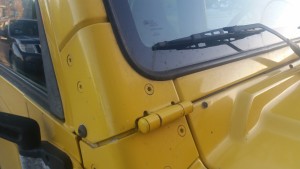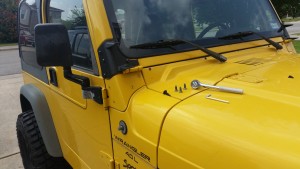 The first step was to remove the 3 torx screws at the mounting location and then put the mounts in place.  The mounts come with the correct replacement hardware and this takes just a minute or less to accomplish.  A good set of torx sockets are recommended and if you own a Jeep, they will come in handy.  The factory torx screws are not well made and strip out easy, so be careful not to strip them out.
Once this was done, the next step was assembling the mounting hardware on the lights and putting them in place.  I removed the cowl of the Jeep and ran my wires through the cowl and to a switch on the dash.  12v power is needed and I connected mine through the fog light switch.  Eventually, when I put a winch on and an additional light on the winch, I'll move all the wiring to a stand alone switch bar, but this works for now and is efficient for now.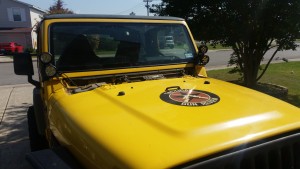 Once wired, I waited till the sun started to go down so that I could position all 4 lights.  My garage door is white which made it easy to see where the spots were hitting. (it should be noted, that once I went into a very dark spot off road that I needed to tweak their placement to optimize where they pointed)  The biggest advantage for having 4 lights vs 2 lights is that with the extra pair, you can offset where they are aimed giving a wider field of view.  I am able to light up the left and right sides of the Jeep giving me a much wider area that is illuminated.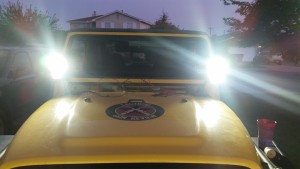 As you can tell, the amount of light these small rounds produce is substantial.  I have twice used them off road but due to an unfortunate and unrelated break down of my Jeep, have had a delay in writing this article.  The Jeep has since been repaired and these lights have been fantastic in all I have used them in.  Several times I've been able to see hogs at night which would have been unnoticed using my headlights or fog lights.  These lights really make seeing in the dark great.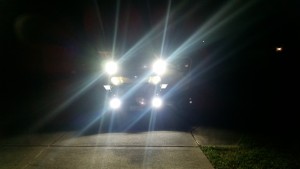 Additionally, I think they add an aggressiveness to the look of my Jeep, so in addition to a very functional role, they look nice.  The housings on the lights themselves look to be precisely machined and I have full confidence in their lasting a long time even in heavy rains and wet conditions.  Here in Central Texas, we have experienced a very heavy amount of rain and these lights have not wavered at all.  I have seen no condensation in the lenses and nothing to indicate that they are anything but made for the elements.  Rugged Ridge offers some protective lenses for the lights which I believe are a good idea.  I would say, I wish these lights had a red lens cover available, all the covers available seem to be amber.
Rugged Ridge has multiple light kits available for multiple vehicles.  Also, they have an X-Clamp version available such as this one here.  This kit could be applied to anything with a bar on it such as front bumpers on trucks, UTV's and more.  These are pretty universal and could be applied in multiple locations.  I plan on picking up a truck soon, and will be adding these lights to that vehicle as well.
I have attached a video that I took while at the ranch a few weeks ago.  Forgive it bouncing around and my lack of driving skills, like a goober I stalled out on that sloppy hill but hey, it's how it goes.  Normally on my product reviews I try and find something that I dislike about a product.  I have had a tough time finding anything about these that I dislike.  They seem to be priced reasonably, mounting is no issue, they work as advertised and they are as attractive as they are functional.  Without a doubt, for anyone looking to light up the trails, back roads, game trails or anything else, Rugged Ridge has you covered.
The following two tabs change content below.
Latest posts by Jason Hallmark (see all)