As someone who has been married a long time, I can tell you it's important to find common hobbies for you and your spouse.  I recently had a conversation with my wife Stefnie about fishing, which she explained she would like to do more of.  Stefnie grew up fishing lakes and rivers with her dad, but never along the coastal waterways.  Stefnie has hunted with me before but I'm not much of a fisherman. So I contacted a friend of mine, Brandon Blanch, to see about introducing my wife to the world of coastal fishing. 
The plan was simple, get Stefnie out fishing and introduce her to the coastal waterways.  We also needed to get her hooked into some good fish. We left the Austin TX area around midnight and arrived in Seadrift early in the morning, I worked a late shift and had to pull an all nighter to fish Saturday.   It was worth it because we were greeted with a wonderful sunrise.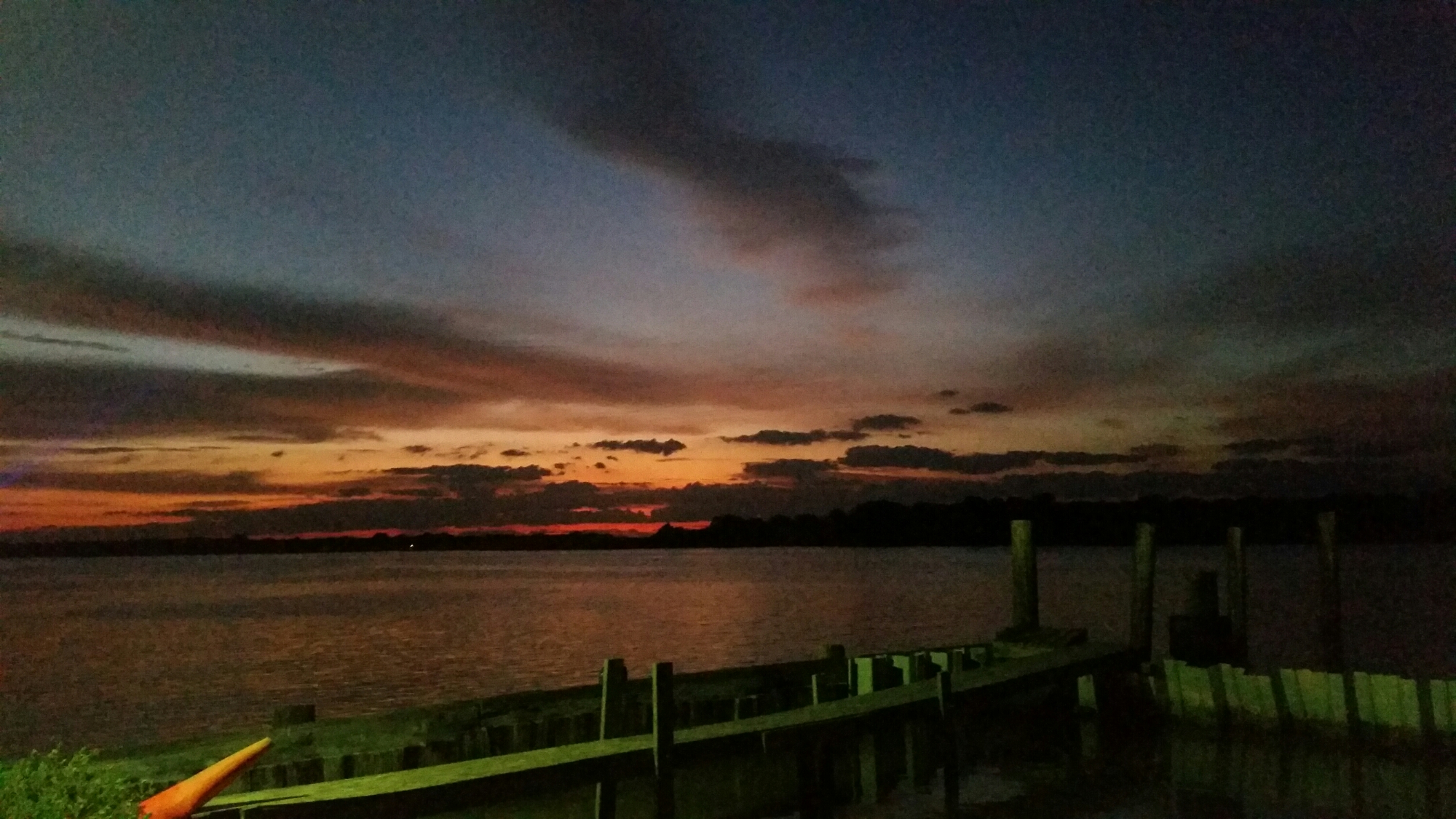 Brandon showed up with his 18′ East Cape Lostmen, aka "El Sapo", and we quickly headed out to the intercoastal to his first flats location.  It took us about 10 minutes to get the bugs worked out and to show us how to work the rigs he used. (simple popping corks and live shrimp).  After a few minutes, we were catching 14″ speckled trout every time the bait hit the water.  These guys were so close to legal it wasn't funny, but we were catching fish!
We moved to several locations throughout the day and caught fish everywhere we went. Stefnie hooked up to a good fish just before midday and she had a great fight. Turned out to be a Gaftop Catfish but she thought that was a lot of fun. A short time later over an oyster reef, Stefnie hooked a nice keeper trout which made her pretty happy.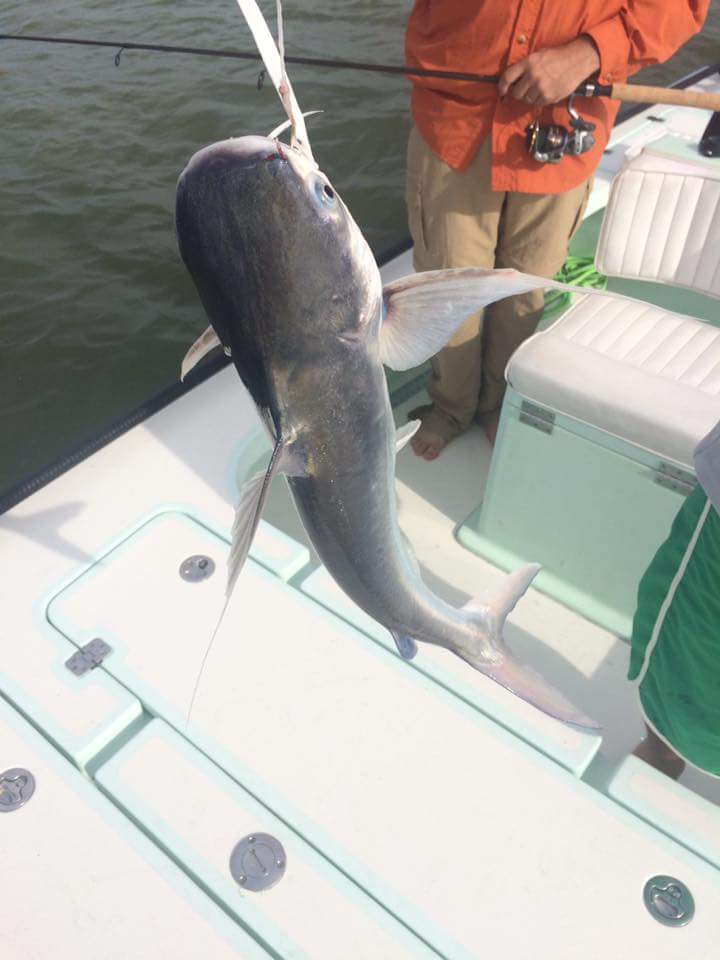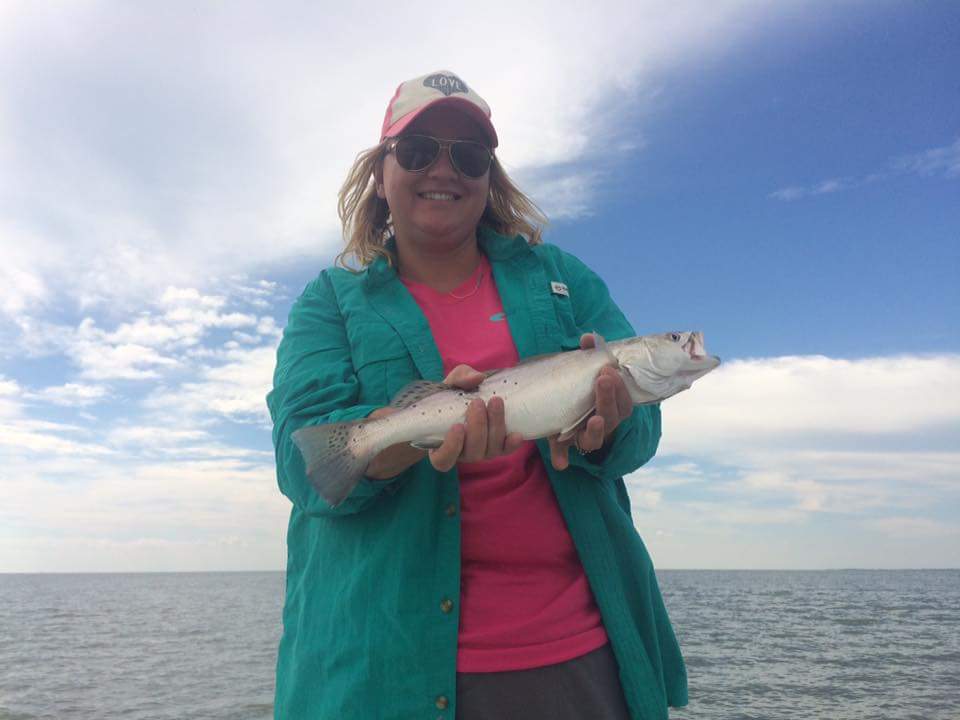 While on this oyster reef, we caught everything from Jack Crevelle to Redfish.  Only one keeper was the Trout, but we were in the fish, and Stefnie sure did enjoy catching so many. At this point, I went for a small walk as Stefnie was doing a great job of showing me up.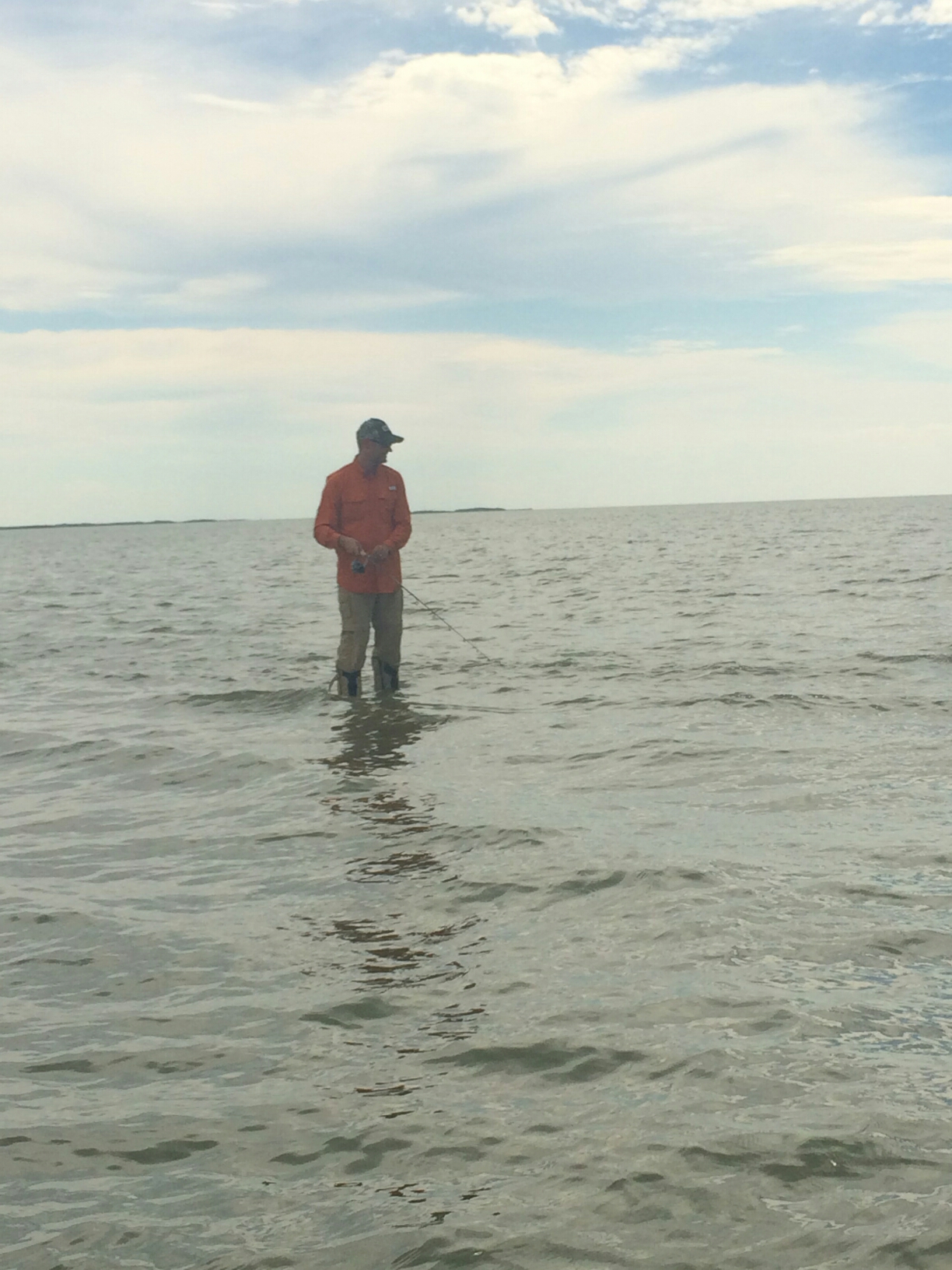 While I was out of the boat, Brandon removed a fish for Stefnie and looked towards Stefnie as he placed it in the water. During this split second moment, "something" took the fish from Brandon in a very unexpected tug!  Brandon is a seasoned fisherman and he was startled by this, and the timing couldn't have been better. They were just discussing alligators because I had stepped out of the boat, and they were the ones with the close encounter.  A few seconds later a Dolphin surfaced about 10 feet from the boat and watched them as though to say thank you for the meal.
After the dolphin encounter, we decided to move and went into some grass beds to look for big reds. We hit a good area and would drift through using live shrimp and popping corks, or a golden spoon. I hooked into a Redfish that was a little too small, and had something nice toss the hook on me.  Stefnie was on a roll at this point. She was bringing in a lot of fish, and then snatched this nice trout. Bigger than the first keeper, he hit hard and the fight was fun.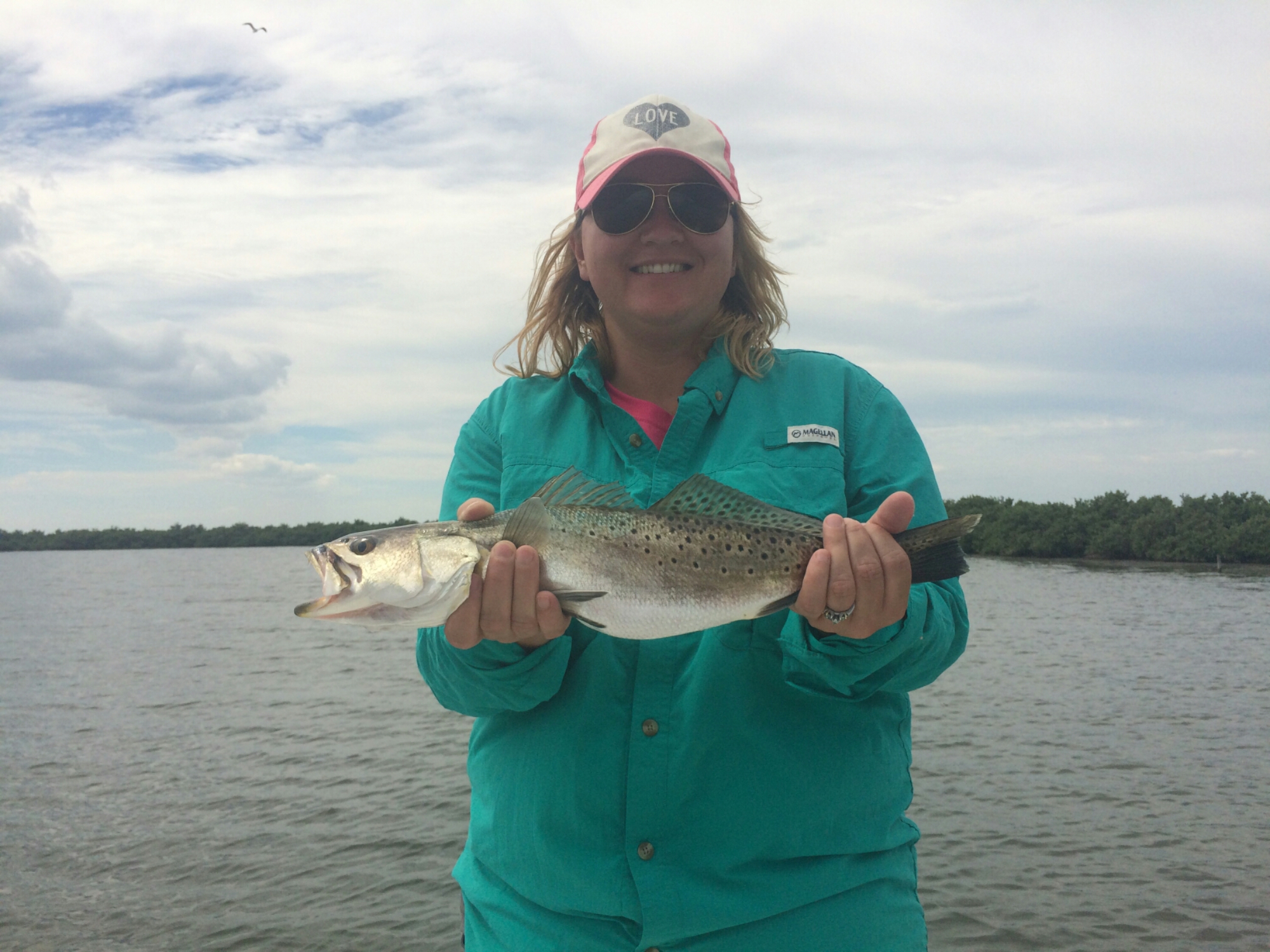 When we got in the boat at the beginning of the day, Stefnie told Brandon that she did not bait her own hook, and would need help with everything. By this time of the day she was casting on her own, baiting her own hook, and working that popping cork very well.  With another day or 2 of practice I'm fairly certain she would be very good.
It was at this point that Stefnie put the popping cork out and after a second or 2 she popped it hard.  The cork disappeared and she instinctively snapped the rod back setting the hook.  The fish was giving a good fight and I could hear the excitement in her voice when she asked for a hand in landing it.  Brandon was on the tower pushing and steering the boat as we drifted so I grabbed a net.  As the fish got close he managed to pull the drag some and was defiant to the end.  Suddenly he appeared, a nice Sheepshead!  This guy put on a great fight and was very well marked.  Stefnie was so very proud of her catch, and really was jazzed by the whole thing.  At this point of the day, I could tell she was having a ball.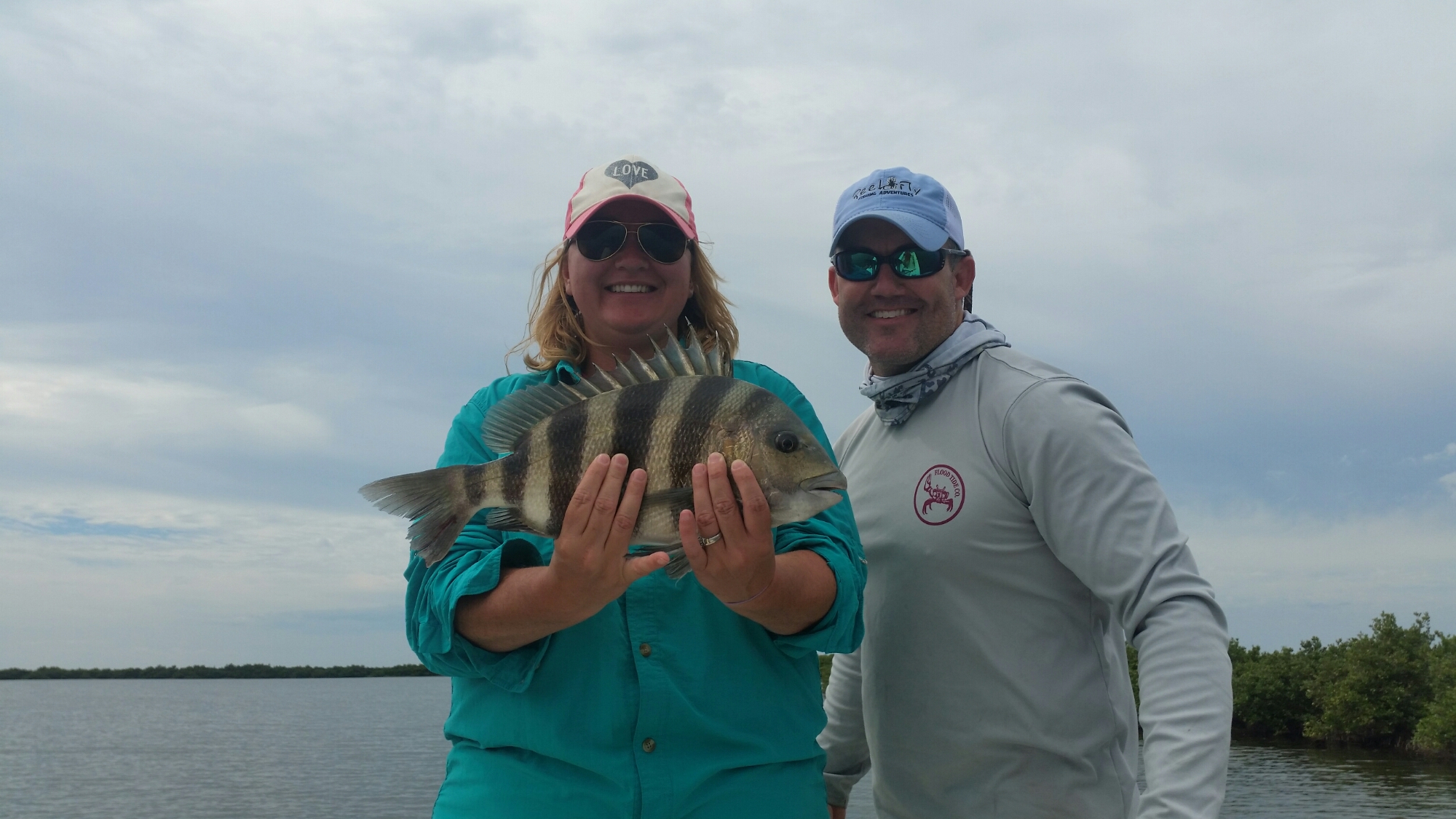 We hit one more location after this and called it a day.  We may have only caught 3 keepers, but we had an excellent time and caught more fish than we could count.  We caught fish everywhere we went.  We caught everything but flounder, and I'm sure given time we would have caught them as well. It was a lot of fun!
Stefnie is a mother of 2 taking college classes and generally super busy.  She has a lot on her mind and is always looking ahead and fielding calls about Cheerleading, Band, School, Church fundraisers etc.  She rarely just has a good time and enjoys herself even when we have a day off.  When asked how she liked it, she couldn't stop smiling.  Stefnie told me that she enjoyed it so much, and that she couldn't believe just how peaceful it was. She also said she can't wait to go back. Mission accomplished!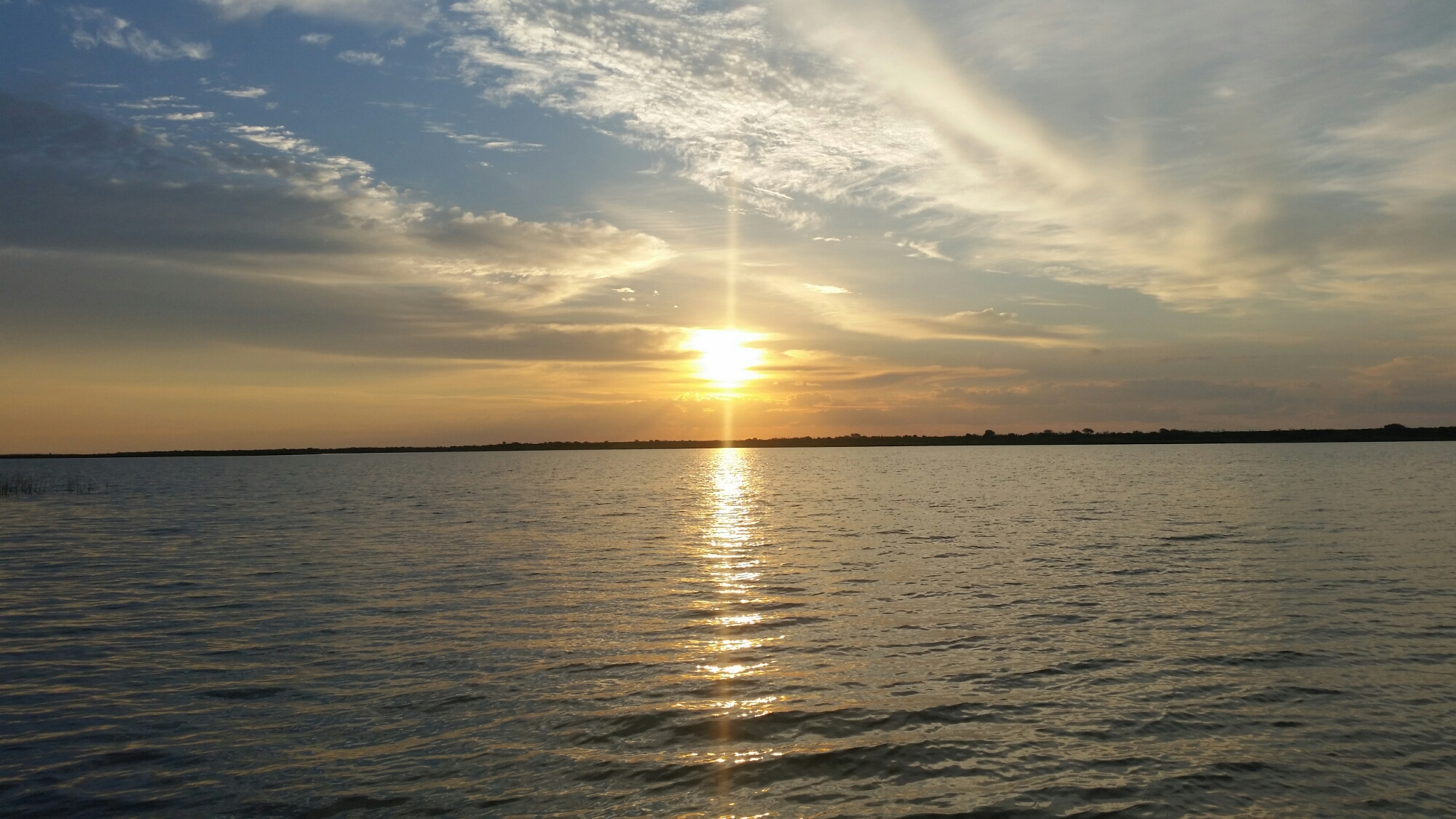 Brandon Blanch is a hunting guide who has everything you're looking for. From Axis to Dove, from Whitetail to record book Blackbuck.  Brandon has you covered, and his price will be better than anywhere else. Also, sometime in January Brandon plans to have his Captains License and can take you fishing as well.  Brandon is an accomplished fly fisherman and can do it all.  He's a friend of TON and I happily recommend him to friends and family. Give him a call at 512-787-6361.
The following two tabs change content below.
Latest posts by Jason Hallmark (see all)