Might this be the ultimate youth hunting rifle?  Ruger introduces the Ruger American Rife Ranch in a 300 Blackout with a youth stock and 16″ threaded barrel.

We will be getting one in and I hope to have my son David get the first video kill with it..
While  I am not  a diehard  300 Blackout fanboy it makes a lot of sense for a youth hunting cartridge.  Effective and light recoil.
For hunting within 200 yards in a compact rifle with a can, oh man.. what a wicked little setup for a kid or smaller new shooter.
I will be testing with our favorite 300 Blackout hunting ammo, the Barnes Vortex with 110g TTSX.  Wicked medicine for deer and pigs.
I will also be testing with some subsonic loads of course.
Can will be a Templar Tactical Nemesis30.
UPDATE
I picked the Ruger American 300 Blackout youth model from my favorite toy store, the Silencer Shop who handle my FFL transfers for me (thanks guys!)
We make it out to our hunting lease and get it sighted in.
TGR Junior staff member David with the brand new Ruger American youth model in 300 Blackout with a 16″ threaded barrel. Templar Tactical Nemesis 30 , Leupold VXR 2-7 and Barnes Vortex 110 TTSX. Shot right at .5 center to center in the first 3 rounds down the pipe.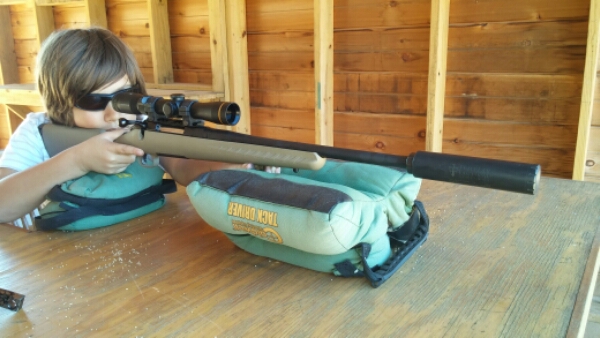 This is a really nice little rifle. It is very light, it has a good feeling stock with some raised ridges in the palm and forend to help increase grip on the gun. I like the short bolt throw as well as you can work the bolt with the safety on and you can lift the bolt and it will catch and stay open and not slide backwards with the gun sitting upright causing the shell to eject. It has a nice detachable box magazine that sits flush with the bottom of the gun. The trigger is nice and adjustable and felt about 3lbs and is nice and crisp  There is a tad bit of creep but the break is clean. It is just a nice little rifle and it is the first Ruger American I have used. It is well thought out and built well. My son who is 10 just fell in love with it. He shot a 3 shot group you could cover with a nickle. Shooting suppressed is a big benefit to anyone but especially to new or younger shooters. The suppressor tames the recoil, is obviously much quieter and it reduces drastically the muzzle blast. All of these things make shooting more pleasant but it also means they are much less likely to develop a flinch and it makes them a better shooter. David commented on how he was seeing the hits on steel which means he is keeping his eyes open.
Leupold VXR 2-7
I also have to give the Leupold VXR 2-7 much praise. It is a fantastic hunting scope! The power range is great for close in game and the magnification at 7 is enough to identify a buck as a shooter or not out to 300 yards or further. The glass is outstanding even in very low light and even at max power where one might think the smaller objective could limit the amount of light due to the smaller exit pupil. Leupold nailed the illumination system on the VX-R. It can be set very, very dim with just a small center dot to put the bullet right where you want it. You can also make it bright enough to help with fast shots in the daylight. The push button control works great and is very intuitive. Press it and it lights up at the same level as the last time it was used. You press the button and it will cycle up to the highest setting and flash when it maxes out. Press it again and you start going down to the lowest setting where it will flash again and then cycle back up. Hold for 3 seconds and it powers off. The adjustments are precise and positive and the scope us easy to dial in. I bore sighted it by removing the bolt, looking down the barrel at a target at 100 yards and then dialing the crosshairs to center. One shot and I was dead center about 5″ low. I had the gun in a lead sled and took center aim again and then adjusted the crosshair to be 1″ below the bullet hole. I aimed at the center target, fired and was 1″ high at 100 yards. Fired again to confirm and put the caps back on.
I got to compare it against another scope I am testing, a much more expensive Swarovski 2.5-15×44 with HD glass. The little Leupold absolutely held it's own, even in twilight before official sunrise this morning. When both were set at 7x and looking at tree branches 250 yards away the VXR was as bright and damned close in sharpness with the Swaro having a bit better edge to edge clarity. Truthfully, i had to "look" for the differences in glass quality. I am very impressed with the VX-R 2-7. Considering the price and how light it is and is an American scope I would have to say it is a steal. My brother has one on his 6.8 AR and i have used it before. I tell people all the time that it is about the perfect scope for a hunting AR.
We are in the blind ready to get some meat.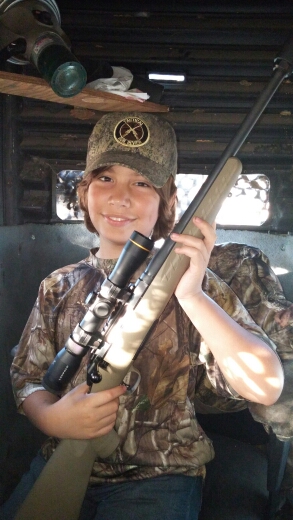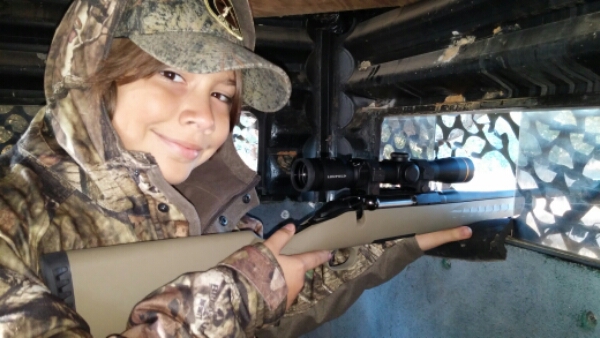 Happy hunting from Texas!
| | | | |
| --- | --- | --- | --- |
| Stock: | Flat Dark Earth Composite | Capacity: | 5 |
| Material: | Alloy Steel | Finish: | Matte Black |
| Barrel Length: | 16.12″ | Overall Length: | 34.75″ |
| Thread Pattern: | 5/8″-24 | Weight: | 5.90 lbs. |
| Twist: | 1:7″ RH | Grooves: | 6 |
| Length of Pull: | 12.50″ | Sights: | None-Scope Rail Installed |
| | | Suggested Retail: | $489.00 |
Features:
Ruger Marksman Adjustable™ Trigger offers a crisp release with a pull weight that is adjustable between 3 and 5 pounds, allowing shooters to make that perfect shot.
Ergonomic, lightweight flat dark earth composite stock (designed for quick, easy handling) blends a classic look with modern forend contouring and grip serrations. Swivel studs are installed.
Soft rubber recoil pad is crafted for maximum recoil reduction.
The one-piece, three-Lug 70 degree bolt provides ample scope clearance. The bolt also utilizes a full diameter bolt body and dual cocking cams for smooth, easy cycling from the shoulder.
Power Bedding® is an integral bedding block system that positively locates the receiver and free-floats the barrel for outstanding accuracy.
The threaded barrel is cold hammer-forged, resulting in ultra-precise rifling that provides exceptional accuracy, longevity and easy cleaning. (1/2″-28 thread pattern on 5.56 NATO; 5/8″-24 thread pattern on .300 BLK.)
Features an easy-to-actuate tang safety that provides instant security, visibility and accessibility.
Rotary magazine fits flush with the stock and offers the smooth feed that has become the hallmark of Ruger® rotary magazines.
Also features a factory installed one-piece aluminum scope rail.
Click on image for a larger view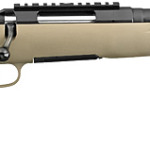 The following two tabs change content below.
Latest posts by Charles Coker (see all)