I've been hunting for 30 years, and I've never had an experience like this.  It was a long work week knowing I had 3 whole days to be at the lease. Finally, Friday came and me and my boy left out after a lunch around 1pm.  We arrived at the lease just over an hour later and started making preparations.  I noticed the temp was around 80° but a breeze had temps dropping and an overnight low was supposed to be in the low 60s.  I knew heading to the blind it was to be successful as we saw all kinds of activity on the way out.
We were early enough with it being right at 3pm that we drove to the feeders and using a vehicle mounted corn spreader dropped some corn between the feeders and the blind. I don't normally do this but it was early and we had 3 days.  I was just after a pig on this day anyhow.
Austin and I sat down in a fairly new Atascocita blind over looking the 2 feeders.  We had a slight breeze in our face and this made for perfect conditions.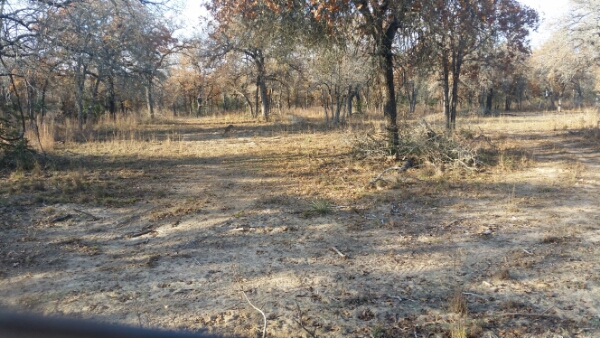 The doe in this first picture was feeding when we rounded the corner.  After dropping corn and settling into the blind she was already back and eating when we sat down.  As you can see, the conditions were perfect for a mid December hunt in South Texas.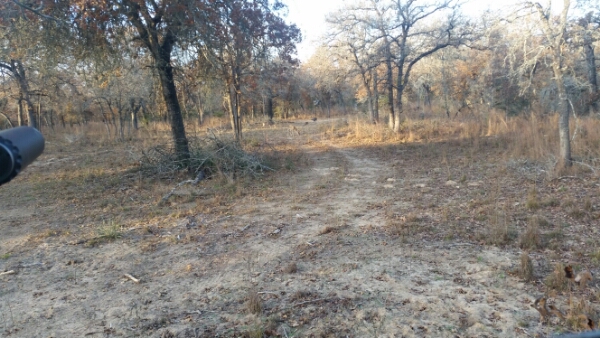 Once the feeder went off the action really started pouring in.  We had deer all around until a decent 3.5yo 8 point showed up and acted like he was afraid of his own shadow. He was apparently awaiting the boys club, because 10 minutes later we had bucks everywhere!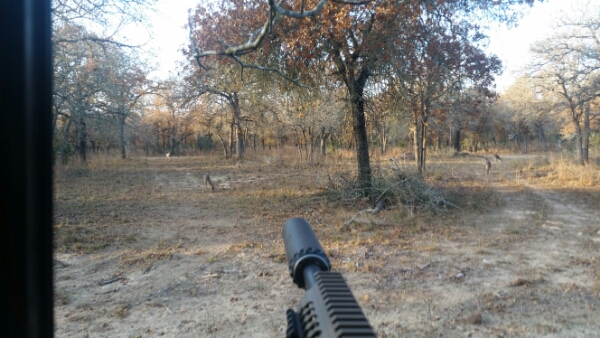 A few years ago I started hunting with a silencer and now I won't hunt without them.  I have found that they reduce the pressure on the animals and sometimes they will come back after a shot if you wait a few minutes.
On this particular trip I had my handy South Texas Arms STA-LR .243 Winchester with the Griffin Armament Sportsman attached and was ready to wack a nice South Texas Pig.
I watched as the deer kept coming in until we had mostly bucks ranging in size from a spike to over 140″!  That 140″ deer was a young guy and he put on quite the show. He came within 5 feet of the blind along with a pretty nice 5.5yo 8 point that will probably be culled out before seasons end.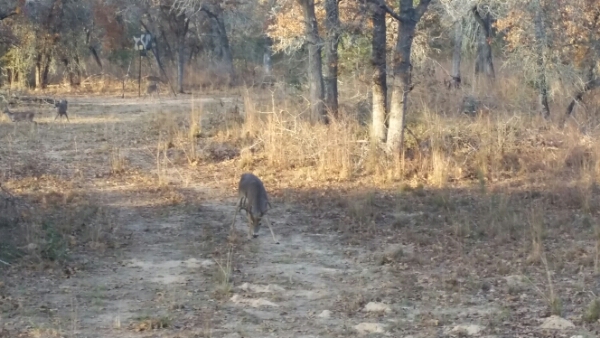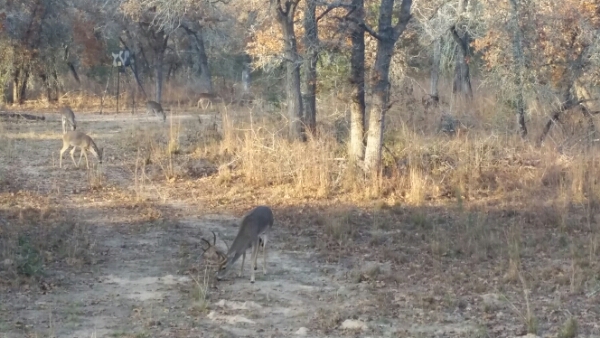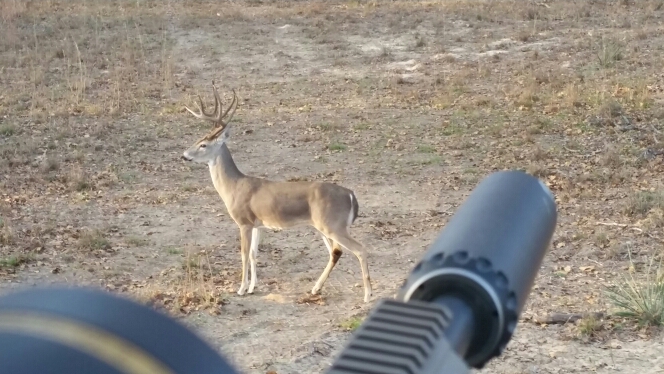 My 11 yo son Austin has never been this close. We had all of these deer within feet of us for an extended period of time. They all just hung around the blind for an hour or more and never spooked off. Austin was in for a real treat being so close that you can hear them crunching corn or even breathing. We had not taken consideration of scent control on this day but it clearly didn't matter.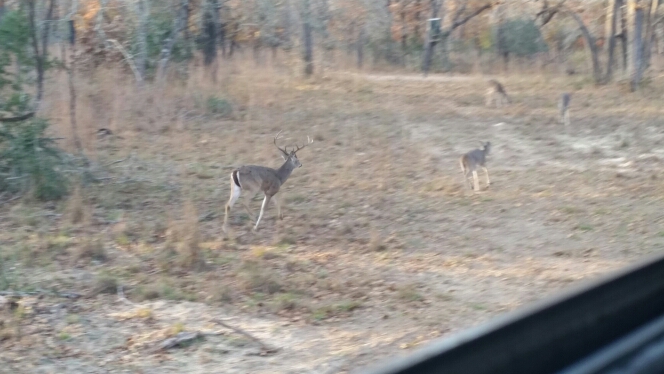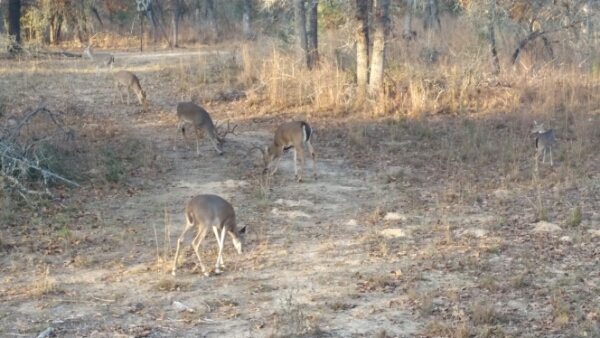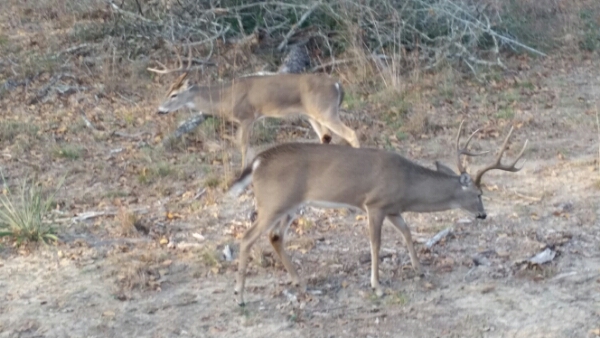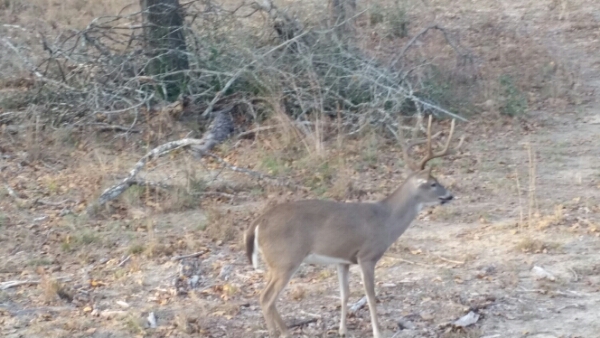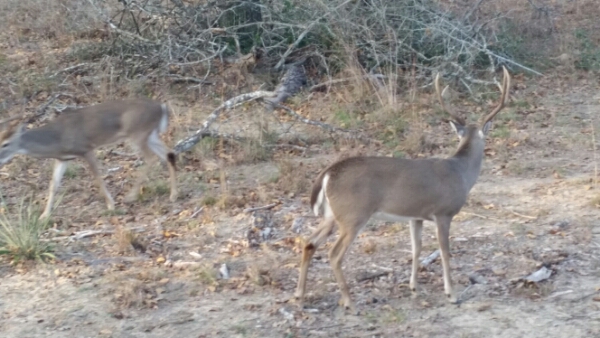 Just as the light was failing the bucks all seemed to walk away and the does followed. We heard a shot in the distance but it seemed that they missed.  Then I saw it, that dark figure approaching the feeder.  That tell tail shape and movement, a good boar.  Flipping the FireDot illumination on I took a look and found the boar under the feeder and facing me.  Refusing to turn for 5 minutes I was worried I would run out of light.  Hunting for pigs, I came equipped and put my Armasight Legionairre and Steiner SPIR on the rifle. The Gen 3 clip on night vision prevents me from losing that shot on a pig.
That boar faced me till well after dark, but when he finally turned I shot him just behind the left ear.  I shot him with a 95 grain Winchester Deer XP and the 250lb boar never took another step.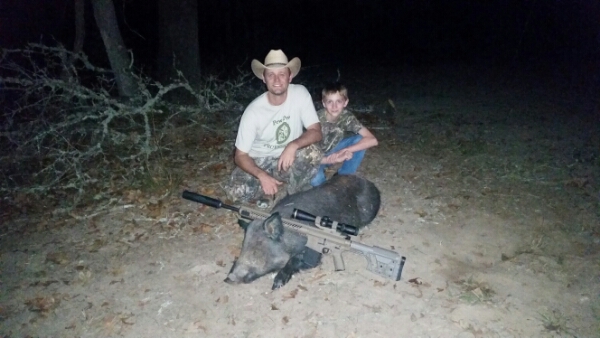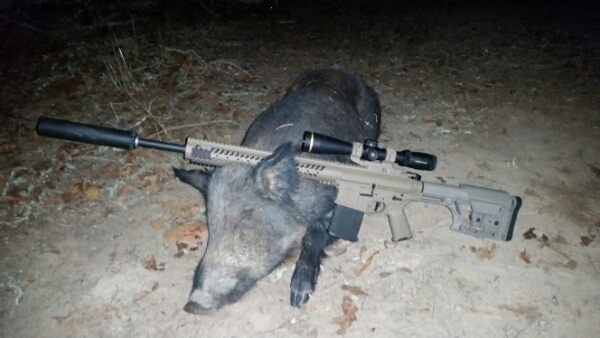 Over the course of the next 2 days, we hunted morning and night for a good deer to cull but nothing substantial came about. We did find a mature 6 point that we intended on shooting but that spooked at the last second for unknown reasons. Austin is super excited to get close again.  In 30 years I've never been that close to that many animals. It was truly a lot of fun and an experience we can't wait to have again. Visit my reviews on www.tacticalgunreview.com and tell me what you think.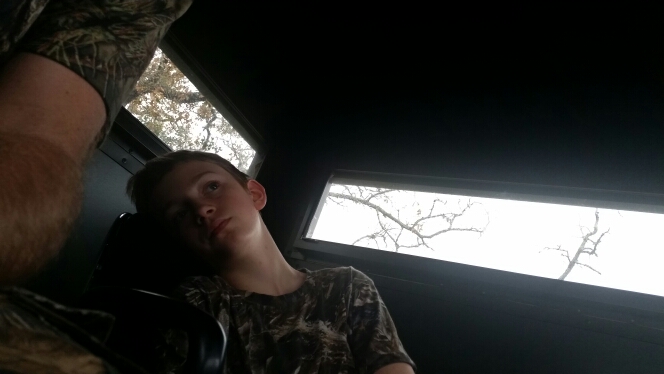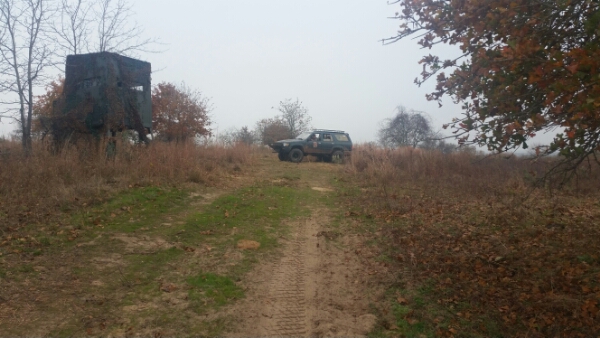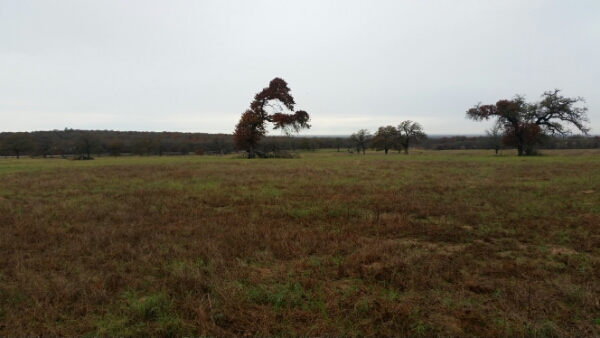 The following two tabs change content below.
Latest posts by Jason Hallmark (see all)