By Staff Writer: Charles Coker
Growing up in South Texas and hunting whitetails down long senderos required aan accurate flat shooting rifle.  22-250, 243, 25-06 were all standards for those old deer camps.  Truth be told, we didn't use range finders, ranging reticles, etc.. As a young hunter if I saw a deer or hog I wanted, I just aimed and slowly squeezed the trigger and boom, down it went.  "Watch it drop in the scope" was  what we were taught by our dad.   Confidence is everything.  I didn't really know or care if it was 75 yards or 300, if I thought it was "way out there" I held to the top of the hair.  Of course, those were rifles carefully worked over by my dad, trigger jobs, glass bedded actions and meticulously worked up handloads.  The 25-06 has long held a special place in my heart.  After spending some time looking for the "right" one and not really finding what I was looking for, I contacted Mike Hudgins at Cooper…
I wanted a really nice bolt action, a tack driver, light in weight but with a nice wood stock and a slight monte carlo cheekpiece.  My target weight was 6.5-7lbs max.  I spoke with Mike for quite some time on the phone about what I was looking for and he told me he could deliver.  About a year later, I get a phone call and a short while later I picked up this rifle from my FFL (GT Distributors).  Oh man.. was it BEAUTIFUL!  It also felt light and just shouldered and felt so "right" in my hands and balanced well.  My baby came in at 6.66 lbs and Mike dubbed it "Diablo"  AA+ Clarino walnut,  24″ barrel with recessed target crown, DBM, adjustable trigger from 3.5 down to 1.5.  The bolt cycles smoothly and it has a nice light crisp trigger break.
The weight reduction was done by running a lighter barrel profile, slimmer wood profile and by chambering out the stock much like a semi hollow guitar body.  I am running a set of Talley Lightweight alloy rings on it and am awaiting shipment of the scope, a Swarovski Z3 3-10×42 with the BRH reticle.  Should make for a nice combination.  I have ammo from Black Hills, Federal and Nosler to test as well as my handloads.
Stay tuned for more updates..
Built up with Swarovski Z3 3-10×42 BRH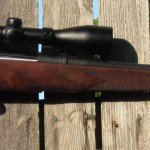 The following two tabs change content below.
Latest posts by Charles Coker (see all)