By Staff Writer:  Charles Coker
Mike and I went out for 4 days of hunting in South Central Texas to run some gear through their paces..
How did it go?
Well… GREAT!
At TGR we believe in real world field test..  not just a few rounds fired at a range and calling it "good to go".   Real world testing means stuff happens, like your gun falling over in the back of a hunting truck and landing on the scope (does it hold zero?).  This happened on my rifle as we were driving out to the hunting area and the gun came out of the rack and we heard "BAM" and that sick feeling it was your rifle.   Well, it was..  My Nosler 280 Ackley fell over and the Trijicon Accupoint 2.5-10×56 hit the truck hard.   But, it and the Talley mounts (our favorite for a hunting rifle) took the hit and later on proved that the scope held zero perfectly.
A list of the gear we ran through its paces:
Nosler Trophy Grade 280 Ackley featured in this review
Trijicon TR22 2.5-10×56 in testing phase, we have reviewed and are still running the Trijicon 3-9×40 featured in this review
Talley scope rings featured in this review
Nikon Monarch 8.5-56 Binoculars featured in this review
Tikka T3 lite 270 WSM featured in this review
Nosler 270 WSM 140g Accubond Trophy Grade Ammo
Nosler 140g 7mm Accubond handloaded with IMR4831 and Nosler 280 Ackley Improved brass
Leupold VX-3 3-9×40
Leupold RCX-2 game camera featured in this review
Leupold RX 1000 range finder featured in this review
How did the gear perform?
Flawlessly..
We still stand by the positive reviews referenced above.
I am still just as impressed and maybe even more so the Nosler 280 AI rifle.  It's light, comfortable to shoot, shoots 1 hole groups at 100 yards and 2″ at 500..  It flys as flat as a 25-06 with a 100g bullet but to me has a softer recoil than a similarly weighted 270, and has less wind drift due to the high BC 7mm bullets.  This is one rifle I could run on all North American game or take to Africa on a plains game hunt.
The Trijicon  scope is a fantastic hunting scope, great glass, simple mildot works fine for holdover points, brilliantly executed illuminated dot is just bright enough to provide a contrasted aiming spot without being too bright.   My son runs the 3-9×40 green dot / mildot on his Sako 243 and loves that scope and more importantly, has great confidence in the gun with it.
I continue to be very impressed with the Nikon Monarch 8.5×56, Bill Wilson turned me on to them on a hunt several years back and we compared to some Zeiss and Swarovski out hog hunting at night.  Suffice it to say he can afford anything he wants but he runs with several pair of those binos.  Mine have been used hard for several seasons and I am still impressed with their low light capability, ease of use and big field of view.  I would kill to have a rifle scope that has that field of view at 8.5 magnification!
The Nosler 140 Accubond in both the 7mm and .277 calibers is a fantastic deer bullet.  It shoots extremely tight groups, expands well and maintains high weight retention.  I have drilled through two hogs at 200 yards and deer from 75 to 400 yards.  My big buck last year was shot about 75 yards away quartering towards me and at a slight incline, bullet went through the front shoulder, took out the top of the heart and then the bottom of the spine before being lodged just under the far hide in the back of the rib cage. You can't expect any more.
I know Mike has been very happy with the Tikka.  We spoke about them over the weekend, they delivered a damned good hunting rifle at a reasonable price.  Some complain about the stock, "plastic" trigger guard and magazines, but I have yet to hear about any of them failing.  They did put the money in a great shooting barrel that is exact same barrel that comes on the Sakos, they have a great trigger and they are known good shooters.  I am hard pressed to recommend a different rifle for someone that wants a good shooter without spending a bunch of money.  They are consistently good rifles.  I have owned a few and all would deliver one ragged hole groups with minor handloading efforts and shot sub MOA with factory ammo.
We utilized the pics from the  Leupold game camera to judge some deer that helped in determining what's coming through the area.  While we hunted  fixed blind locations this time out I used the Leupold Range Finder to determine max distances through several shooting lanes to a back tree line and some key landmarks like a given big Oak tree.  I like to have all that mapped out so I know ahead of time the distances so that when a deer, pig or coyote comes out I don't have to check again as often there just isn't the time.
 The hunt
We got out the property Wednesday night about 10, got the hunting truck squared away, game plan established for the next day and then kicked back with some Makers Mark on ice in celebration for the upcoming few days.  We went out Thursday and it was hot, not much game was moving and we were sure hoping the cold front that was predicted Friday got here early..  We woke up at 5:30 Friday morning and stepped outside to find it cold and windy.. COLD!, yes!, windy, not so much.  Deer don't like to move much in the wind.  Needless to say, we were going hunting if it was 100 degrees, 30 and raining, whatever, we came to hunt not sit in a cabin.  There wasn't a lot of activity but better than the day before.  In Texas you can put out bait and we put out some stuff called Deer Golden Nuggets.  Our lease provides it so why not try it?  Well, it works!  We put it out via the road feeder on our truck and soon after deer were coming out of the trees into the clearings..    We had lots of deer moving Friday and Saturday but it wasn't until Sunday morning that we both decided to put the hammer down on some management bucks.  We were looking for at least 4.5 years old and under 17″ inside spread.  Deer that probably weren't going to develop into true trophy class (150 plus).  I had deer at day break out in the field and watched one NICE buck for a while.  I knew right away it was a mature deer,  5.5 years old and I guess about a 16″ spread.  There were some does too and then an even nicer buck came out.  He was a big mature 8, definitely a trophy class, probably 150 points and 5.5 years old.  I let him walk as I am after a big, wide 10 this year.   I decided to drop the hammer on the buck, lined up on the base of the neck and squeezed the trigger.  I watched it drop in the scope just like my dad taught me, screw tracking.  I caught it on video and will be posting soon.  A few moments later I hear a shot and judging from the location I figured it was Mike.  Sure enough, he dropped a nice 8 as well.  His was 17, mine 16, his wider, mine a little taller.  Both GREAT deer.  I can't wait to go back in a few weeks after a monster and get my oldest son on a deer like these and my younger son on his first doe!
What a fantastic weekend!
We have some videos to process and post soon..
Mike with his buck: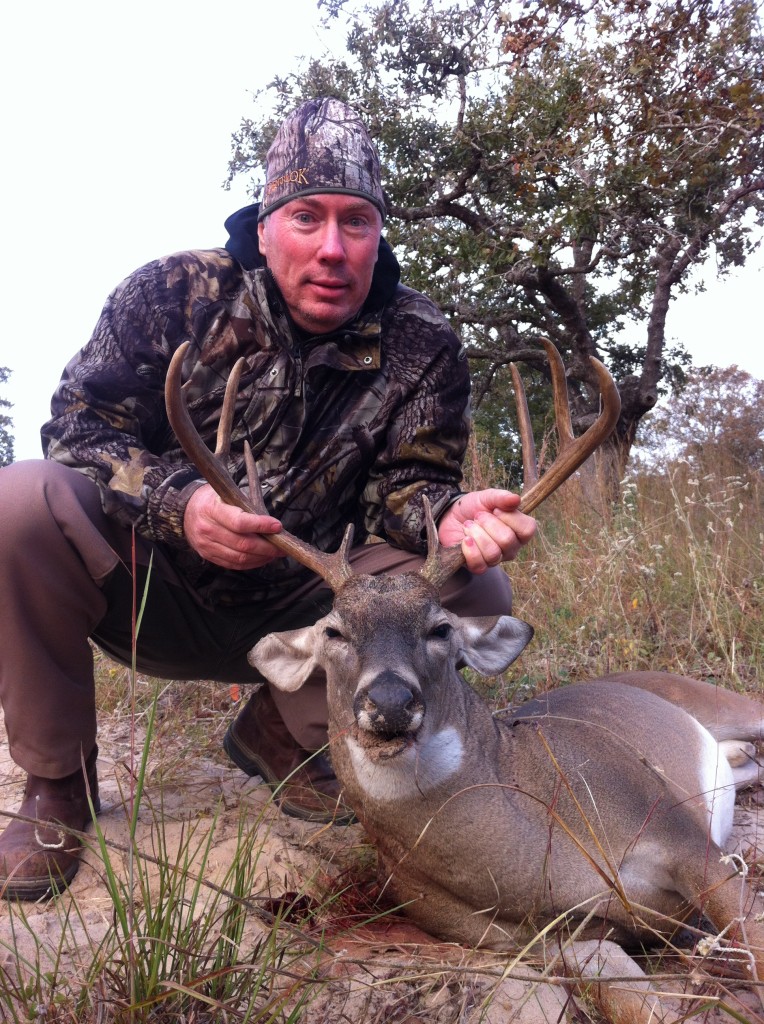 Charles with his 8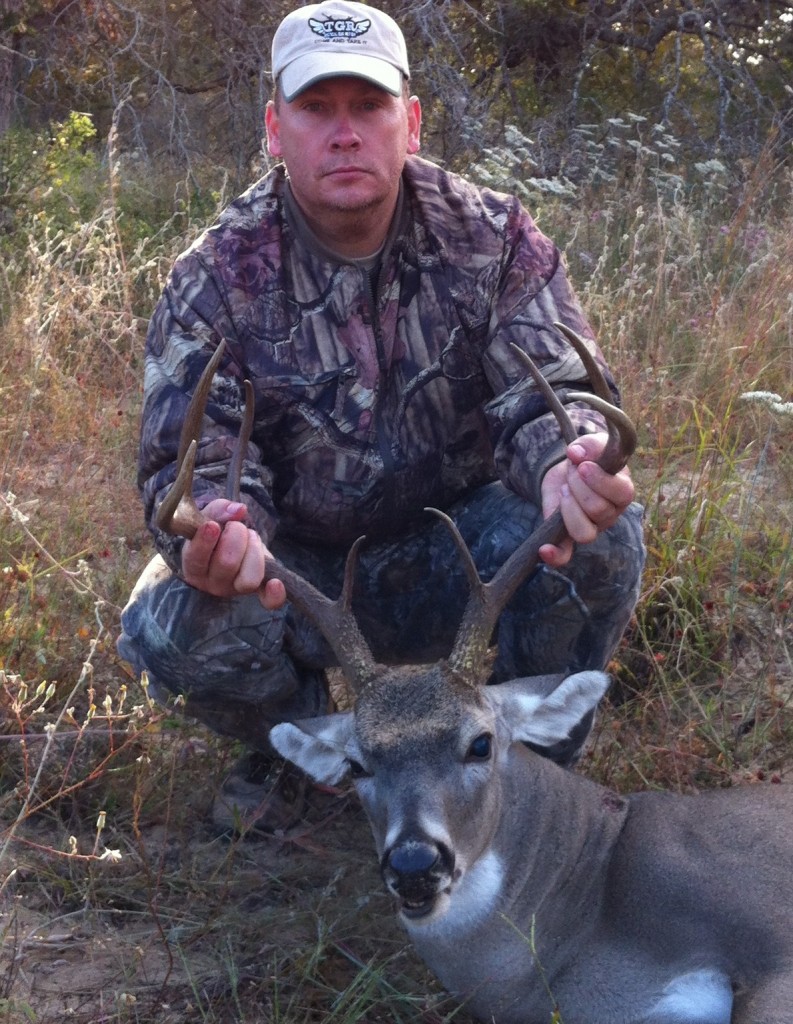 The following two tabs change content below.
Latest posts by Charles Coker (see all)