The Waterloo Salinity is my favorite rod for fishing the mid-coast for speckled trout and redfish. It is a great combination of reasonable price and outstanding performance. The Waterloo shop is conveniently located in Victoria and offers a wide selection of rods, reels, and accessories.
I currently run a Salinity 7'0″ spinning rod – Medium/Moderate – with a Shimano Stradic 3000. We primarily fish artificials although we might occasionally throw shrimp or croaker (although, I really hate messing around with bait!). The Salinity has the power and control to cast top-waters, spoons, and soft-plastics in all conditions. Walking a Spook Junior or bouncing a DSL, the Salinity gets the job done.
My 7'0″ Salinity casting rod is fitted with a Lews. This is my first Lews and I'm still getting used to it so a full report on this rod will have to wait. However, given the number of days I have fished the spinning version, I'm confident the casting Salinity will do just fine.
The cork split grip handle has become my favorite style. I have these split handles on a number of rods, including other makes.
In the picture below, we were wading the outside of Contee when I spotted a tailing red up in a grass pocket against the shore. Given the prevailing SE wind and distance to target, I had to put everything I had into the cast. The bone/silver Spook, Jr landed within a bucket of my aim, and, the red exploded on it! It wasn't until later that night did I learn that my brother had captured the cast.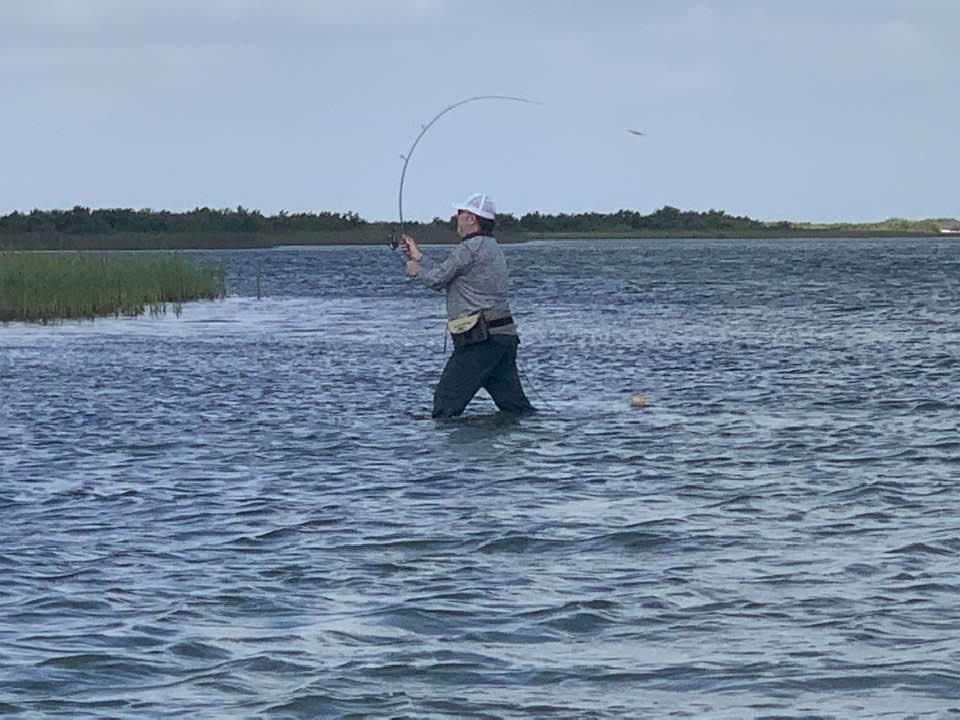 Waterloo Salinity 7'0″ Medium/Moderate $169.
The following two tabs change content below.
Publisher of Tactical Gun Review and Texas Outdoors Network. Mike wisely spent his youth hunting and fishing in South Texas.
Latest posts by Mike Coker (see all)