There have been countless wildcat cartridges over the years.  One recent trend has been the various efforts to modify the standard AR15 to shoot a heavier, more lethal bullet.  The crazy hype surrounding the 300 Blackout is but one example.  For my money, the 6.8 SPC is the best of the lot for general all-around use.
The 6.8 SPC was developed by Remington and the US Military to enhance M16 5.56 terminal performance.  Essentially, it is a .30 Remington cartridge case (shortened) with a .277″ bullet with the same overall length as the 5.56.  To modify an AR style weapon to shoot the 6.8 cartridge you replace the barrel, bolt, and magazine.  Of course, many manufacturers now sell complete 6.8 SPC uppers.
The platform has quickly gained acceptance among hunters.  Performance is good out to about 300 yards and the AR style rifle works especially well for hunting hogs and varmints where the modular design allows the mounting of lights and other accessories.  Terminal performance is far superior to that of a standard .223 / 5.56.
My favorite hunting round?  Silver State Armory 110gr Barnes TSX Tactical Load:
Ballistic Coefficient: 0.323
Muzzle Velocity (fps): 2650
Muzzle Energy (ft-lb): 1717
100 Yards (inches): 2.9
200 Yards (inches): 0.0
300 Yards (inches): -9.6
Custom Build.
Gun nuts love the AR15 because of how easy it is to customize.  Mine started off as a Rock River Arms A4 Varmint chambered in .223 / 5.56.  I quickly went to work modifying it into a custom hog-hunting weapon:
E.R. Shaw 16″ stainless steel recon barrel with black Gun-Kote.
4-groove, 1:11″ twist.
 Yankee Hill A3 upper receiver with extended M4 feed ramp.
LMT bolt.
Magpul MOE furniture.
Troy Alpha Rail 11″ forend.
Magpul ASAP Sling Mount with Blackhawk sling.
Geissele Super Semi-Automatic Enhanced trigger.
Aimpoint CompM4.
Stay tuned for upcoming reviews on the Geissele trigger and Aimpoint CompM4.  Suffice it to say they are superior!
What do you think of the 6.8 SPC?  How does it compare to the 6.5 Grendel and 300 Blackout?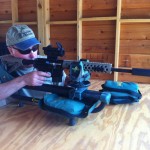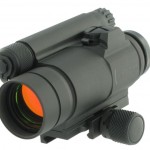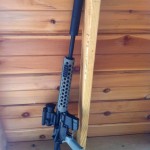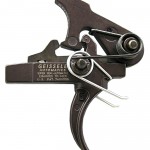 Geissele SSA-E Trigger
The following two tabs change content below.
Publisher of Tactical Gun Review and Texas Outdoors Network. Mike wisely spent his youth hunting and fishing in South Texas.
Latest posts by Mike Coker (see all)