Bay Flats Lodge is the premier fishing (and duck hunting) lodge on the upper Texas Gulf Coast.  Located in the quiet fishing village of Seadrift, the lodge and facilities are first-class.  No long truck rides to the boat ramp – the dock is a short stroll out the front door.   You will fish the San Antonio Bay system including the back side of primitive Matagorda Island.
This bay system is mostly shallow flats including many grass beds that hold trout and redfish.  The preferred fishing method is to drift over the grass beds and throw live croaker bait fish.  The grass beds have pockets of sand and the fishing can be spectacular at times – trout, redfish, drum, and flounder.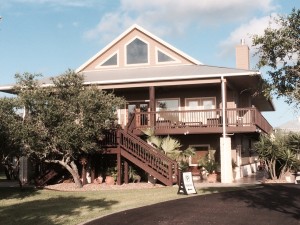 Of course, you can also anchor the boat and wade fish.  My favorite method is to wade along a grassy shoreline throwing top-water plugs. Nothing like watching a big trout explode on your lure!  Or even better, to spot a pod of redfish feeding – heads down and tails above water.  On this particular trip we had some guys who had never been fishing before so drifting the grass beds with live croaker provided the best bet.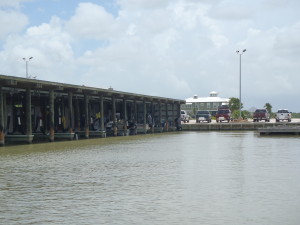 The fishing was off a bit the weekend we were there due to all of the fresh rain water flooding down the river pushing the fish out towads the island. Tropical Storm Bill hit the area a few days prior to further disrupt the normal patterns.  Regardless, the guides employed by Bay Flats are excellent and worked hard to put us on fish.  While we did not all limit out we did come home with a cooler full of fish.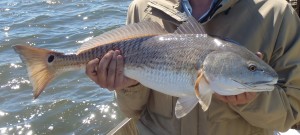 You can expect to catch speckled trout ("specs"), redfish, drum, and flounder.
Breakfast was at 5:30 AM and we were in the boats by 6:00.  The ride out is anywhere from 10 minutes to 40 minutes depending upon where the bite is at.  Lunch is on the boat.  Return back to the lodge about 2:00 so you have time to rest up before dinner.  And what a dinner!   Our first night started off with fried soft-shell crab followed by bacon-wrapped shrimp for starters.  The main course was a 14 ounce ribeye grilled to perfection.  Evenings were spent sharing stories in the pavilion or around the fire ring.  Accommodations are first-class all the way.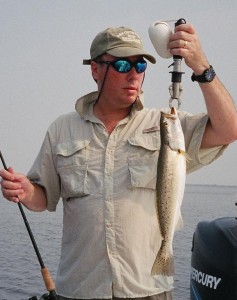 Call Captain Chris Martin to book your trip.  You will not be disappointed.
www.BayFlatsLodge.com  1-888-677-4868
The following two tabs change content below.
Publisher of Tactical Gun Review and Texas Outdoors Network. Mike wisely spent his youth hunting and fishing in South Texas.
Latest posts by Mike Coker (see all)