Trijicon's recent acquisition of IR Defense is an interesting development coming on the heels of FLIR purchasing Armasight last summer.  We have field experience with night vision / thermal products from all of these companies and they are all amazing.  To be able to spot a wild hog 200 yards away in total darkness is very cool.
Trijicon recently launched their new Trijicon Electro Optics website to promote the new line of IR Defense based thermal scopes.  We should have two in for testing in the next couple of weeks.  Can't wait to take them hog hunting!
What do you think?  Are you planning to add a thermal scope this year?
FLIR Press Release dated March 14, 2017:
Practical Thermal Imaging for Hunters: Part Two
Thermal technology is ideal for hog and predator hunting; increases situational awareness and safety for any hunter
WILSONVILLE, Ore. (March 14, 2017) – Thermal-imaging technology is no longer just for the military and law enforcement communities. These rapidly evolving electronics are becoming smaller, lighter, less expensive and, therefore, more accessible and valuable to hunters than ever before.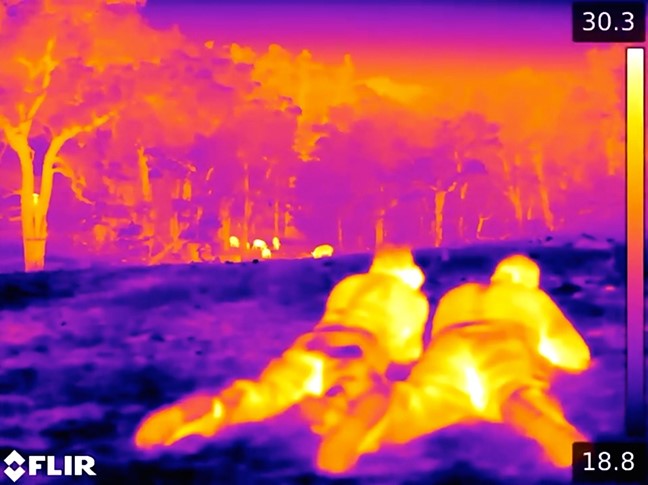 Thermal imaging works by detecting minute differences in the heat of both live and inert objects, amplifying these differences and projecting them onto a small screen inside a hand-held device or weapon sight. In addition to daytime and nighttime game scouting, tracking and recovery, thermal-imaging optics are the ideal spotting and targeting systems for those who hunt predators and nuisance species after dark. A handheld thermal monocular can also greatly increase any hunter's safety by improving his or her situational awareness.
Former NFL quarterback and hunting enthusiast, Mike Pawlawski, is a both a proponent and an early-adopter of thermal technology to enrich his experiences afield. Host of the popular Gridiron Outdoors TV show on Outdoor Channel, Pawlawski is also a pro staff member for FLIR Systems Inc., the worldwide leader in their namesake technology: Forward Looking Infrared (FLIR). "Thermal imaging opens up a whole new phase of hunting," says Pawlawski. "Now, not only can you scout, hunt and be better equipped to recover game day or night, you're also safer walking around. It's a complete game changer."
Predator Hunting and Nuisance Species Control
While regulations governing nighttime hunting for predators like coyotes and nuisance animals like hogs vary from state-to-state, many states allow nighttime hunting for these species. And in jurisdictions where it's allowed, thermal represents the ultimate spotting and targeting technology, because it doesn't require any ambient light.
"FLIR's pocket-sized family of Scout thermal-imaging monoculars and ThermoSight R-Series riflescopes are perfectly suited to hunting hogs and predators at night," says Pawlawski, who points out that nighttime hunting, where legal, opens up new opportunities for many hunters to get their field time. "Think about the guy or gal working 9-5; they can come home from work, spend time with their family and still go predator or hog hunting after dinner. There is nothing like an indoor basketball court or lighted driving range for hunters, so thermal solves that problem, while making hunting after dark a lot more effective and fun."
As previously stated, thermal-imaging technology continues to improve each year. FLIR's newest scopes and handheld thermal imagers for hunters utilize the company's all-new Boson Camera Core, a 12 micron, uncooled longwave camera that enhances video analytics and image processing, enabling FLIR to create smaller, lighter optics without compromising image performance or range. 
These rugged and versatile optics combine superior image performance and range with fun and innovative features like internal video/image recording and Bluetooth 4.0 connectivity. Prices are continuing to drop as well. "With Scout handhelds starting below $600 and ThermoSight R scopes starting below $3,500, top-quality FLIR thermal-imaging optics are now available to more hunters than ever before," says Pawlawski.
Thermal-imaging optics maximize a hunter's situational awareness in any lighting conditions, but are especially helpful after dark, aiding in way finding and helping to avoid bumping game or surprising dangerous animals at close range. Image courtesy of www.gridironoutdoors.com.
In addition to the company's wide line of thermal scopes and handhelds, FLIR's new line of ThermoSight C-Series Clip On sights represent another exciting option for hog and predator hunters. "FLIR's ThermoSight C-Series Clip On weapon sites mount in front of standard daylight optics," explains Pawlawski, who emphasizes the practical flexibility such a set-up provides. "It's the perfect thermal solution for hunters who have already made an investment in a quality daytime scope," he says. "The system doesn't change cheek weld, trigger reach or zero, and hunters can continue to use the ballistic reticle in their daytime scope. They can go full thermal at any time with the simple flip of a switch." FLIR's newest ThermoSight C-Series Clip Ons start below $2,200 MSRP.
Situational Awareness
Another useful application of FLIR technology is finding people that you may or may not want in your immediate area. On public lands especially, many hunters have had the uncomfortable experience of bumping into another hunter. While such a situation can have negative impacts on one's hunt, it can also be incredibly dangerous. Thermal imaging technology makes it easy to scan an area to quickly determine if any other hunters are present.
"It's easy to get out the FLIR and check your surroundings from a high spot or your treestand," Pawlawski explains.  "Whether elk hunting out West or turkey hunting anywhere, FLIR helps hunters detect and avoid other hunters before a situation becomes dangerous – especially on public lands."
With an MSRP below $600, FLIR's pocket-sized Scout TK thermal vision monocular allows users to detect wildlife and people over 100 yards away in any lighting conditions, including total darkness. Scout TK also captures still images and video clips. www.flir.com/ots.

But other hunters aren't the only threats in the woods. Becoming disoriented in the dark or surprising a large predator are additional possibilities that can have grave consequences. "Everything looks different at night," says Pawlawski, who's keen on the use of thermal for way finding after dark. "It's easy to pop a FLIR Scout to your eye and say oh, there's my road, there's my fence line, or here's where we're going," he says. "I also use it to avoid bumping game while traveling to and from my stand or hunting site in the dark. It's simple to navigate with FLIR in the dark without spooking game, and the technology is also very useful for avoiding unexpected run-ins with dangerous predators. There's no other piece of equipment I take afield that makes me feel safer or provides more peace of mind than my FLIR," Pawlawski concludes.
Final Advice
The laws regarding the use and possession of thermal-imaging devices while hunting vary by state, so a prudent hunter will double-check and make sure their intended uses of the technology comply with local regulations. Our expert provides additional advice: "Read the manual!"
"In addition to knowing your state's laws, learn the technology before you get into the field with it," Pawlawski says. "Make a few test runs in the backyard before you go out… just like learning your gun before taking a shot, understanding your thermal device's various settings and features will provide a richer experience in the field."
The following two tabs change content below.
Publisher of Tactical Gun Review and Texas Outdoors Network. Mike wisely spent his youth hunting and fishing in South Texas.
Latest posts by Mike Coker (see all)