This round of Port Mansfield was met with the right weather and lower tides. With these fronts stacking up every 5-6 days the water temperature is holding which is more conducive to trigger bigger trout to feed. We lost a few days because of the strong north winds, but the pre front and post front bites were spot on. We watched fish change their feed pattern from topwaters and plastics to Corkys during periods of cold and again to plastics on warm up days. Any bait in a natural selection was the ticket. Unfortunately we all lost an opportunity at a Lower Laguna monster, but that's what keeps you coming back.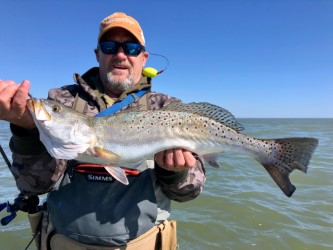 We had a lot of fun, and with the weather continuing to roll in. I know the next round of trips will be even better. Hopefully this time with we can stay connected with the fish we are seeking.
All our trout and reds were released to fight another day in good condition.
https://www.youtube.com/watch?v=gnA-GHjy_pQ
https://www.youtube.com/watch?v=L_nMW18U2Qs
Port Mansfield Madness – YouTube

About Press Copyright Contact us Creators Advertise Developers Terms Privacy Policy & Safety How YouTube works Test new features Press Copyright Contact us Creators …
Captain Nathan Beabout
(210) 452-9680
N&M Sportsman's Adventures
www.nmsportsmansadventures.com
AB Kennels
The following two tabs change content below.
Captain Nathan Beabout has guided fishing trips and duck hunting trips on the Middle Texas ​Coast since 2007. He has fine tuned his fishing and hunting skills, and adapted to all skill levels of customers for a successful trip. Spending many days on the water every year, his knowledge and skills of fishing from San Antonio Bay to Cedar Bayou and Port Mansfield areas, has developed and can lead you to a memorable trip. Call Capt. Nathan at (210) 452-9680
Latest posts by Capt. Nathan Beabout (see all)