If you want to really learn how to fish for speckled trout and redfish, get out of the boat and into the water.  We did just that with Captain Nathan Beabout out of Seadrift, Texas.
Most all Texas Gulf Coast fishing guides will put you onto fish.  Live shrimp (or croaker if available) over an oyster reef or grass bed is a time-proven method to put fish into the cooler.  And any time on the water landing fish is a great day.  But shrimp under a popping cork isn't the most exciting or rewarding way to fish.  To really crank up the thrill level get out of boat and wade fish with top-waters.  Standing in waste-deep water and having a big spec or red blow up right in front of you is the way it is meant to be.
We met up with Capt. Nathan at 5:30 AM ready to roll.  Unfortunately, a massive storm system was parked over Louisiana and Texas and the rain was crashing down.  We decided to head over to La Tarraza for a hearty breakfast while we anxiously watched the radar.  Other guides and fisherman soon filled the place – most called off their trip.  Not us!  We finally felt reasonably confident that we could at least get out for awhile and were on the water by 8:30.  Not many other boats out which was great.
Nathan fired up the Majek Illusion and we headed for Matagorda Island.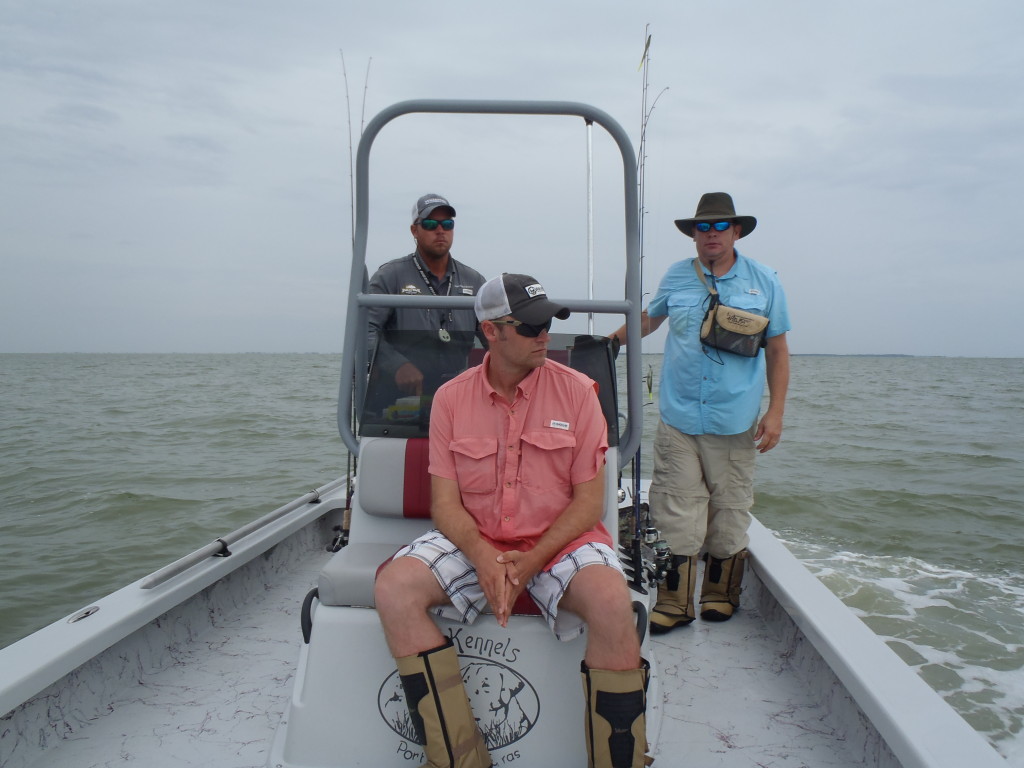 We spent the day either cruising the shoreline searching for pods of redfish or wading sand bars.  Also spent time in one or two of the smaller lakes.  We would be running the shoreline when Nathan would suddenly wheel the boat around and shout, "Out of the boat, pod of redfish at 10:00, 80 yards!"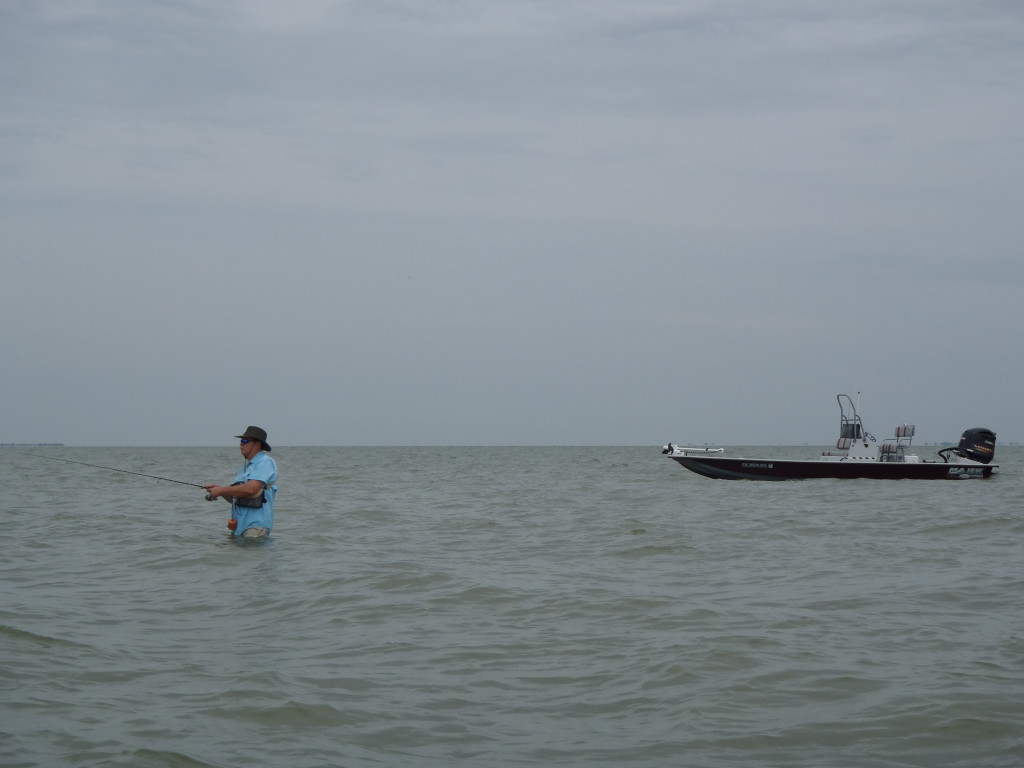 The fishing was tough due to the strong weather system but we managed to put some fish into the cooler.  We mostly avoided the rain – well, mostly…..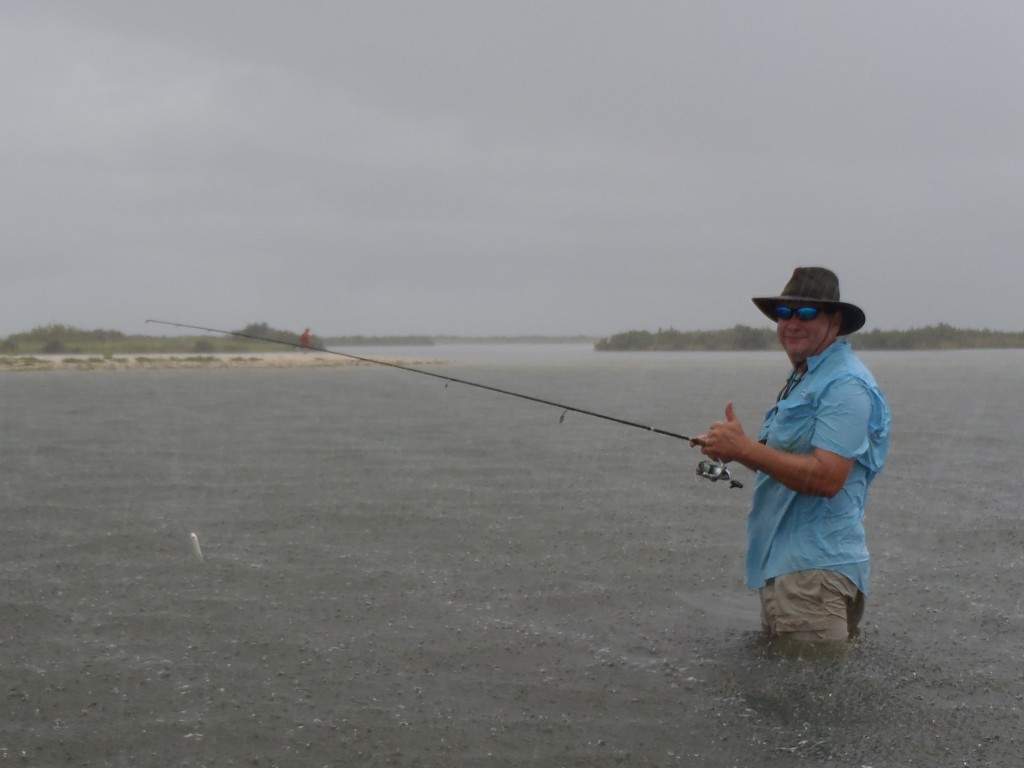 My personal best of the trip was a 25.5 inch redfish.  I hooked up on a monster for a while – line screaming off the spool!!! – but ultimately lost him.  Considering the run he put on (with the same drag that easily handled the nearly 26″ red) it was a BIG fish.
Jason experienced exhilaration and agony in quick succession.  He caught a nice spec – and then a shark ate it off the stringer.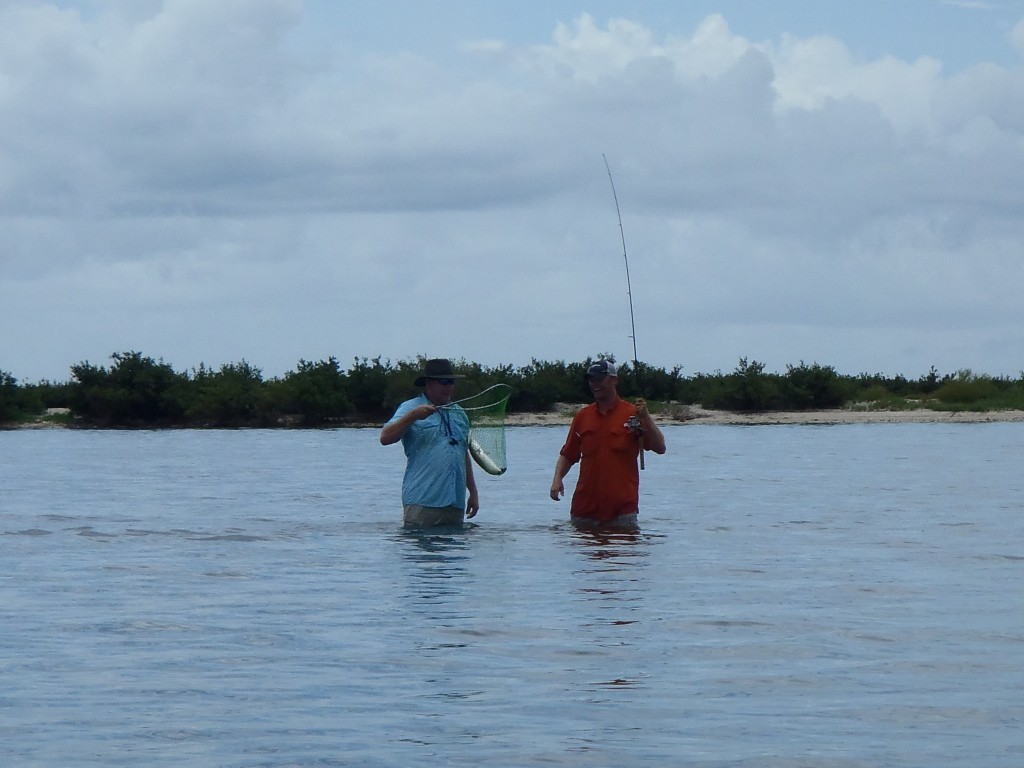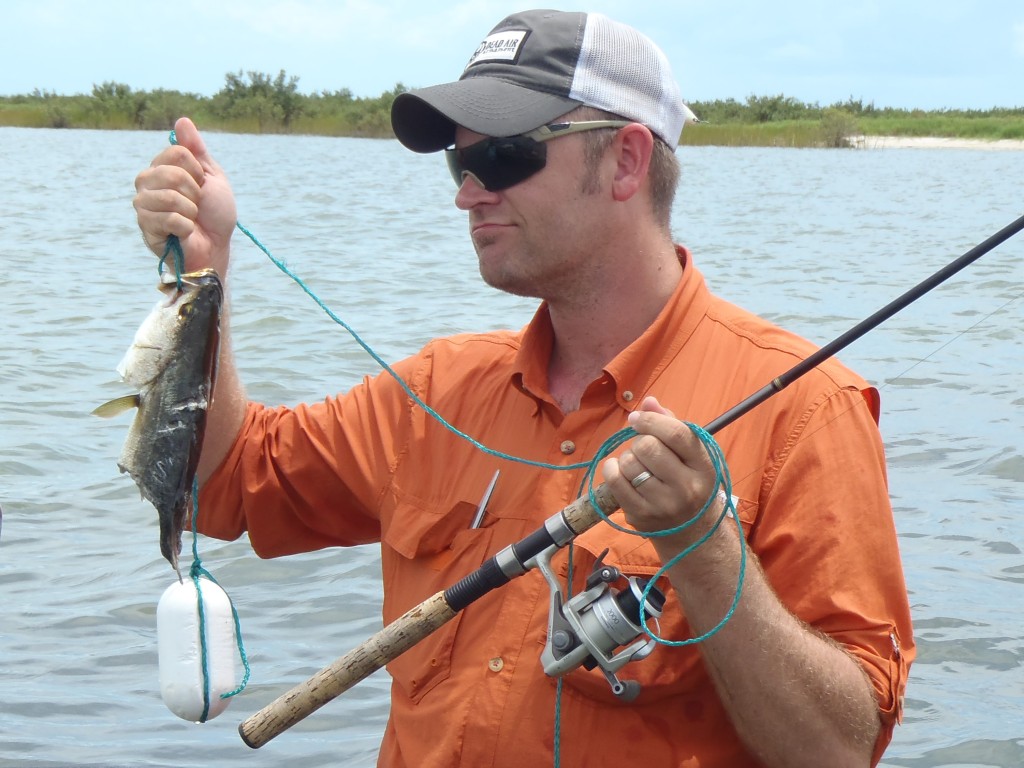 Rods were Medium/Light action – Waterloo, Castaway, and Loomis.  Believe they were all running Shimano reels.  We threw a lot of soft-plastics in Chicken-on-a-chain and Pumpkinseed.  I had good luck with bone-and-silver top water lures.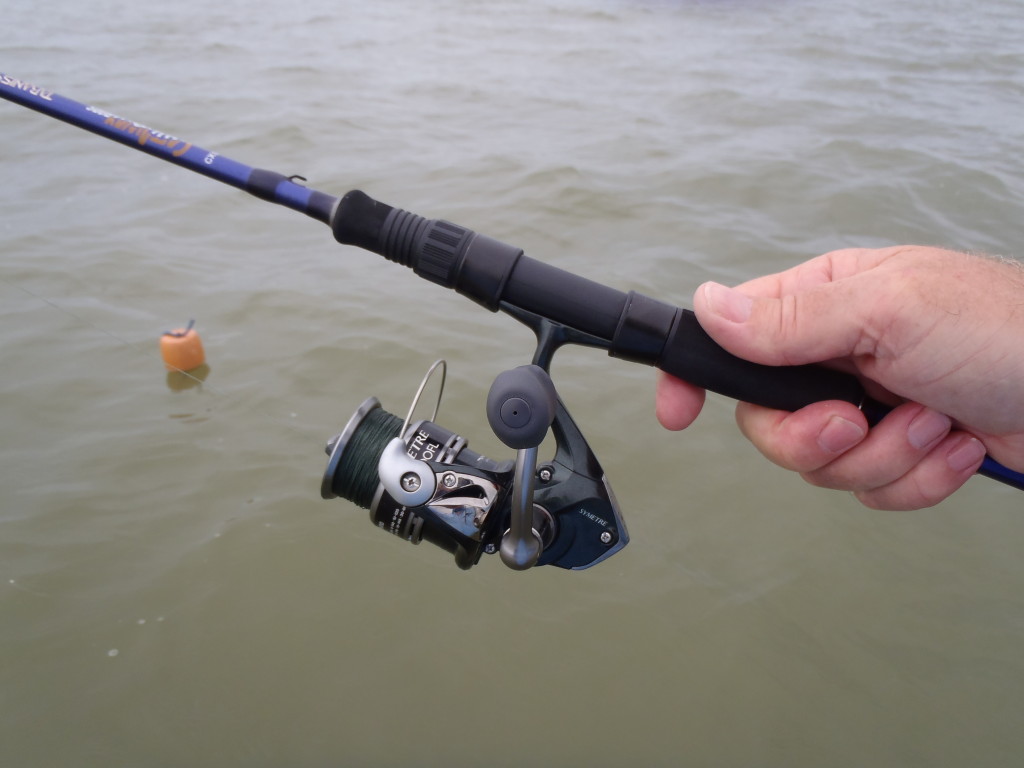 I'm not going to give away our marks but suffice to say that the back side of Matagorda Island is a great place to fish.  Not only is the fishing fun and exciting the overall scenery and experience is wonderful.
Seadrift is a sleepy little fishing village without much going on.  There are several decent restaurants, and a handful of small motels.  Hint, Bubba's Cajun Seafood has a "Cook Your Catch" option.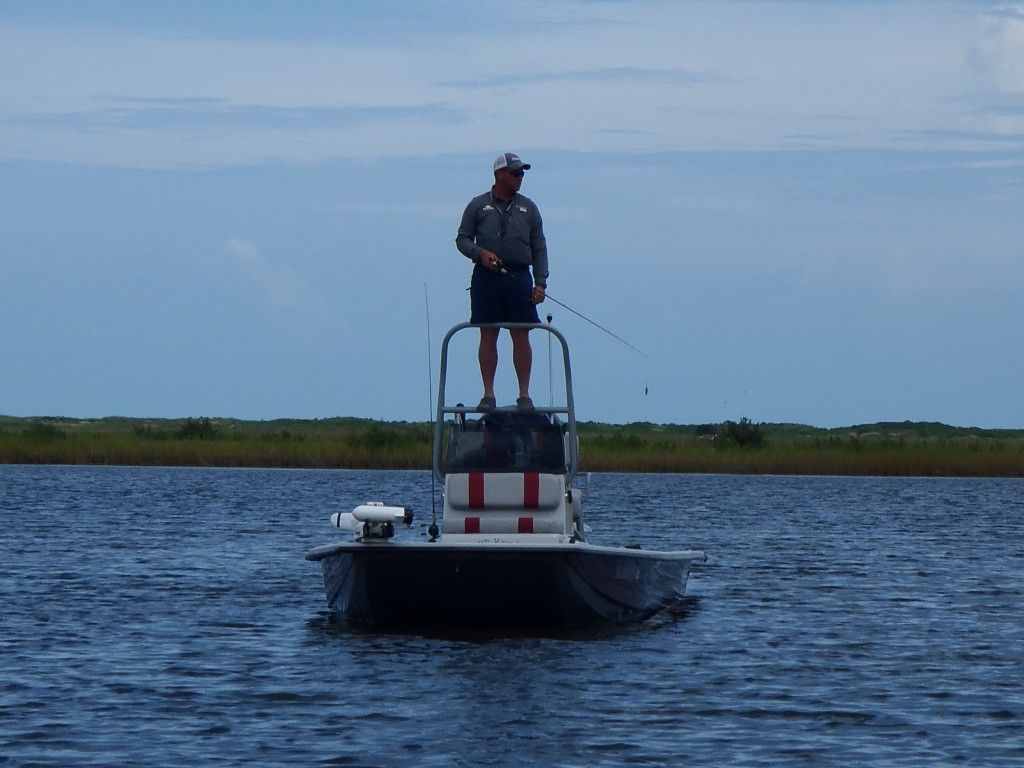 Captain Nathan Beabout.  Seadrift, Texas.  210-452-9680.
The following two tabs change content below.
Publisher of Tactical Gun Review and Texas Outdoors Network. Mike wisely spent his youth hunting and fishing in South Texas.
Latest posts by Mike Coker (see all)